News
Sunday December 02, 2012 08:30 PM EST
5 Things You Missed This Weekend: Ashley Hebert Marries J.P. Rosenbaum, Heidi Klum's Halloween Party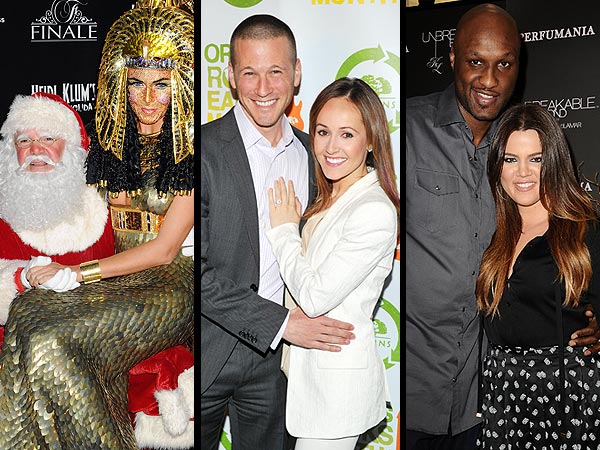 by Maggie Coughlan
With the holidays just around the corner, it's time to brush up on your knowledge of pop culture before you realize it's all you have in common with your relatives!
Here's what you missed:
5. Don't Get Lamar Odom an iPad for Christmas
Shopping for the Kardashian family can't be easy come the holidays. But there's one thing that's not on Lamar Odom's Christmas list – an iPad! Khloé Kardashian told reporters her husband would have "no idea what to do with it" on Thursday. Oh, for the love of Angry Birds...
(Read all about it)
4. It's a Boy for Girls Star Jemima Kirke
Jemima Kirke – who plays Jessa on HBO's
Girls
– and her husband Michael Mosberg welcomed a son, reportedly named Memphis, over the weekend. The couple are already parents to 2-year-old Rafaella Israel. Think there's time for Lena Dunham to write him into season 2?
(Get all the details)
3. Mario Lopez & Courtney Mazza Make It Official
Mario Lopez and girlfriend of two years Courtney Mazza tied the knot on Saturday when they exchanged vows in front of friends and family in Punta Mita, Mexico. The wedding featured a mariachi band, a cake designed by
Cake Boss
star Buddy Valastro and will be televised during a two-hour
special on TLC
, slated to air Dec. 8.
(Wish the newlyweds well)
2. Heidi Klum's Halloween Party Must Go On ... for a Good Cause
After Superstorm Sandy ravaged the East Coast during Halloween, Heidi Klum decided her annual bash should benefit the American Red Cross's Sandy relief efforts. Dressed as Cleopatra, the model-turned-mom showed off a bedazzled face ... all in the name of helping others.
(See the pic)
1. Bachelorette Star Ashley Hebert Marries J.P. Rosenbaum
From
Bachelorette
to bride: Ashley Hebert married J.P. Rosenbaum Saturday afternoon in Pasadena, Calif. Hebert told PEOPLE that her wedding day was about "standing with J.P., looking around at all the people we love in the same room there to celebrate our love."
(Get the scoop)