Jeb Niewood Gives Kids with Disabilities the Chance to Play Sports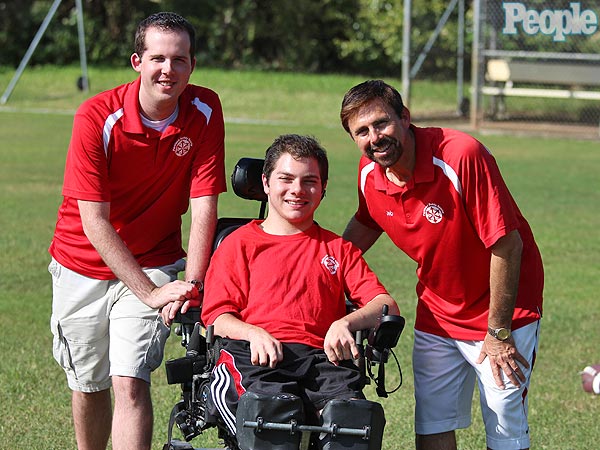 As a little boy, Jeb Niewood's son, Kevin, noticed nothing out of the ordinary about his best friend and playmate, Bradley Schneider.

When they met in the third grade at Riverglades Elementary School in Parkland, Fla., Kevin and Bradley, who has Down syndrome, learned they had a lot in common, like a love of sports, and their shared idol, Michael Jordan.

"I didn't see a kid with Down syndrome. I just saw Bradley," says Kevin, now 23, and a reporter and meteorologist at an NBC affiliate in West Virginia. "A nice boy, and a good friend."

Touched after volunteering in their class and watching the boys play, in 2002, Niewood, 58, an attorney, founded Soccer Buddies, a program that pairs special needs kids with non-disabled peers for two-hour sports outings each week.

Since starting in 2002 with 20 players and 30 volunteers, the program – now known as Parkland Buddies – has served over 2,000 local children, growing to become one of the largest recreational programs in the small town of Parkland, with year-round sports offerings and hundreds of members.

"They've grown by leaps and bounds," says Parkland mayor Michael Udine. "It's totally brought our town together."
A Place to Learn and Play
While teaching non-disabled volunteers – who range in age from 10 to 18 – lessons in acceptance and inclusion, Buddies also affords special needs kids a safe place to play.

"It's a safe harbor for parents," says Jane Kaufman, 49, whose 12-year-old Bryan has autism and has been involved in the program for the last five years. "We have a place where people love our son and are rooting for him."

Garrett Meyerson, 17, who has cerebral palsy, says Buddies gave him "confidence," and helped him develop physical strength.

"I've been walking for quite some time, but only with a walker," says the high school senior. "Buddies gave me the confidence to walk longer distances and to keep going."

Now a volunteer, Meyerson currently mentors a youngster who also has cerebral palsy. "To encourage him and mentor him is a really awesome feeling," says Meyerson. "The smile that I had when I was his age, it never leaves his face."

As for the original Buddies, Bradley and Kevin, they're still great pals.

"We support each other, big time," says Kevin of Bradley, a high school grad and bagger at a local grocery store who still plays a sport each season and hopes to transition soon to become a Buddies volunteer. "The other day he texted me and we chatted for a while over text."

Says Bradley: "Helping other people who have Down syndrome makes me feel great."



Know a hero? Send suggestions to heroesamongus@peoplemag.com. For more inspiring stories, read the latest issue of PEOPLE magazine