Amanda Seyfried: 'Everyone Wants to Have Sex' with Channing Tatum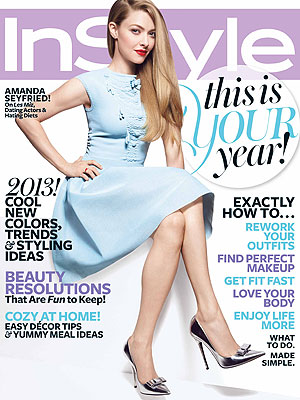 Amanda Seyfried has worked with a lot of good-looking men, but there's one in particular who rises to the top of her list.

"Channing [Tatum] was amazing. He's a superstar," the actress, 27, tells the January issue of InStyle about PEOPLE's 2012 Sexiest Man Alive.

Seyfried, who starred opposite Tatum in 2010's Dear John, is well-aware of her former costar's appeal.

"Everybody wants to have sex with him. And the only person he wants to have sex with is his wife, Jenna [Dewan-Tatum]. He's the most loyal husband," she says.



But while Tatum and Dewan-Tatum have managed to find marital bliss in spite of being in the spotlight, Seyfried admits she's not as lucky.

"The thing is, I can't date anybody without it being portrayed as a serious relationship in the tabloids. It sucks! Like Josh Hartnett and I were friends; we hung out, we dated. I don't actually have sex with every male I come into contact with," she says.

Another of Seyfried's costars getting a lot of attention is Anne Hathaway, who chopped off her locks and went on a drastic diet for her role in the upcoming Les Misérables, opening Dec. 25 (Seyfried plays Cosette, and Hathaway is Fantine).

"I would have done that for sure," Seyfried says of the haircut, but she draws the line there. "I probably wouldn't lose or gain weight for a role, though. I'm too health-conscious. And I don't think I could actually lose weight because I couldn't be on that kind of a diet. I would lose my mind."


Stripping for Lovelace
But playing the late porn-star-turned-feminist Linda Lovelace for the upcoming biopic Lovelace did have Seyfried focusing on her physique, which she doesn't mind.

"It's not about my body. It's not about me," she says of doing nude scenes. "You're playing somebody else. You're not going to believe a love scene if the people are dressed. You're not going to believe a stripper who has on a bra and underwear the whole time. At the same time, it has to do with how comfortable you are with letting people see your skin. For me, I'm okay with it."

Seyfried also says that being diagnosed with obsessive-compulsive disorder – which she manages with Lexapro – has positively contributed to her acting.

"I don't feel like I'm struggling with it. I think OCD is a part of me that protects me. It's also the part of me that I use in my job, in a positive way," she tells the magazine. "The only thing I'd like to get beyond is my fear of driving over bridges and through tunnels. I can't overcome it."

• See Amanda Seyfried's best red carpet looks at Instyle.com