The Funniest Bits from Tina & Amy Hosting the Globes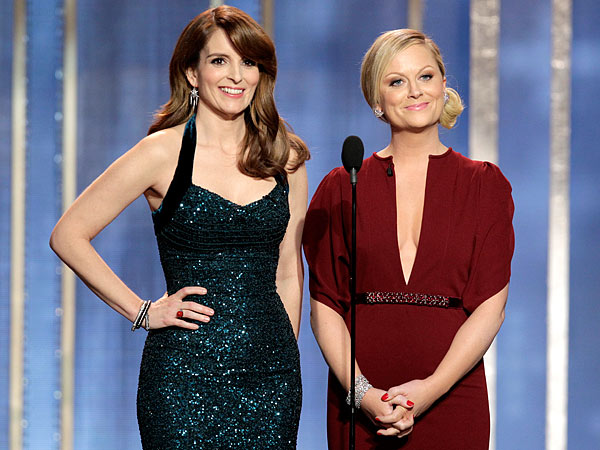 Tiny Fey and Amy Poehler got lots of love from the Golden Globe Awards crowd on Sunday, but didn't shy away from a few stinging lines.

Among the best, halfway through the show, was a zinger directed at Taylor Swift, who was attending as a nominee for best original song.

"You know what, Taylor Swift, you stay away from Michael J. Fox's son," Fey said, referring to Sam Michael Fox, who is this year's Mr. Golden Globe. "Or go for it!" Poehler added.

"She needs some me time to learn about herself!" Fey added bitingly, referring to Swift's long line of boyfriends.



The co-hosts' opening segment at Golden Globe Awards was wonderful, too. Unless you happened to be named James.

The former Saturday Night Live castmates delivered a hilarious – but not too scathing – start to the show, and got their biggest laughs for one-liners about James Franco and James Cameron.

Fey introduced Anne Hathaway, and then left the Les Misérables star with her face buried in her hands with a crack about Franco.

"You gave a stunning performance in Les Misérables," Fey said. "I have not seen someone so totally alone and abandoned like that since you were on stage with James Franco at the Oscars.

Poehler delivered the other big early zinger when introducing Kathryn Bigelow, director of Zero Dark Thirty, a film that has been criticized for suggesting that torture played a role in locating Osama bin Laden.

"I haven't really been following the controversy," Poehler said. "When it comes to torture, I trust the lady who spent three years married to James Cameron."

Bigelow looked stunned but managed a shocked smile as the room erupted in laughter.



The third star to take a ribbing during the intro was Ben Affleck. "Ben's first two movies took place in Boston," Fey said, "but he moved this one to Iran because he wanted to film somewhere that was friendlier to outsiders."

The vibe in the room was less tense than when Ricky Gervais hosted the show the past two years, and took a more acerbic tone. On Sunday, Fey joked that Gervais "could not be here tonight, because he is no longer technically in show business."

Poehler also had nice one-liner referencing the show's hybrid focus on film and TV. "That's what makes tonight so special," she said. "Only at the Golden Globes do the beautiful people of film rub shoulders with the rat-faced people of television."