PHOTO: Jennifer Lawrence Stuns at SAG Awards – Pneumonia & All!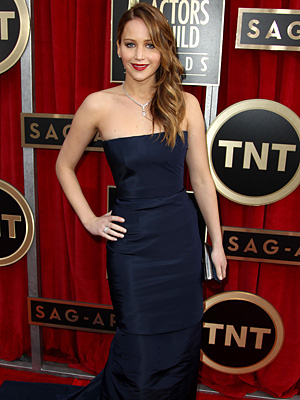 Despite being in ailing health, Jennifer Lawrence looked stunning on the red carpet at the Screen Actors Guild Awards on Sunday.

The Silver Linings Playbook star – who's nominated for her role as troubled girl-next-door Tiffany – is currently very sick, a source tells PEOPLE.

But that didn't stop the 22-year-old actress from stopping to chat with E! News.

"I'm fine, I'm fine," Lawrence told Giuliana Rancic. "I'm so worried everyone's, like, scared of me like, 'Are you still sick?' No, I'm fine."

Showing off her Dior gown and Chopard jewels, Lawrence continued to joke with Rancic, saying,"I have walking pneumonia and it's highly contagious!"



When she was unable to attend Saturday's Australian Academy of Cinema and Television Arts International Awards in Los Angeles, her costar Jacki Weaver accepted her award on her behalf.

"I'm going to receive this on her behalf," Weaver told the audience according to E! News. "Poor Jen is really sick. She really is sick. She has pneumonia."