J.Lo Walks All Over Grammys Dress Code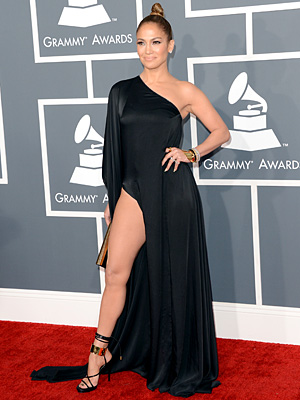 If Jennifer Lopez passes the Grammy Awards dress code this year, it will be on a technicality.

The pop star showed plenty of leg (even more than Angelina Jolie at last year's Oscars!) in her black Anthony Vaccarello dress. And she told Ryan Seacrest on the red carpet that she felt she was in the clear, at least when it comes to particular body parts.

"They didn't say anything about legs!" said Lopez, 43. "I thought I was being such a good girl."

And later, during the telecast while presenting best pop solo performance to Adele with rapper Pitbull, Lopez joked, "So, as you can see, I read the memo."



"You look beautiful, you look gorgeous and you inspired the memo," he responded.

"Yikes," Lopez joked. "Maybe."

Stars have been warned to cover up certain body parts this year. But Lopez is correct – there was no mention of legs in the CBS email.

The star hasn't always been such a good girl in the past at the Grammys, having worn one of the show's most notorious numbers – a plunging Versace dress – back in 2000.