Emmanuelle Riva, Quvenzhané Wallis: Differences Between the Actresses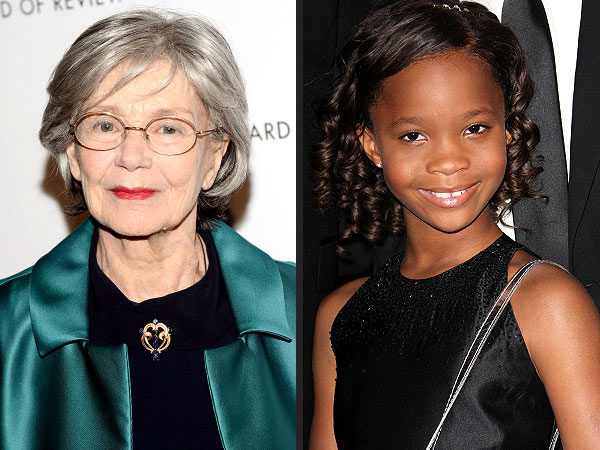 Amid the excitement over last Thursday's announcement of the Oscar nods, it was widely noted that this year brings the eldest Best Actress nominee in the 85-year history of the Academy Awards – as well as the youngest.

They are French actress Emmanuelle Riva, star of the French-language German-Austrian production Amour, who will turn 86 on Oscar day, Feb. 24, and a 9-year-old newcomer from Houma, Louisiana, Quvenzhané Wallis, star of the $1.8 million independent film Beasts of the Southern Wild.

Wallis is so young, in fact, that she had to wait until school was over on Thursday before she was able release a comment about how it felt to be nominated.

Like their ages, the performances of these two remarkable actresses are a study in stark contrasts.

Riva, a veteran of more than 70 European movies, including director Alain Resnais's 1959 New Wave classic Hiroshima Mon Amour (her breakthrough role), plays the aged Anne, a retired music teacher in decline after a stroke. Because of her infirmity, Anne's personality slowly fades away before the eyes of the audience and her screen husband (Jean-Louis Trintignant, in an equally breathtaking performance).

Wallis plays Hushpuppy, a poor and practically parentless child of the flooded Louisiana bayou. Appearing in nearly every single frame of her movie – and only 6 years old during filming – she becomes more vivid as the survival story unfolds.
Riva's Renaissance
Amour won the top prize at last May's Cannes Film Festival, and its recognition helped bring Riva back into the spotlight. Born Paulette Germaine Rivat in a small village in eastern France, she was a seamstress before defying her father, a painter at construction sites, to become an actress. Her first stage role was in Paris, a 1954 production of George Bernard Shaw's Arms and the Man. International recognition from Hiroshima Mon Amour, in which she played a French actress who falls in love with a Japanese architect, came five years later.

"I've never wanted to be a star, never," she recently told The New York Times. "I tried to do things that pleased me, and I needed to do various things. It is dreadful to see actors reproducing the same image constantly."

Besides acting, Riva, who has no children (her companion died in 1999, says The Times), has also published three books of poetry and lives in a book-filled Paris apartment. Reached by phone on Thursday in New York, where she happened to be visiting this week, the actress said of being recognized by the Academy: "How can you not be thrilled about such news? The Oscars are extremely important."
Plucky Kid
Talk about survival: Quvenzhané Wallis lied about her age when she vied with 4,000 others for the role of Hushpuppy. Only 5 at the time, when the required age at the audition was 6, Wallis had never acted before taking on this challenging role.

"She's the most fearless person you'll ever meet," Beasts Oscar-nominated co-screenwriter and director Benh Zeitlin told PEOPLE. "She just comes in a little package."

At her first audition, Zeitlin added, "I tried to get her to throw a stuffed animal at the other actor. She wouldn't do it. I'd tell her to, but she would kind of do this pump fake over and over. Eventually I just had to stop. I asked her, 'Why didn't you throw it at him when I told you to?' She said, 'Well, that is not right. You are not supposed to throw things at people that you don't know.' I loved being defied by a 5-year-old. She clearly was a strong enough person that she could take over the film."

How did she pull off such a difficult role? "I always just believed that I could do it," she told PEOPLE. "I don't know why, because some of it was hard. I guess that comes from my parents."

Pronounced Kwah-VEN-zha-nay, Wallis's first name is taken from said parents – her mother, Qulyndreia, is a teacher, and her dad, Venjie, a truck driver – and the Swahili word "zhané," which means "fairy." They call her Nasi, or NAY-zee.

Asked by USA Today if, in real-life, she is as fearless as Hushpuppy, Wallis, the youngest of four children, replied: "Mm-hmm! Even more fearless." For that she credited her two teenage brothers. "As soon as I was born, they started aggravating me."

Besides fending off siblings, attending school and being nominated, Wallis has busied herself with another film role, in 12 Years a Slave, based on the memoir of Solomon Northup, a free man of color who was kidnapped and sold into slavery shortly before the Civil War. Shot last summer in New Orleans, it is directed by Steve McQueen (Shame) and costars Michael Fassbender, Paul Giamatti, Alfre Woodard and Brad Pitt, who is also producing.

For the record, Riva and Wallis are nominated for Best Actress along with Jessica Chastain, in Zero Dark Thirty; Jennifer Lawrence, in Silver Linings Playbook; and Naomi Watts, in The Impossible. They are 35, 22 and 44, respectively.

The 85th annual Academy Awards will air live on Sunday, Feb. 24, on ABC from the Dolby Theatre in Hollywood.

• With reporting by OLIVER JONES