How Ben Affleck & Jennifer Garner Are Making a Hollywood Marriage Work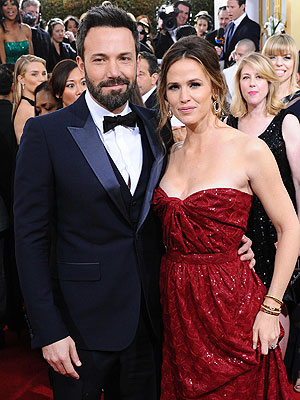 He kept his arm tenderly around her back. She beamed as he told her "I love you" from the stage, and when the show was over, gently reminded him to take his jacket. For Ben Affleck and Jennifer Garner, the British Academy Film Awards in London on Feb. 10 was another successful date night – and a rare grown-ups' weekend getaway, with their three kids staying home with Garner's sister.

Well, almost: "He's just like a child!" Garner lovingly joked to a friend as she tugged her still-schmoozing husband–who won the night's two biggest honors for his film Argo – toward the exit. Could an Oscar for Best Picture be his next stop? "This is a second act for me," he said in his London acceptance speech. "I am so grateful and proud." As he told PEOPLE recently, "I am very lucky. I have to knock on wood about my life."

Especially about the woman who's a lock for Best Supporting Spouse. After seven years of marriage and three kids – Violet, 7, Seraphina, 4, and Samuel, who turns 1 on Feb. 27 – Affleck and Garner, both 40, seem to have struck that rarest of things for a Hollywood couple: balance. It's an old-fashioned arrangement, with Garner handling most of the day-to-day responsibility for keeping the children's schedules humming while Affleck rides his Argo hot streak – including Screen Actors Guild and Golden Globe wins, despite a snub for the Oscar directing category.

"I've got a great family; I'm really inspired by where my career is," Affleck says. "I've seen a lot of different things rambling around in this business, and I'm just really, really happy to find myself where I am."

Several sources who know the couple well say that both stars are at ease in their "quite traditional roles," as a Garner friend puts it. Garner dialed back on her own career to commit herself to making the ballet-karate-playdate rounds.

"She blows my mind," says Affleck's Argo costar Clea Duvall. "She's such an amazing mom and such an amazing wife and so supportive of him. It's just . . . they're kind of the ideal." Although Affleck has made his share of school runs during a busy awards season, in many ways he's an old-fashioned dad.

Says a source who knows the couple: "Have you ever seen Mad Men? That's how he approaches [marriage and kids] – providing for your family is your priority, and raising the kids day-to-day is the wife's priority." But when he's not working, he's plenty hands-on, reading to the girls at bookstores and taking them to the farmers' market. "His wife and family are the best things that ever happened to him," says an Affleck pal. "They have always come first and always will."