Jennifer Lawrence and Jason Sudeikis Joke Around in SNL Promos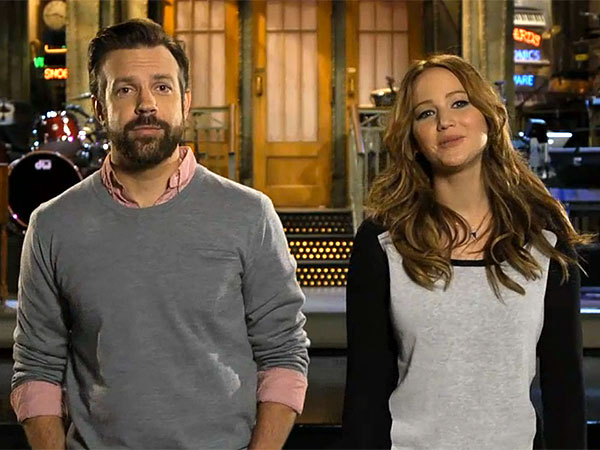 Jennifer Lawrence is starting 2013 on the funny foot.

After giving a humorous acceptance speech at the Golden Globe Awards on Sunday, the Silver Linings Playbook star, 22, will host Saturday Night Live on Saturday.

Teaming up with the SNL's newly engaged star Jason Sudeikis, the pair shot some hilarious promos for the big night, which will also feature musical guest The Lumineers.

In one promo, Sudeikis introduces Lawrence, who confidently replies, "Yes! First, a Golden Globe, now this? I don't even know who to thank!"



Another promo is an ode to Silver Linings, with Sudeikis wearing the signature trash bag Bradley Cooper wore in the Academy Award-nominated film.

"Just trying to drop some of this winter weight, B. Coop style," he says. Lawrence responds, "It doesn't work if you're just standing there. You have to be running."

An additional promo shows Sudeikis getting down about never having been nominated for a Globe, which gets Lawrence to sing his praises.

"You're really funny, and you're a really good actor, you're grounded and you listen," she says. "And you're very handsome. Should I stop? Well, you're subtle and you have amazing charisma."

SNL airs Saturday (11:30 p.m. ET) on NBC.