News
Monday January 21, 2013 08:00 PM EST
5 Things You Missed: A Star-Studded Presidential Inauguration, Miley Cyrus's Sunny Winter Vacay and Selena Gomez Sings About Bieber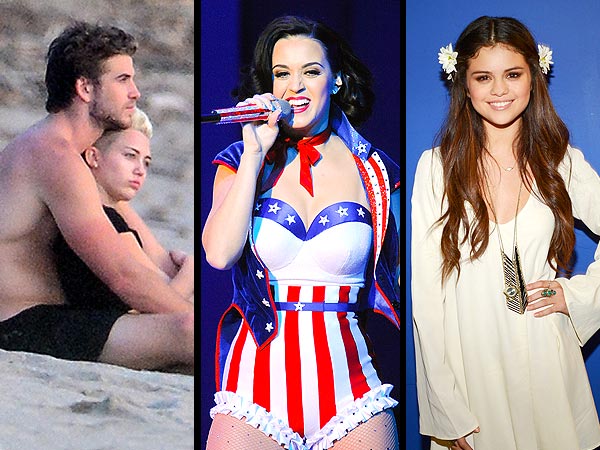 by Alison Schwartz
No offense, Hollywood, but the hottest, most happening place to be this weekend was, hands-down, the Capitol, where an estimated 800,000 people – and plenty of famous faces – flocked to mark President Barack Obama's inauguration.
From Washington, D.C., and beyond, it was a jam-packed holiday weekend of patriotic attire ... and, um, the politics of love.
Maybe congress could learn a thing or two from Beyoncé, eh?
Here's what you missed:
5. Everything's Sunny for Miley Cyrus and Liam Hemsworth
No sweaters, no problem: Miley Cyrus and
fiancé
Liam Hemsworth left the winter behind for a warm Costa Rican vacation. And judging by the way the couple canoodled on the sand, we're sure they were perfectly cozy.
(Take a vicarious vacay)
4. See Who Let Loose in Our Sundance Photo Booth
Kristen Bell? Check! Octavia Spencer? You got it. Alexander Skarsgard? Yup, he's here, too. From Paul Rudd to Rooney Mara, the biggest stars of your future favorite movies flocked to PEOPLE's Sundance Film Festival photo booth for some candid close-ups.
(Say cheese!)
3. Selena Gomez vs. Justin Bieber: It's a Sing-Off!
Does she want us to read between the lyrics? Although Selena Gomez made no comment about her relationship status with Justin Bieber at her New York City
acoustic concert benefit
for UNICEF, she let her song choice do all the talking. After admitting she's "kind of been through a lot these past couple of months," she launched into Justin Timberlake's ultimate breakup anthem, "Cry Me a River," which Bieber previously covered at a Boston show. Who sang it better?
(You decide)
2. Jennifer Lawrence Has a Few Choice Words for Her Oscar Competition
If you thought Jennifer Lawrence was cutthroat in
The Hunger Games
, wait until you see her take on her
sister Oscar nominees
. The
Silver Linings Playbook
Best Actress contender took a few friendly jabs at the competition, including Jessica Chastain, Naomi Watts and Emmanuelle Riva, while hosting
Saturday Night Live
.
(May the odds be ever in her favor)
1. Katy Perry's Political (Style) Statement
Spotted: a major star in stripes. Katy Perry was one of the many celebs on hand in Washington, D.C., singing in Obama's second term. Before
stepping out with
beau John Mayer, she took the stage at the Kids Inaugural Concert. Other patriotic performers this weekend: Usher, Kelly Clarkson and
National Anthem-singing
Beyoncé.
(See the president's famous fan)