Miley Cyrus Wears a Suit Jacket … and Not Much Else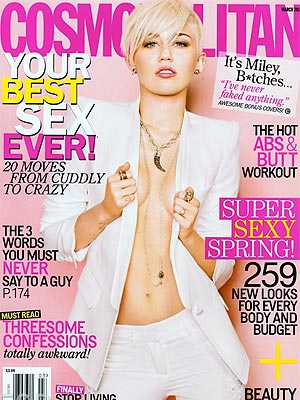 Miley Cyrus is one sexy star – and she's not afraid to show it.

The former child star is featured on the cover of the new Cosmopolitan magazine wearing a fitted white suit jacket, low slung pants – and not much else.

Cyrus, 20, who was styled by Rachel Zoe for the cover shoot, Tweeted about the story before it was released telling fans, "Who ready for @cosmopolitan to start givin up the goods?!?! So excited for y'all to see my cover."

In the interview, when Cyrus is asked to rank the parts of her life she's most satisfied with, she says referring to fiancé Liam Hemsworth, "Number one is my relationship with Liam. That's what I feel the most confident in because you never know; there's so much hype behind my new record, but it could come out and, worst-case scenario, everyone [expletive] hates it."

In fact, Cyrus gushes about how attractive her husband-to-be is, telling the magazine, "I'll literally look at him and [will] be like 'You are hot, dear god!' "

Describing a moment at home recently, she adds, "The other day, I turned on the pool heater and it was steaming, and he walked outside and took off his clothes and jumped in the pool. I was like, 'I'm gonna faint – the hottest guy of my life is in a steaming pool. This looks like a Playgirl shoot.' So I took a photo and made it the background on my phone. My best friend grabbed my phone and was like, 'Who's that? He is so hot!' That's my hubby!"