Dog Eats Own Tail to Survive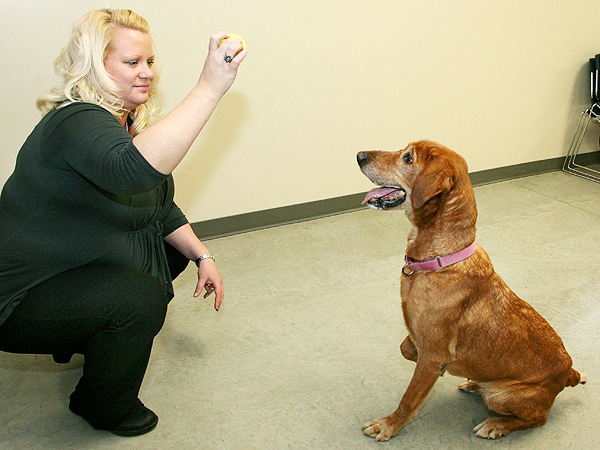 She did what she had to do.

Goldie, a golden retriever from Forest City, Iowa, ate her own tail in order to survive nearly three weeks without food in an outdoor kennel. The elderly pup, who is now recovering at the Humane Society of North Iowa, consumed half her tail, leaving her bone painfully exposed.

According to information released by the shelter, the dog's sad story came to light when a distressed landlord recently placed a call to the Humane Society to inform them that an evicted tenant had moved out and left behind eight filthy and malnourished dogs to fend for themselves.

The 7-year-old pooch – later named Goldie – was one of them, and she was locked in an outdoor kennel for nearly three weeks, with no access to food and only a limited water supply.

"Goldie's story of survival shows us just how resilient this beautiful girl is," Sybil Soukup, executive director of the Humane Society, said in a statement on the shelter's website. "She endured three dismal weeks of neglect and abandonment, confirming that pets are not disposable or something you leave behind when your life moves on."

The emaciated and sickly pup, whose story was first reported by local news media, showed up at the shelter weighing a horrifying 46 lbs. – 20 less than a dog her size should weigh. But despite all she'd been through, her bloodied tail was wagging when she arrived, a sign that she was happy.

In a little more than two weeks at the shelter, Goldie's tail has been successfully amputated and she's already gained 6 lbs. After she fully recovers, she should be placed up for adoption (the rest of the pups found at the residence have all been placed in homes). Until then, she's making friends at the shelter and keeping herself busy with toys.

"All she wants is a loving home," reads a post on the shelter's Facebook page, "and a tennis ball!"