Beyoncé: Seeing My Daughter's Face 'Is the Best Thing in the World'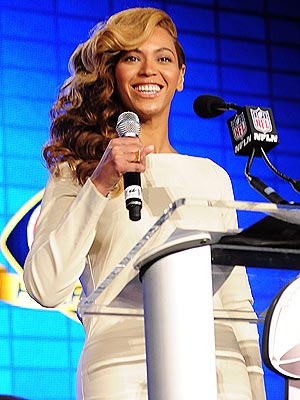 Behind the glitz and the glamour, it's all about family for Beyoncé.

"My husband is incredible," the pop star, 31, gushed on the NFL Network's Super Bowl Live show of Jay-Z. "He's so supportive."

But Sunday's Super Bowl halftime performer's smile gets even bigger when it comes to talking about her daughter, Blue Ivy.

"When I wake up in the morning, the best thing in the world is seeing her face," Beyoncé says. "She's starting to talk. It's just such a beautiful time in my life to have a child and every day see something new and see her learn something new."

Calling motherhood "so much more fulfilling than anything else in the world," she adds, "I love it."

As for family football traditions. "Usually we have all of our friends and we have our drinks," Beyoné explains. "Sometimes the women and the men end up separating. We get excited, but the exciting part for me is the halftime show, and I'm happy to be the entertainment for it."