Make Catherine McCord's Heart Tarts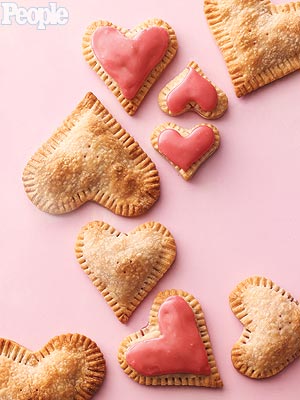 Catherine McCord, the Weelicious food blogger and cookbook author (in stores now), shares a treat "my kids ask for every Valentine's Day."
Raspberry Cream Cheese Tarts
Makes 10 tarts

½ cup plus 10 fresh or defrosted frozen raspberries
¼ cup whipped cream cheese
1 tbsp. honey or agave
1 pkg. (14 oz.) refrigerated pie crust
1 tbsp. milk or water
1 ½ cups powdered sugar

1. Preheat oven to 400 degrees. In a bowl mash together ½ cup raspberries, cream cheese and honey.
2. Unroll pie crusts, and using a large heart-shaped cookie cutter, cut out 20 heart shapes. Top 10 hearts with 2 tsps. each of the raspberry mixture, leaving a ¼-in. border. Lightly brush the borders with water. Cover with remaining hearts.
3. Using a fork, gently press down on edges to seal. With a toothpick, poke holes in each tart. Place tarts on parchment-lined baking sheet. Bake for 20 minutes.
4. Meanwhile place 10 remaining raspberries in a strainer set over a bowl. Press down on raspberries to release the juice. Whisk in milk and powdered sugar until icing is smooth. Spread on cooled tarts.