Oscar Pistorius Weeps in Court as Prosecutors Seek Murder Charges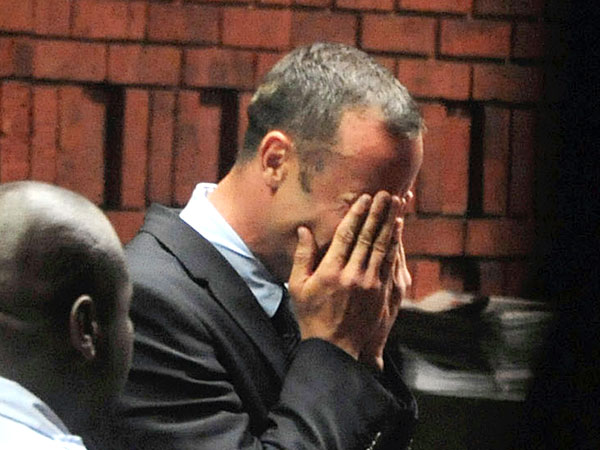 Oscar Pistorius, the South African track star known as the Blade Runner, put his head in his hands and wept Friday as prosecutors said they would seek a charge of premeditated murder in the shooting of his girlfriend, model Reeva Steenkamp, the New York Times reports.

Pistorius, 26, appearing in a Pretoria courtroom, is accused of shooting Steenkamp, 30, whose body was found in a pool of blood in his gated home in Pretoria on Thursday. She was reportedly shot four times. He did not enter a plea on the murder charges and police said they would oppose any application for bail.

Pistorius rose to fame and became a national hero as a world-class sprinter while running in the London Olympics on carbon fiber blades. He was born without fibula bones and had amputations below the knees when he was an infant. He was the first Paralymic champion to run with able-bodied athletes in an Olympic games, making his debut last summer in London.

The murder charge has shocked South Africans who held the athlete up as a national hero. A grim Pistorius sat with his jaw clenched in the courtroom. At one point, his father Henke reached out to him, but Pistorius just walked on, teary-eyed.



Steenkamp had posted Valentine's Day messages of love on her Twitter account just hours before her death. "It should be a day of love for everyone," she Tweeted. Her family said they had no clue of trouble between the couple before her death.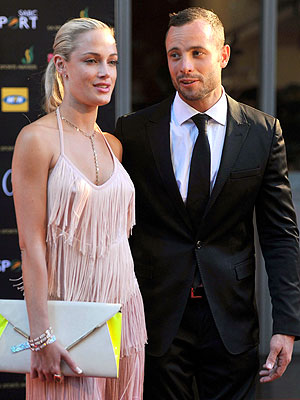 Police told reporters said they were interviewing witnesses, including neighbors. A 9 mm handgun was removed from the home by police.

Initial news accounts suggest that Pistorius, a gun enthusiast, had reportedly mistaken Steenkamp for an intruder. But police countered that story by disclosing previous police complaints of domestic problems at his home.

The court case will resume on Tuesday. Pistorius competed in the 2012 Olympics, running in the 400-meter race, where he reached the semi-finals. He also competed as a part of his country's 4x400 meter relay team. He has previously won two gold medals and a silver at the Paralympic Games, also held in London.



• With reporting by MIKE BEHR