News
Sunday February 17, 2013 08:00 PM EST
5 Things You Missed: Beyoncé Completes Her TV Takeover, John Mayer Puts a Different Type of Ring on It & More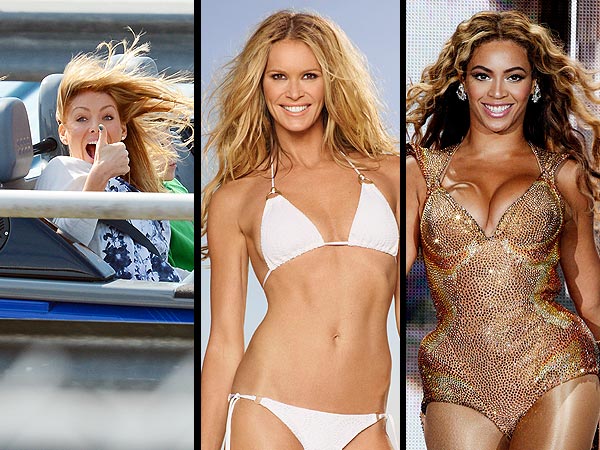 by Alison Schwartz
From a heartwarming baby announcement to a certain heart-shaped ring, there was plenty of post-Valentine's Day love to go around on the streets of Hollywood and beyond.
Here's what else you missed this weekend:
5. Are Katy Perry & John Mayer Engaged?
Someone's wearing her heart on her finger: Katy Perry received a special Valentine's Day present this year from John Mayer, who gifted his gal a ring. After the pop star was photographed wearing a heart-shaped ruby on her ring finger, she quickly sparked engagement rumors – which were just as quickly shot down by a source.
(Bling it on)
4. Kelly Ripa & Michael Strahan Hard at Work ... at Disney
It's all about balancing work and play for Kelly Ripa and Michael Strahan, who are enjoying an on-location family vacation at Walt Disney World. In town in Orlando, Fla., taping
Live!
, the co-hosts were spotted taking in the theme park's top attractions with their kids and a few very famous faces.
(Take a vicarious vacay)
3. All The Motivation You Need to Get in Shape
Working on your summer beach bod? How about this for some gym-spiration: From Tyra Banks to Elle Macpherson, revisit some of the most iconic
Sports Illustrated
Swimsuit Issue cover girls and see how they still continue to dazzle (with decidedly more clothes on).
(See you at spin class)
2. Hugh Grant Announces Son's Birth in Less than 140 Characters
Hugh Grant has plenty to Tweet about! He's a dad again, he announced on Twitter. "Am thrilled my daughter now has a brother. Adore them both to an uncool degree," he wrote, adding playfully, "And to be crystal clear. I am the Daddy."
(Send your congrats!)
1. Yet Another Reason We're Obsessed with Beyoncé
Yes, we had some big, big plans Saturday night with – who else? – Beyoncé. In case you weren't glued to your TV like us, our friends, family, cats and, basically, everyone we've ever encountered, here's everything you need to know about the mega-star's HBO documentary,
Life Is But a Dream
. From her marriage with husband Jay-Z to 1-year-old
baby Blue Ivy
, this 90-minute look into Beyoncé's life was actually
our
dream.
(Care to sing along?)