Chelsea Handler: Jennifer Aniston Hasn't Told Me Anything About Her Wedding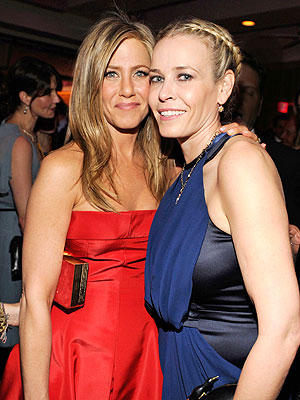 Even Jennifer Aniston's closest friends are being kept in the dark about her upcoming wedding plans.

"I know she's engaged but that's all I know," Chelsea Handler told talk show host Katie Couric. "I'm sure I'll find out about it when it's about to happen ... for privacy issues."

Handler co-hosts Friday's episode of Couric's syndicated talk show Katie but had very little to share about her pal Aniston's pending nuptials to Justin Theroux.

"I honestly don't know anything about it," Handler said. "She doesn't consult me on her plans."

The Chelsea Lately host also implied she has not been asked to be a bridesmaid (or a flower girl) by Aniston, who announced her engagement to Theroux last fall.

"Would you ask me to be a flower girl? I mean seriously," she told Couric, who answered politely, "I'm not getting married but I would ask you to be a bridesmaid."

"Bridesmaids are tricky," Handler continued. "If I got married I wouldn't even have a bridesmaid. [My talk show sidekick Chuy Bravo] would be my flower girl – or no, ring bearer. See! I don't even know what happens at weddings."

There is one thing Handler can confirm about Aniston's engagement to Theroux: "She's happy, of course," Handler said. "He's a great guy."