Chaz Ebert: Roger Smiled Right Before He Died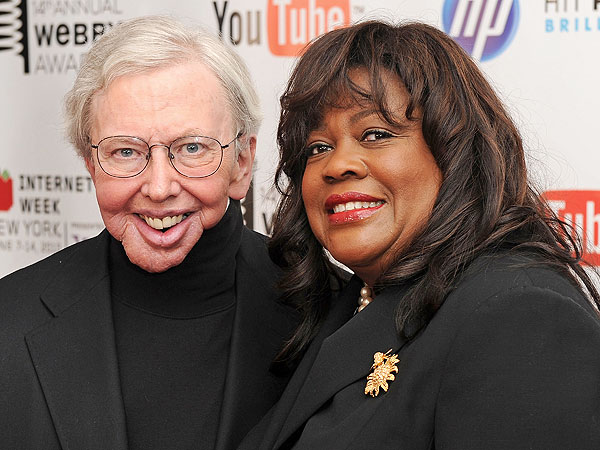 Roger Ebert is resting in peace.

"We were getting ready to go home today for hospice care, when he looked at us, smiled, and passed away," Roger's wife of 20 years, Chaz, said Thursday in a statement, shortly after news broke of his death. "No struggle, no pain, just a quiet, dignified transition."

But the loss of the iconic movie critic, 70, has understandably left Chaz "devastated," as she refers to him as "my husband, my friend, my confidante and oh-so-brilliant partner."

"He fought a courageous fight. I've lost the love of my life and the world has lost a visionary and a creative and generous spirit who touched so many people all over the world," she said. "We had a lovely, lovely life together, more beautiful and epic than a movie. It had its highs and the lows, but was always experienced with good humor, grace and a deep abiding love for each other."

Survived by his stepchildren, Sonia and Jay, and grandkids, Raven, Emil, Mark and Joseph, Roger "just yesterday was saying how his grandchildren were 'the best things in my life,' " Chaz says. "He was happy and radiating satisfaction over the outpouring of responses to his blog about his 46th year as a film critic. But he was also getting tired of his fight with cancer, and said if this takes him, he has lived a great and full life."

A day before his passing, the same day of 46th anniversary of reviewing movies, Roger announced his cancer had returned.

"We are touched by all the kindness and the outpouring of love we've received," Chaz said. "And I want to echo what Roger said in his last blog, thank you for going on this journey with us."




His Own Love Story
Roger endured severe bouts with cancer over the last 11 years. Despite the tumors that ultimately changed his face and robbed him permanently of his ability to speak, the popular film critic never dwelled on his bleak status, thanks to his wife.

"When I was essentially helpless, she was my tireless advocate," he told PEOPLE in 2010. "She's my angel."

Roger thought of himself as a fortunate man. He saw his severely debilitated state as an opportunity to have a stronger relationship with the person he loved the most.

"Chaz and I have drawn so close through all of this," he said. "She's the most positive force in my life and I am the luckiest man because of her."

In 2006, complications from thyroid cancer treatment took his jaw and stripped him of his ability to talk and forced him to be fed with a liquid diet five times a day through a tube inserted into his stomach.



"I refuse to become a recluse," Roger said, while communicating by tapping out his thoughts on a laptop and then relaying them with a computerized voice. "I have a crooked mouth and a dressing around my neck. Nothing to be ashamed of."

He knew cancer might someday return and that didn't stop him from living his life. "There are no guarantees," Roger said. "But there is also nothing to fear. We come from oblivion when we are born. We return to oblivion when we die. The astonishing thing is this period of in-between."

• Reporting by CHAMP CLARK