News
Thursday April 18, 2013 11:30 AM EDT
Former Army Officer Bruce Mendelsohn Helped Victims In the Aftermath of the Boston Bombings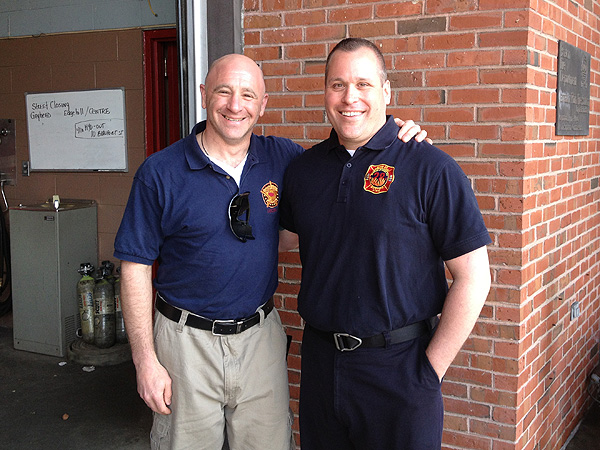 Former US Army officer Bruce Mendelsohn, 44, who served during the Persian Gulf War, was at a post-race party looking out the window at the Boston Marathon spectators when he heard the the explosions and sprang into action, pushing people to safety and assisting victims. He gave this first-person account of his experience to PEOPLE's Nicole Weisensee Egan
.
On marathon day I was enjoying a post-race party with about two dozen people at an office right across from the finish line. At around 4:10 on the marathon clock I saw a flash from the corner of my eye; a blast wave immediately blew me off the couch upon which I was sitting and onto the floor.
I yelled at my brother – who'd finished the race over an hour before – to get all the people away from the windows, in case there was a secondary explosion. As soon as I said that, the second explosion detonated.
Once I saw all the people at the party were secure in the back of the office, I ran down the stairs to the ground floor. I almost slid on the glass shards and blood that was on the ground. I saw a woman with a deep calf wound; I grabbed a t-shirt and tied a tourniquet above the wound. I grabbed a Boston firefighter – Jimmy Plourde – and instructed him to evacuate the woman.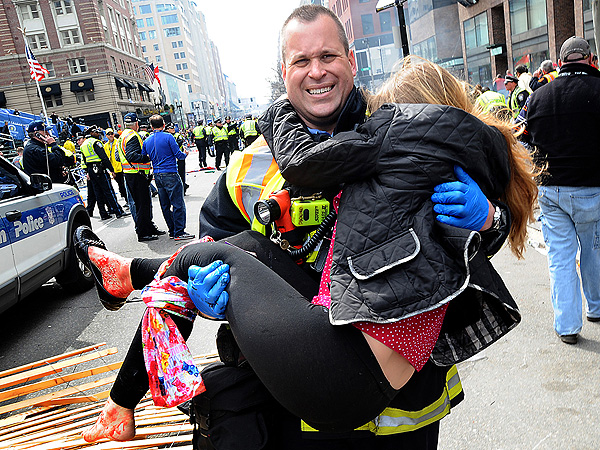 Ken McGagh / MetroWest Daily News / ZUMA
I then heard a woman keening for her son. I grabbed her, told her to stay put, and that I'd find her son. I looked around and saw a boy, dazed, about 20 feet away. I ran over to him, turned him in the direction of the woman, and said, "Hey buddy, is that your mommy?" He nodded affirmatively. I picked him up, ran him over to his mom, and yelled at them to get out of the area.
I then ran up to some Boston PD officers and instructed them to establish a security perimeter, to make sure no one besides authorized people entered the scene. They quickly responded. I moved to a couple more wounded people, loaded non-ambulatory wounded onto wheelchairs and then onto ambulances. Ambulatory wounded I literally pushed out of the area.
After about 12 to 15 minutes, the scene was completely under control. A Boston PD special operations officer asked me who I was, and I said, "I'm just a guy trying to help." He said if I want to help, I should leave the area.
I went back into the office building, up the stairs, and reunited with my brother who was waiting with the others who hadn't left the office. I took a photo of the scene before I left out the back, via the fire escape, and joined with the thousands of people fleeing across the Mass Ave bridge.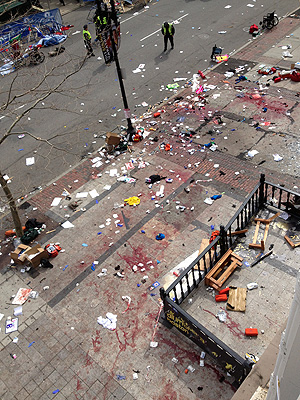 Courtesy Bruce Mendelsohn
People call me a hero but I'm not. I guess my Army training kicked in, along with my desire to do something, anything, to help. I was angry that someone took away from this special day.
To me, my actions reflect the American spirit. I won't allow terrorism to defeat us, and if my actions that day helped reflect that desire, so much the better.