Alyssa Milano Strips Down for Sex Scene in Mistresses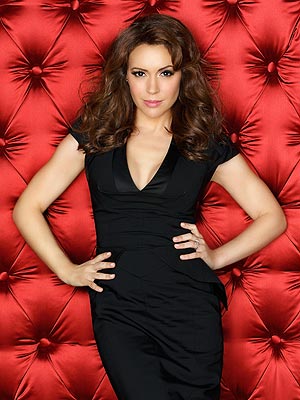 Alyssa Milano is every bit the sexy starlet in ABC's new series, Mistresses.

The actress, 40, who plays Savi Davis, starts out a preview clip of the show seductively flirting with Brett Tucker's character, Harry Davis, who is presumably married to someone else.

But when the scene shifts to the bedroom, viewers come to find out that Savi and Harry are actually married, and their meet-up was only part of a roleplaying game to spice things up during their quest to get pregnant.

"I should probably be on top," Tucker, 40, says while the two are tossing around on the bed. "Since you're ovulating, we probably shouldn't waste the good stuff."

Explains Milano to PEOPLE: "Every woman trying to get pregnant knows the difference between 'trying' sex and regular sex. And if you've been trying for a long enough time, it gets more and more difficult to keep it fun and exciting. This scene is about Savi's attempt to keep her sex life with her husband alive using roleplaying. Unfortunately, Harry has his eye on the fertility prize and the mood gets kind of ruined."

Mistresses premieres June 3 (10 p.m. ET) on ABC.