Ty Simpkins: 5 Things to Know About the Iron Man 3 Scene Stealer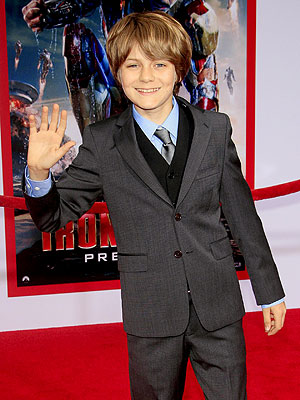 Ty Simpkins currently stars as the young boy who gives a helping hand – and a hard time – to Robert Downey Jr.'s Tony Stark in Iron Man 3, but there is much more to the New York City native, who has been acting since he was 3 months old.

Simpkins, 11, has already starred on two different daytime soaps (One Life to Live and Guiding Light), worked with Oscar winner Kate Winslet on three movies (All the Kings Men, Little Children and Revolutionary Road) and become the face of a new horror franchise (Insidious and Insidious: Chapter 2, expected later this year).

But at heart, Simpkins is still just a fifth grader who loves his extracurricular activities.

1. He's no superhero novice
"I am very big into superheroes," Simpkins, 11, tells PEOPLE. "But seriously, the only superhero I really knew before Iron Man that was a Marvel superhero was the Hulk, when I was, like, [4 years old]. And my favorite action figures are probably these two Chewbacca figures that my grandparents got me."

2. His favorite school subject is ...
"Recess and lunch are the best," Simpkins says of attending a normal elementary school when not working on a film. "But I still like social studies. I like our past. It is just interesting."

3. He's a fencer
"I was into Medieval times, and we found a fencing academy. My mom asked me if I wanted to go and I said, 'Yeah, that'd be awesome,' " Simpkins says of the hobby he picked up while filming the 2010 film The Next Three Days with Russell Crowe. "I liked the type of swords. I thought they looked cool. And I get focused with stuff like that."

4. Acting runs in the family
"Sometimes [my sister] helps me [prepare for an audition], but that is very rare. But if she goes out on something she'll probably do it with me beforehand " Simpkins says of his sister, Ryan. "And then there is the family drama, of course. In every family there is drama."

5. He plays the cello
"I was in between choosing the trombone, the trumpet and the cello," Simpkins says of picking up the instrument three years ago. "I chose the cello because you get to sit down ... and I love Jaws! The first time I saw it I was holding a pillow because I thought it would be scary. Then the movie started and I was like, 'This isn't scary at all.' "

"But when I was 7," he says, "I was swimming in the ocean and a wave came in. I got sucked in to this quicksand stuff and was screaming help and no one heard us. But luckily we pulled ourselves out. Now I like pools better."