The Voice Reveals Its Top 8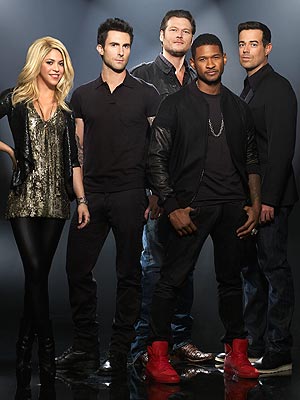 The Voice said goodbye to two more contestants Tuesday night, leaving just eight skillful singers in the competition.

The tragedy in Oklahoma once again took center stage at the top of the show when coach Blake Shelton, an Oklahoma native, and wife Miranda Lambert delivered a heartfelt version of her song, "Over You," dedicated to the victims of the devastating tornado.

Later, host Carson Daly presided over the tense eliminations, as the saved artists were slowly revealed over the course of the show.

So who went home Tuesday night? Read on to find out ...

Josiah Hawley of Team Usher and Kris Thomas of Team Shakira were both eliminated, which leaves the two newbie coaches with just one contestant each on their teams.

Hawley earned mixed reviews from the coaches Monday night for his version of Coldplay's "Clocks," even though the ladies in the audience could not stop screaming for the smoldering Alabama model.

The typically cool Usher admitted, "I'm nervous, and I'm never nervous," before the eliminations were announced, but explained, "I guess it's like a child, someone you've invested time and patience and effort into. But I don't think anything that has happened here should be thought of as a negative."

Now, bespectacled indie rocker Michelle Chamuel, who cracked the top 20 on iTunes for Monday's lauded version of Pink's "Just Give Me a Reason," is his only competitor left standing.



Shakira, who now only has background singer Sasha Allen on her team, looked devastated to say goodbye to Thomas.

The night before, she vehemently defended the R&B singer after he received some mild criticism from Usher and Adam Levine for appearing nervous during his performance – so much so that the judges jokingly cowered behind their chairs – and Tuesday night she equated herself to "almost a lioness when it comes to defending my people."

Thomas clearly appreciated her support, telling Daly prior to his elimination, "I just feel blessed to be on a coach's team that not only believes in me but has my back."