Stephen Colbert Pays Emotional Tribute to His Mother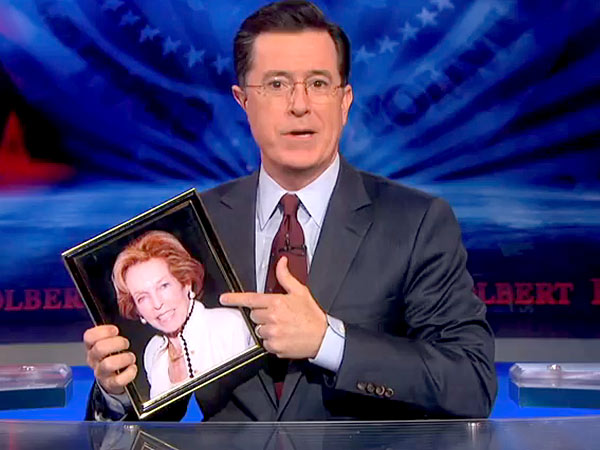 A week after she died at 92, Stephen Colbert was back on the set of his Comedy Central show, Colbert Report, paying tribute to his mother, Lorna Tuck Colbert.

"If you watch this show and you also like me, that's because of my mom," said an emotional Colbert, who barely held back tears as he remembered how she raised 11 children.

"She made a very loving home for us," he continued. "No fight between siblings could end without hugs and kisses, though hugs never needed a reason in her house. Singing and dancing were encouraged, except at the dinner table. She had trained as an actress when she was younger and she would teach us how to do stage falls by pretending to faint on the kitchen floor."

He also told how she coped with unthinkable tragedy, losing a brother, her husband and three sons. "But her love for her family and her faith in God somehow gave her the strength not only to go on but to love life without bitterness and to instill in us a gratitude for every day we have together," he said.

"Her favorite memory of prayer was as a young mother tucking in her children," he continued. "We were the light of her life and she let us know it to the end."

In closing, Colbert recalled saying goodbye: "When I was leaving her last week, I leaned over and said, 'Mom, I'm going back to do the show.' And she said, 'I can't wait to see it. I wouldn't miss it for the world.' "