Julia Louis-Dreyfus Reveals Her Secret to Body Confidence at 52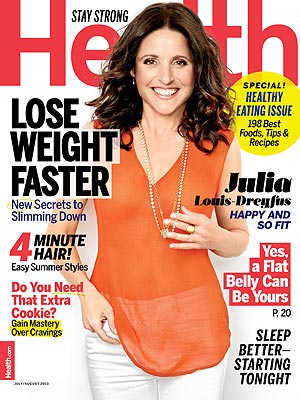 At 52, Veep star Julia Louis-Dreyfus seems to have found what women of all ages are looking for – body confidence.

Her secret?

"Getting older," the actress tells Health magazine for its July/August cover story, now on newsstands. "It's like, 'Yeah, this is who I am, f––– off.' As opposed to, 'This is who I am, I'm sorry.' You know, there's something about getting older and owning who you are that is a good thing."

Her confidence translates to another everyday issue women deal with: cellulite. The star's tip? "I try to push the worry down," she says, "and pull the Spanx up!"

Louis-Dreyfus's confident, easy-going attitude extends elsewhere in her life, including balancing work and her family (she and Brad Hall have been married for 26 years and have two sons together).

"Of course you can't have it all," says Louis-Dreyfus. "That's absurd! It doesn't mean you shouldn't pursue what you desire. It's not possible to do and have everything all the time. So you have to make choices … if you realize that, then I think you can free yourself up to prioritize."