Game of Thrones, SNL and Behind the Candelabra Lead This Year's Emmy Race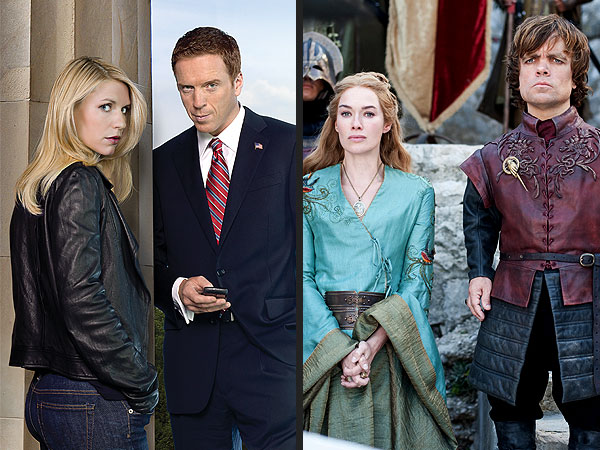 Will Homeland again take home the Emmy, or is it time for Game of Thrones to claim the crown?

And which sitcom will get the last laugh?

Some of the answers were revealed early Thursday morning, with the announcement of the 65th Primetime Emmy Awards, by Breaking Bad's Aaron Paul and last-minute announcer (and ubiquitous TV host) Neil Patrick Harris.

Leading the race for network, cable, on-demand and, now, the Internet's highest honor: American Horror Story: Asylum received the most nods, 17, followed by 16 for Game of Thrones, 15 for Behind the Candelabra and Saturday Night Live, 13 for Breaking Bad and 30 Rock, and 12 for Downton Abbey, Mad Men and Modern Family.

In the top categories, the nominees are:

Outstanding Drama Series
• Breaking Bad
• Downton Abbey
• Game of Thrones
• Homeland
• House of Cards
• Mad Men

Lead Actor in a Drama Series
• Hugh Bonneville, Downton Abbey
• Bryan Cranston, Breaking Bad
• Jeff Daniels, Newsroom
• Jon Hamm, Mad Men
• Damian Lewis Homeland
• Kevin Spacey, House of Cards

Lead Actress in a Drama Series
• Connie Britton, Nashville
• Claire Danes, Homeland
• Michelle Dockery, Downton Abbey
• Vera Farmiga, Bates Motel
• Elisabeth Moss, Mad Men
• Kerry Washington, Scandal
• Robin Wright, House of Cards



Outstanding Comedy Series
• The Big Bang Theory
• Girls
• Louie
• Modern Family
• 30 Rock
• Veep

Lead Actor in a Comedy Series
• Alec Baldwin, 30 Rock
• Jason Bateman, Arrested Development
• Louis C.K., Louie
• Don Cheadle, House of Lies
• Matt LeBlanc, Episodes
• Jim Parsons, The Big Bang Theory

Lead Actress in a Comedy Series
• Laura Dern, Enlightened
• Lena Dunham, Girls
• Edie Falco, Nurse Jackie
• Tina Fey, 30 Rock
• Julia Louis-Dreyfus, Veep
• Amy Poehler, Parks and Recreation

Reality-Competition Program
• The Amazing Race
• Dancing with the Stars
• Project Runway
• So You Think You Can Dance
• Survivor
• Top Chef
• The Voice

For a complete list of this year's nominees, click here.

The 2013 Primetime Emmy Awards will be broadcast live on CBS, Sunday, Sept. 22, 8 p.m. ET/5 p.m. PT.