Miley Cyrus's 'Wrecking Ball' Tears Were Caused by Dog's Death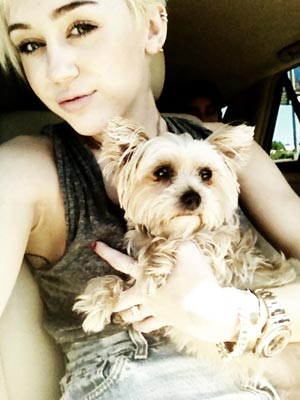 For the past week, all eyes have been on Miley Cyrus as she faces the spotlight in the wake of her split from ex-fiancé Liam Hemsworth. Inquisitive fans are searching for clues as to what went wrong – especially in the star's music.

But in a new interview with Rolling Stone, the singer admits that a moment in her controversial video for "Wrecking Ball," in which she appears completely nude, came about not because of her relationship with Hemsworth, but because of her pets.

"That was real," Cyrus tells the interviewer of the close-up in which she sheds a tear. "My dog just passed away."

The dog she's referring to is Lila, whom the 20-year-old had adopted in 2011; the Yorkie died a year later. "For everyone asking ... I have never been so hurt in my life," she Tweeted on Dec. 11. "My heart has never been so broken."

After "Wrecking Ball" was released, Cyrus went on the defense about her nudity in the clip. "I think the video is much more," she told New York radio station Z100. "If people get past the point I make, and you actually look at me, you can tell I look more broken than even the song sounds."