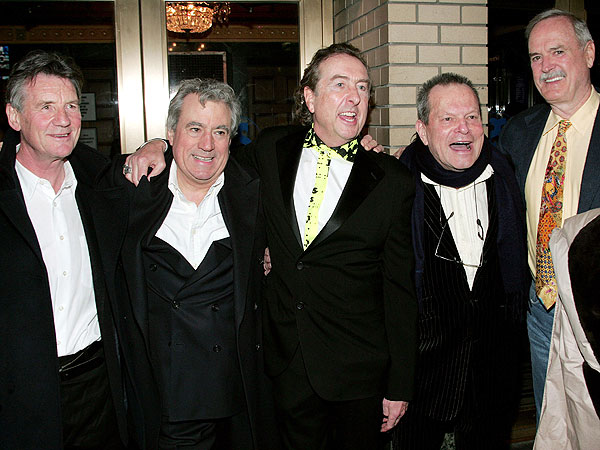 No joke: Monty Python are reuniting!

The five surviving members of the famed British cult comedy group – John Cleese, Terry Gilliam, Terry Jones, Michael Palin and Eric Idle – are preparing to make a comeback almost 45 years since their first TV shows together.

"We're getting together and putting on a show – it's real," Jones confirmed to the BBC early Tuesday. "I'm quite excited about it. I hope it makes us a lot of money. I hope to be able to pay off my mortgage!"

The comedians are all in their early 70s now. A sixth founding member, Graham Chapman, died of cancer in 1989 at age 48. Rumors of a Python reunion surface regularly, but have led nowhere – until now.

Famous for their zany sketch show Monty Python's Flying Circus, which first aired in 1969, and subsequent films Monty Python and the Holy Grail, Monty Python's Life of Brian and Monty Python's The Meaning of Life, the Pythons have taken varied paths through show business since parting.

Cleese has been a success in movies, starring in films including A Fish Called Wanda. Palin makes travel documentaries and writes books. Gilliam is a filmmaker. Jones has been writing scripts, including the film Labyrinth.



The group, whose work has been living on in the musical Spamalot (penned by Idle), was set to announce their comeback Thursday. But news was already circulating, with Idle tweeting Monday that fans should look out for a "big forthcoming news event." And The Sun newspaper splashed the news Tuesday with a front-page headline proclaiming "Monty Python Flies Again."

The five members are still set to hold a press conference Thursday at the Playhouse Theatre in London (where Spamalot is playing). A rep would not confirm any further details.