Victoria Beckham Duets with a Cute Mini-Me Doll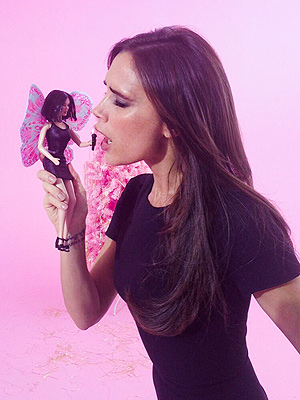 Wasn't Scary Spice available?

Victoria Beckham showed off a miniature version of herself – a doll complete with angel wings, a black dress, heels and a tiny microphone – during a photo shoot on Thursday.

"Finally!! I found someone to duet with on my Xmas e-commerce shoot!" she Tweeted.

The former Spice Girl-turned-fashion designer also shared a pic of herself with her head inside a giant canary-yellow bag.

The mom of four, who recently donated a mountain of shoes and clothes to help raise money for victims of Typhoon Haiyan in the Philippines, said earlier this year that she and her kids have discussed the importance of using her fame to do good.

When her son Cruz, 8, asked why it was good to be famous, she replied, "When people listen to what I say, I could spread some good messages."

The 39-year-old acknowledges that her kids are under a lot of pressure to follow in her footsteps and become performers (or soccer players like their dad, David).

"I don't want to pressure them," she said. "They should be keen and reach as much as possible, but the most important thing is they are happy."