The Most Important Things Online: WestJet's Christmas Miracle Commercial, the Dr. Who Christmas Trailer and More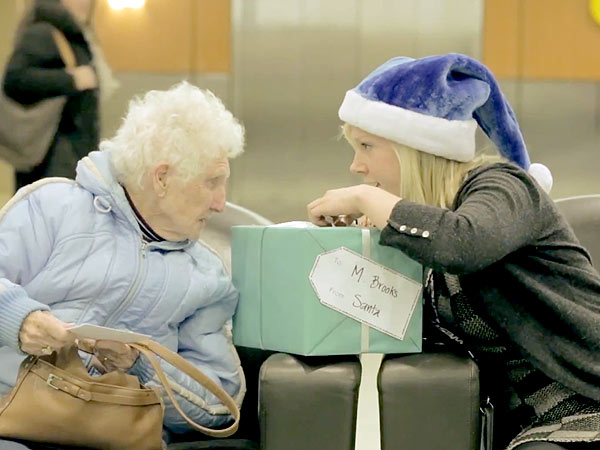 Holiday travel is awful.

You're lugging around a bulky coat. The lines at the airport are unbearable. And there's always someone insufferable on your plane (and, usually, sitting right next to you).

But it doesn't have to be an express jet to hell. This year, WestJet pulled off the sweetest "miracle" for passengers, with a little help from Santa and his elves (er, their employees). Santa asked passengers what they wanted for Christmas – only to find their presents coming down the baggage shoot when they arrived at their destination.

Plus: Another video that will make you weep, more that will make you laugh, the trailer for the Dr. Who Christmas special, and more of the most important random things online.

• WestJet's Commercial Fulfills Passengers' Christmas Wishes

Even though the guy who asked for "socks and underwear" is probably regretting his choice, this ad is sure to make even the Scroogiest of hearts grow three sizes. (At which point, you should probably see a doctor.)





• Singer-Songwriter Matt Beilis Tells the Story of a Childhood Sweetheart in "Perfect for Me" Video

If you weren't crying at the WestJet commercial, you are now.





• High Schooler Makes Behind-the-Back Basket Shot

Marvey'o Otey, from Virginia's William Byrd High School, hurled a basketball from behind his back as he was about to head out of bounds – and he made the shot. Then Bugs Bunny and pals showed up to recruit Otey to help them win a basketball game with some evil aliens…oh sorry. That's Space Jam.





• The Dr. Who Christmas Trailer Promises Even More Monsters

Half of your timeline is really excited. The other half thinks his name is Dr. Who.

• Paul Rudd and Jason Segel Are in an "Altered State" During I Love You, Man Interview

It's an old video, but it just gained traction this week. Probably because Rudd and Segel only now got back from their post-interview Taco Bell run.





• Alison Brie and Danny Pudi Danced in Celebration of Wrapping Season 5 of Community

Sadly, more people watched this Vine than are watching Community.

Community last day of season 5!!! @dannypudi courtesy of @rashistvugly https://t.co/vwxS2ZFBhz

— Alison Brie (@alisonbrie) December 9, 2013


• R. Kelly Did a Twitter Q&A About His New Album

He wanted to answer questions about his new album, Black Panties. Twitter had other ideas.

They made fun of his appearance.


You remember when Sisqo hooked you up with his stylist? #AskRKelly pic.twitter.com/iPE4o2mkQi

— Strawberricurls (@StrawberriCurls) December 11, 2013


They made fun of his, ahem, reputation.


need to get my niece an xmas present. what are elementary-age girls into this year? ? @rkelly #askrkelly

— neil mccauley (@the_blueprint) December 10, 2013


And they asked the question we all were wondering.


what was your social media manager thinking? @rkelly #AskRKelly

— Brokey McPoverty (@brokeymcpoverty) December 10, 2013