Miranda Barbour's Husband: 'Who's to Say' If She's a Serial Killer?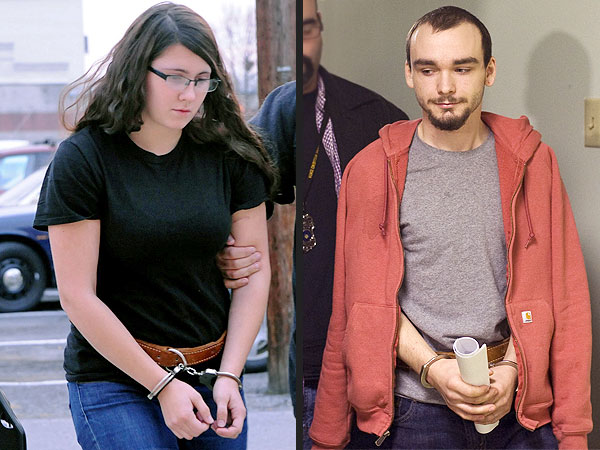 She's being dubbed the real-life Dexter, a self-described serial killer who shocked the world when she claimed that she had killed dozens of people – all of whom had harmed children or owed money. "When I hit 22, I stopped counting," she said in a jailhouse interview with The Daily Item in Sunbury, Pa., on Feb. 14.

So does her husband – and murder case co-defendant – think she's telling the truth about being a serial killer?

"Who's to say?" Elytte Barbour rhetorically asked reporters as he entered a court hearing this week. When asked if he thinks she's lying, he shrugged. "I didn't say that," he replied with a smirk.

Miranda and Elytte Barbour are facing the death penalty in a trial in the November 2013 killing of Troy LaFerrara, a married engineer whom they met on Craigslist. Miranda told police that when LaFerrara got in her car, she stabbed him more than 20 times, leaving him "choking and gasping for air" as she searched for a place to dump his body. In the newspaper interview, Barbour also implicated Elytte, saying that he wrapped a cord around LeFerrara's neck. (Both have pleaded not guilty).

Meanwhile, police and FBI agents are scouring five states to find more possible victims of the petite 19-year-old mother. So far, there have been no results. "Investigators are looking into a couple of cases, but have not connected anything else to Miranda Barbour," an FBI source tells PEOPLE. "We don't have proof that she committed other murders."




A Murderous Alter Ego
Some of Miranda Barbour's claims seem too outrageous to be true. In her jailhouse interview, she said she was a member of a Satanic cult and had a murderous alter ego named "Super Miranda." She also reportedly admitted to having a favorite knife that had notches on it, one for each victim. "There might be a knife with notches," the FBI source tells PEOPLE, "but that proves nothing. We need solid evidence."

Miranda Barbour's attorney, Edward Greco, is now seeking to take the death penalty off the table, calling it "cruel and unusual punishment." Greco tells PEOPLE he has filed a number of pretrial motions. "The motions ask for the appointment of a private investigator," he says, "a computer expert to go through the victim's computers, and any alleged confessions be suppressed."

So is Barbour a serial killer? Law enforcement officials in Alaska, North Carolina and Pennsylvania have found no evidence of other murders. Why would she lie?

"Attention. Psychosis. Strategy," says the FBI source. "Maybe she wants to look crazy as a way to gain sympathy. On the other hand, she may have killed before. We need to check it out."

• Reporting by ELAINE ARADILLAS and SUSAN KEATING