Inside the Fight Over Mickey Rooney's Burial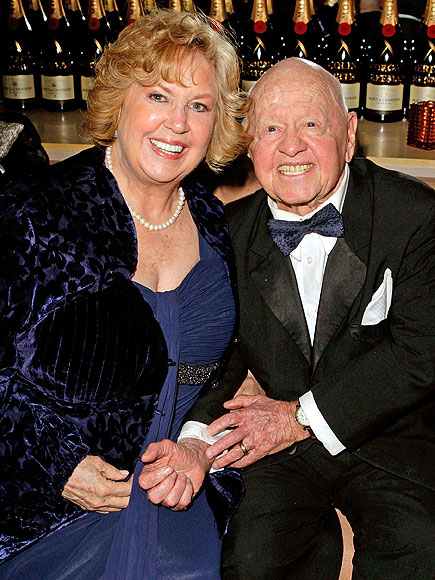 If Michael Augustine has his way, the late Mickey Rooney will forever be surrounded by his peers, from Elizabeth Taylor to Humphrey Bogart.

Amid a longstanding family feud that has even led to disagreement over the star's final resting place, Augustine, whom Rooney appointed as Trustee for his estate in his will, has petitioned the courts for decision-making power over Rooney's burial and memorial.

"Mickey told me numerous times – including when he was revising his will a month ago – 'I want to be buried in Hollywood,' " says Augustine, a Los Angeles-area attorney. " 'If I can't be buried there, then I want to be buried with veterans.' "

Augustine's intention is to block Rooney's wife Jan and her son Christopher Aber from having the actor buried in a plot in Westlake, a small community about 90 minutes north of L.A.

Says Augustine: "Mickey told me, 'I don't want to be buried in Westlake. There's nothing for me in Westlake, that's where Aber is.' "

Rooney purchased the plot in Westlake several years ago, during happier times with his wife, who still resides in the town with her son.

Augustine is hopeful a settlement will be reached before Friday's hearing, "We're going to try to resolve the disagreement and we think the wife will agree. The dispute on Friday I think will go away."

But Jan Rooney's attorney, Mitchell Karasov, says that the actor's Westlake burial has been set for years.

"The whole tragedy of this thing is that these plans that Mickey had [to be buried in Westlake Village] had been in place for years," Karasov tells PEOPLE. "His mother is buried there, Jan's parents are buried there – Mickey was very close to Jan's parents – and Jan will be buried there. Everyone has known about this and at no time did they ever bring up alternatives."

In 2011, Rooney claimed elder abuse at the hands of his stepson, even testifying before Congress about it. Aber denies the allegations. Attempts to reach Aber have gone unanswered.

Karasov says Jan Rooney has not taken a position on the abuse claims.

"Jan has not wanted to get in the middle or take sides between her husband and her sons. This is a Cain and Abel story. She has not wanted to be in the middle of this and she should not be vilified for that … and she says, 'I need to see proof, because if Chris had hurt Mickey that means he would have hurt me.' "

Rooney and his wife quietly separated in 2012 before reaching an agreement in 2013.
Who Gets What?
Augustine says Rooney made sure that Jan would be provided for, but disinherited her in the will out of concern that his estate would end up with Aber.

"Rooney said, 'Jan's taken care of. I don't want to give her anymore because she'll give it to [Aber].' "

"The deal was: they live separately, they're not divorced, and Mickey paid her some support," Augustine says. "[Jan] is going to get $8000 a month in pensions – $2400 from Social Security, and about $6000 from AFTRA."

Karasov claims the split was largely due to Jan's health condition.



"That's a main reason Jan and Mickey were living apart," he says. "Jan couldn't take the stress. She's had some serious health issues.

As for the the dispute, Augustine claims Jan and her son requested to have Rooney's remains moved from Forest Lawn Cemetery – The final resting spot for dozens of Hollywood luminaries from Elizabeth Taylor to Rudolph Valentino – to Westlake.

According to Augustine, "She said, 'I want to exercise my rights as the spouse.' I'm saying, you may be his wife, but I'm going to try to stop you … because that's not what he wanted. I want to fulfill Mickey's wishes and I want him to go to Hollywood forever."

The cemetery has agreed to wait on releasing the actor's remains until the issue is resolved. But even if he is allowed to designate the burial site, Augustine says he might not have money to buy a spot in Forest Lawn. He has also heard from three veterans' organizations who would allow Rooney, who served in World War II, to be laid to rest in a VA cemetery with a full honor guard and 21-gun salute.

As for the service itself, Augustine says, "I'm going to do a small service for family, 15-20 people. Jan will be invited. His children will be invited. Chris Aber will not be allowed to attend."

He also hopes to have a larger, community memorial at a later date, and plans to ask the movie studios to contribute.

• With reporting by CHAMP CLARK