02:09 PM EDT 05/19/2013
Credit:

Justin Sullivan/Getty; George Rose/Getty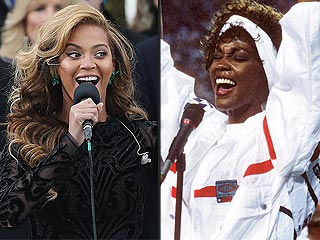 Originally posted 01/23/2013 03:55PM
There's no question that Beyoncé can sing. But did she? That's still the question on everyone's lips.

Following the singer's stellar rendition of the "Star-Spangled Banner" at the presidential inauguration, a spokesperson for the U.S. Marine Corps Band initially said that the singer's performance wasn't live – but was "pre-recorded."

Later, though, a media officer from the Pentagon said that the singer and the band never had the opportunity to rehearse live together, but added, "No one in the Marine Band is in a position to assess whether it was live or pre-recorded." (According to an NPR analysis, it appears that singer may have performed live – to a backing track.)
Credit: Courtesy Alexandra del Pilar, Kelly Kline/Getty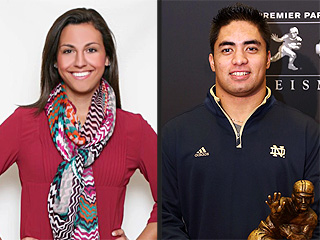 Originally posted 01/23/2013 03:30PM
Yes, University of Notre Dame football star Manti Te'o tells Katie Couric in a new interview, he continued to tell the tale of Lennay Kekua after he realized she might not be real. But he's really a stand-up guy and a great boyfriend, says his real-life ex-girlfriend, Alexandra del Pilar.

Del Pilar, 21, describes her ex as a kind, gentle family man with a big heart who genuinely loved Lennay Kekua, who allegedly died of leukemia Sept. 12, though that turned out to be a hoax.

"Lennay was often brought up in conversation," Del Pilar, a junior at Notre Dame sister school St. Mary's College in South Bend, Ind., who met Te'o in November and dated him until earlier this month, tells PEOPLE. "I wanted to know about her, and how they did the long distance. He definitely [loved her]."

Del Pilar says Te'o, 22, proved equally devoted to her, regularly checking in before and after games when he was on the road – and he introduced her to his family.
Credit: Kevin Dietsch/Landov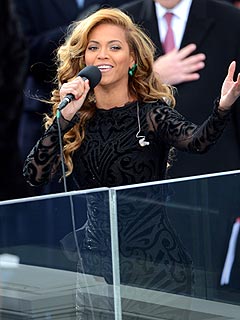 Originally posted 01/22/2013 08:40PM
Did she lip-synch or didn't she?

That's the question surrounding Beyoncé after reports surfaced that she didn't sing "The Star-Spangled Banner" live at yesterday's presidential inauguration.

A spokesperson for the U.S. Marine Band, which backed the pop diva at the ceremony, said Tuesday that Mrs. Jay-Z decided to use a previously recorded vocal track before delivering the national anthem, but later on another spokesperson, this one for the Pentagon, said there was no way of knowing whether the 16-time Grammy winner was guilty of lip-synching or not.
Credit: Michael Conroy/AP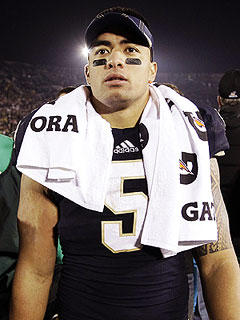 Originally posted 01/19/2013 08:45AM
Notre Dame linebacker Manti Te'o has broken his silence on the topic of the his "dead" girlfriend, telling ESPN Friday night that he played no part in the bizarre hoax.

"I wasn't faking it," the star athlete, 21, told the sports cable network's Jeremy Schaap during the 2½-hour, off-camera interview. (Te'o's comments, which were all in front of his lawyer, were later released by ESPN.) "I wasn't part of this."

Te'o did admit, however, that he "tailored" his tales so that others would assume he had "met her before she passed away."
Credit: Michael Conroy/AP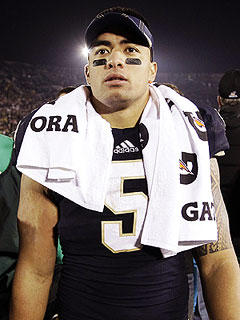 Originally posted 01/18/2013 01:30PM
The executive producer of a show that focuses on people who have been "catfished" – duped by someone romantically through a false online identity – says he thinks it's possible that Notre Dame star Manti Te'o truly was in love, or desperately wanted to be, with a fake Internet partner.

Ariel Schulman, who produces the MTV program Catfish: The TV Show with his brother Nev Schulman, said on Good Morning America Friday that he feels for Te'o, who is under intense scrutiny for touting a relationship with a woman who may have never existed.
Credit: Rob Latour/REX; Kevin Mazur/WireImage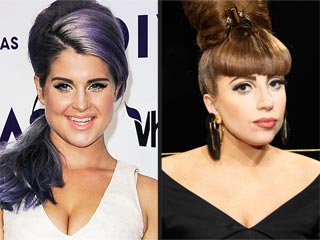 Originally posted 01/13/2013 05:20PM
The feud continues ... sort of.

After Lady Gaga slammed Kelly Osbourne in an open letter – the pop star dissed the Fashion Police host, saying, "Your show breeds negativity" – Osbourne isn't fighting back.

"All I have to say on this subject is that I love Lady Gaga!" Osbourne, 28, told PEOPLE Saturday in L.A., where she appeared at the Art of Elysium Sixth Annual Heaven Gala. "I made stupid mistakes when I was 25, as well, when I accused people of doing things that were wrong. We all live and we learn, and like I said, I'm a big fan of hers."

Last week, Gaga, 26, responded to Osbourne's confession to Fabulous Magazine that she was being bullied online by Gaga's fans by posting an open letter online.
Credit: Rob Latour/REX; Kevin Mazur/WireImage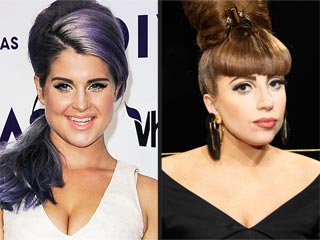 Originally posted 01/11/2013 03:05PM
Don't expect to spot Kelly Osbourne at a Lady Gaga concert anytime soon.

After Osbourne opened up to Fabulous Magazine about being cyber bullied by Lady Gaga fans, the singer responded in the form of a lengthy open letter on her website.

"While I wish you had reached out to me personally, as the head of the Born This Way foundation with my mother Cynthia, we would like to respond," Gaga begins. "Everyday, through my music and public voice I choose to be positive and work towards a kinder and braver world with our community of followers."

The tone, however, quickly changes when the superstar turns the finger at Osbourne's E! Fashion Police hosting gig.
Credit: Frederick M. Brown/Getty(2)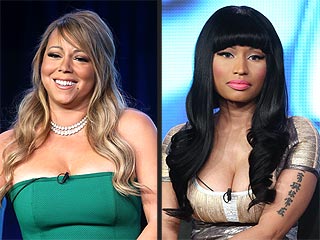 Originally posted 01/08/2013 06:30PM
It's hard to say whether water is fully under the bridge between Mariah Carey and Nicki Minaj, but the two formerly feuding women at least showed each other respect during a panel on Tuesday.

"I actually say nice things about Mariah all the time," Minaj told reporters, while promoting American Idol at the Television Critics Association's winter tour in Pasadena, Calif.

"She is one who really has shaped a generation of singers. ... They aspire to be a Mariah Carey in terms of their talent and career and to be given a chance to sing in front of her," Minaj added.

Carey also had fond career words for Minaj, recalling a collaboration they shared when the "Super Bass" singer first got into the music business.
Credit: David Appleby/AP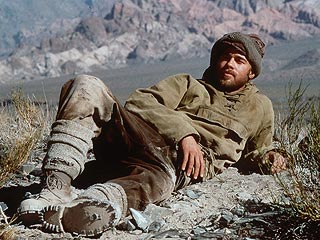 Originally posted 01/07/2013 11:35AM
Looks like Brad Pitt is about to say "Ni hao" to China ... in person.
The actor – who was reportedly banned from China following the government's disapproval of his 1997 film Seven Years in Tibet, which portrayed harsh Chinese rule in Tibet – has hinted at a return to the country. And he took to social media to do it.

Via China's version of Twitter, called Sina Weibo, the actor posted from his verified account, "It is the truth. Yup, I'm coming ..."

The surprising statement is the actor's only "Tweet" on the social network, but it generated more than 24,000 comments from his nearly 160,000 followers before being deleted later in the day.
Credit: Alex Martinez/Bravo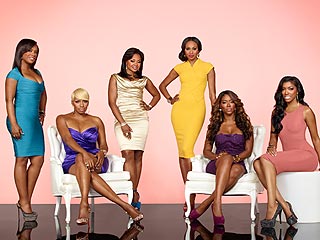 The Real Housewives of Atlanta
Originally posted 12/14/2012 11:05AM
There's trouble in paradise.

The women of The Real Housewives of Atlanta – minus former Housewife Kim Zolciak – have taken their men on a romantic trip to Anguilla for some boating, sunbathing ... and, of course, brawling.

In a sneak peek at Sunday's episode, flames erupt between new cast members Porsha Stewart and Kenya Moore, who got off on the wrong foot earlier this season when Porsha mistakenly called Kenya, who is a former Miss USA, Miss America.

"I feel like I am in the midst of Katrina mixed with a Georgia tornado all at once. It's crazy," costar Phaedra Parks says of the screaming match that saw NeNe Leakes step between the ladies to try to settle them down.
Advertisement
The most buzzed about stars this minute!
Treat Yourself! 4 Preview Issues
Got a News Tip?
Send it to our People.com editors!