02:10 AM EDT 07/10/2016
Credit:

Jamie McCarthy/WireImage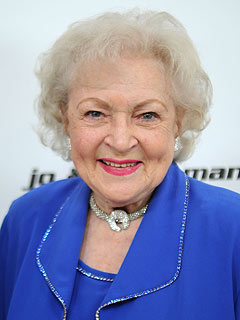 Originally posted 03/08/2010 02:05PM
Betty White fans, your prayers have been answered. The former Golden Girl will appear on Saturday Night Live in the near future, she confirmed to PEOPLE at Elton John's annual Oscars viewing party on Sunday night.

Fans have been clamoring for White, 88, to do SNL – an idea she called "ridiculous" just a few weeks ago – ever since her comic turn in a Snickers ad during the Super Bowl. One Facebook page devoted to the cause has attracted half a million fans.

When asked by PEOPLE, "Are you doing Saturday Night Live," she answered, "Yes," even if she remains perplexed by the groundswell of support.

"I don't know why or how," she says, "but it's been wonderful."

White didn't offer any details about the SNL gig, and it remains unclear when she will appear – or what it will entail.
Credit: Fernando Leon/Elevation Photos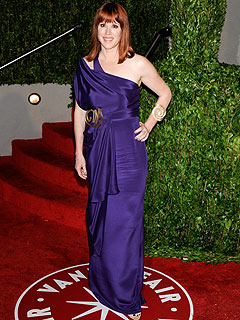 Originally posted 03/08/2010 02:00PM
Molly Ringwald made a glamorous return to the Oscar stage Sunday night to pay heartfelt tribute to the late director John Hughes. But it wasn't just a stylist's advice she consulted. It was her 6-year-old daughter, Mathilda's.

"I was choosing between two dress colors, and she decided on this," Ringwald told PEOPLE before the ceremony. "She said this was the way to go. I always listen to her, she's a 6-year-old fashionista."

It wasn't just a good (looking) choice, it felt right, too.

"It's comfortable," the actress said of her Todd Thomas dress and Alexander Calder-designer jewelry. "It's a huge honor to wear his jewelry. I feel very honored." Plus, Ringwald added, it was just fun to attend the show. "There's so much adrenaline," she said, "it's fun to be here again."

The Secret Life of the American Teenager star wasn't the only actress who got some Oscar fashion advice from young family members, meanwhile. Best actress winner Sandra Bullock also got a hand from her stepdaughter.
Credit: Vince Bucci/AP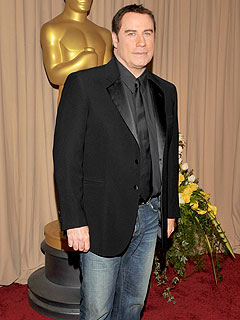 Originally posted 03/08/2010 01:55PM
John Travolta put on a brave face when he appeared at the Academy Awards on Sunday – but the star says he's still in mourning over the death of his son Jett last year.

"We are working hard on healing, still," Travolta, 56, told PEOPLE at the Governor's Ball after the Oscars Sunday night. "It's going to be a lifelong project. Everybody has been so enormously supportive and I really appreciate it."

Jett was 16 when he died of a seizure at the family's home in the Bahamas in January of 2009.

Travolta's Wild Hogs costar Tim Allen says his pal is coping well. "He is doing really well, I mean, healing as best he can," Allen told PEOPLE at the Elton John AIDS Foundation Academy Award Viewing Party. "He is pushing through a very tough situation."
Credit: Michael Caulfield/WireImage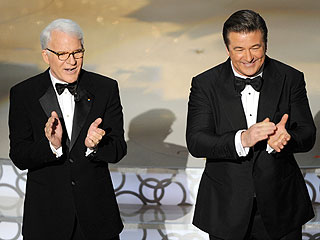 Originally posted 03/08/2010 01:30PM
Unlike the characters in Avatar, the producers, the network and the Academy behind Sunday's Oscars should be anything but blue this Monday. Early indications are that the show's TV ratings were 14 percent better than they were in 2009, when 36.3 million viewers tuned in.

According to early estimates, 40 percent of the nation's households tuned in to watch Sunday's Oscars, the Associated Press reports. This year, the ratings have been up for most awards events, perhaps a sign that people are relying on free entertainment at home.

The Nielsen company, which measures ratings, will provide detailed numbers later, but for now the nation's 56 largest markets gave the ABC event a 26.5 rating. (Each rating point represents 1,149,000 households.)
– Stephen M. Silverman
Credit: INF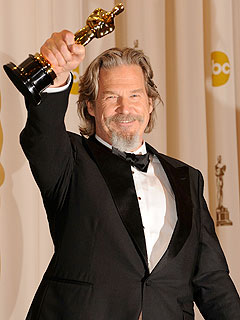 Originally posted 03/08/2010 11:30AM
Jeff Bridges won't be pinching himself anytime soon. If all of this is an Oscars dream, he's fine with that.

"It's unbelievable," Bridges, 60, told PEOPLE at the Governor's Ball after winning the Best Actor Oscar on Sunday for Crazy Heart, nearly 40 years after his first nomination, for 1971's The Last Picture Show.

"This could be a dream," he said. "I might wake up. Maybe not. Not for a while, anyway."

The actor credited his friends, family and colleagues for their love and support during his long and winding road through Hollywood. During his acceptance speech, he raised the Oscar to the sky and addressed his late parents, Lloyd and Dorothy.
Credit: Kevin Winter/Getty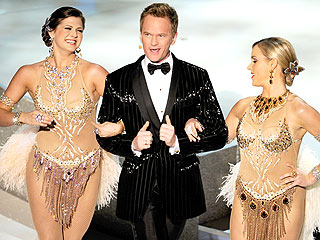 Originally posted 03/08/2010 10:00AM
Sunday's Oscar broadcast was the rare Academy night with some genuine suspense nudging it along and culminating in a genuine surprise, with The Hurt Locker's win over Avatar for Best Picture. And the camera happens to love Kathryn Bigelow, Locker's director: She looks like a strong-willed Elizabeth Hurley. That means it was a good year.

None of that can be credited to the show's producers, though. It's just Oscars luck. The show itself was immaculately designed and cautiously uninspired. On my TV, the HD spectacle looked like a giant, glittering seashell with beautifully dressed sea monkeys swimming along in the foreground.

Alec Baldwin and Steve Martin, unfortunately, may have been the most insignificant hosts in memory. Together, they shared a very good sight gag about those enchanting little airborne mops from Avatar – Baldwin, in a plummy, precious voice, referred to them as "floating woodsprites," then Martin sprayed them down as if they were germs.
Credit: Chris Pizzello/AP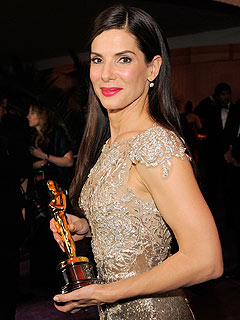 Originally posted 03/08/2010 08:45AM
On the biggest night of her professional life, Sandra Bullock was typically self-deprecating, saying the Academy Award was never on her radar and urging up-and-comers to just be themselves rather than look up to her.

"I didn't aspire to this," the actress, 45, told reporters after winning the Best Actress Oscar for The Blind Side on Sunday. "I was in awe of it. I admired it. I got to watch it like everyone else did, or present, but it wasn't something that I said, 'One day when I get the Oscar.' "

Now that that day has arrived, she still doesn't see herself as an inspiration to younger actors. "Don't aspire to be in these shoes. Walk in your own," she said. "Everyone's unique, and that's what makes people exciting to watch, I think. So, just savor what you are and not what everyone else wants you to be."
Credit: Mark J. Terrill/AP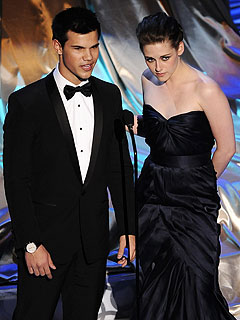 Originally posted 03/08/2010 12:30AM
The Academy Awards ran over three hours long – and was studded with stars. But even still, there was plenty you didn't see on the ABC telecast. From what deejay Joel Madden was spinning to Jake Gyllenhaal's surprising "news," find out what you missed from inside Hollywood's Kodak Theatre.

• What a kidder! Presenter Jake Gyllenhaal was having a prolonged conversation with Rachel McAdams in the lobby of the Kodak Theatre before the actor finally introduced her to a friend, saying, "This is Rachel McAdams, she's the mother of my child!"

• Matt Damon took a champagne break with his wife, Luciana. The two shared glasses of bubbly and hung out with Best Supporting Actor nominee Stanley Tucci, who happily toasted Christoph Waltz for winning the award.

• Kristen Stewart and Taylor Lautner were spotted joking and giggling as they whizzed backstage from their seats before presenting the tribute to horror flicks.
Credit: Jason Merritt/Getty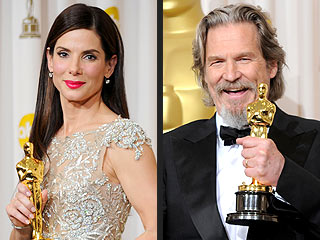 Originally posted 03/08/2010 12:15AM
There may have been few surprises on Oscar night Sunday, but there was plenty of heart.

Glowing in gold as she stood in the winners' circle, Best Actress Sandra Bullock – who noted that George Clooney once threw her into a swimming pool years ago – acknowledged each of her sister nominees, including the "great kisser" Meryl Streep, then focused on the message of her movie, The Blind Side: that the mother figure is the one who brings light and love into a person's life.

In a moment that is bound to be long remembered, Bullock tearfully thanked her mother "Helga B" – Helga D. Meyer, a German opera singer and voice teacher who died in 2000 – whose wise guidance included not letting her daughters ride in cars with boys until they were 18. The Oscar winner admitted that she would have done exactly what her mother feared she would.
Credit: Michael Caulfield/WireImage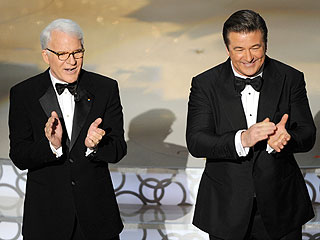 Originally posted 03/07/2010 11:45PM
After Neil Patrick Harris brought down the house with a musical number heralding the arrival of this year's Academy Awards co-hosts Steve Martin and Alec Baldwin, the guys wasted no time cracking up the audience – and picking on the night's biggest names.

Nobody was safe – not Meryl Streep, Zac Efron nor Matt Damon – from Baldwin and Martin's repartee. Here are some of the duo's best lines:

• "[Best Actress nominee] Gabourey [Sidibe] and I have something in common: In our first movies we were both born a poor black child." – Steve Martin, joking about his beloved comedy The Jerk

• "She was so pleased to be nominated with him, she sent him a beautiful gift basket with a timer." – Steve Martin, on Best Director winner Kathryn Bigelow (The Hurt Locker), who was nominated against her ex-husband, James Cameron (Avatar)
Advertisement
The most buzzed about stars this minute!
Treat Yourself! 4 Preview Issues
Got a News Tip?
Send it to our People.com editors!