05:53 PM EDT 06/28/2015
Originally posted 06/01/2015 11:20PM
Few people know the Bachelor universe better than DeAnna Pappas Stagliano. After Bachelor Brad Womack's final-rose-free season 11 shake-up, she was selected to be the next Bachelorette. She even kept it in the family, marrying and starting a family with Stephen Stagliano, the twin brother of Bachelorette/Bachelor Pad favorite Michael Stagliano. Now DeAnna is providing her one-of-a-kind insight with weekly takes on Lifetime's TV-love drama UnREAL. Follow her on Twitter, @DeAnna Pappas!

Let's start with your own experiences. Do you remember any funny behind-the-scenes moments from your own experience that were similar to UnREAL?
Night one is really so intense and a roller coaster of emotions! I remember on my night one of filming The Bachelorette, I was wearing this gorgeous designer gown that was paper-thin and way too long for me. So the stylist draped it on the ground and stuck me in 7-in. heels! It was taped down onto my body in almost every space it possibly could be taped down. I could barely move! And for some reason, almost every guy who stepped out of the limo insisted on spinning me in a circle to get a good look at me! At one point, I almost fell from getting tangled in my beautiful dress while being seconds away from exposing my Bachelorette tatas!!

Speaking of entrances, The Bachelor is known for memorable introductions on night one. Who was most memorable on your season?
The most memorable entrance from my season had to be Jeremy Anderson. He was the last guy out of the limo, and he was gorgeous – very dapper. I remember him being the only guy who didn't seem as nervous as I was, and he actually hung around to talk to me! He didn't rush off inside as soon as he got out of the limo. It made me feel safe and that he genuinely wanted to get to know me. In that situation, I appreciated that so much. Just watching UnREAL and seeing the over-the-top entrances from the girls absolutely reminds me of the crazy impressions people try to make on night one. It's like, in the two days after you come to L.A. to be on the show, you become desperate to make a lasting impression and be remembered by someone you don't even know.
Credit: Rick Rowell/ABC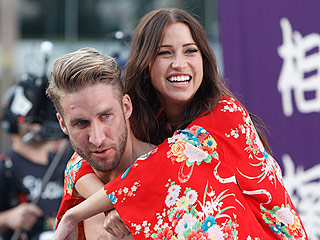 Originally posted 06/01/2015 10:00PM
If you thought that Kupah would be the only problem contestant on The Bachelorette, you would be so very, very wrong.

Though this week's episode picked up where we last left off – with Kupah melting down over being asked to leave early – we also watched Tony the Healer lose his cool following a bout of sumo wrestling.

Clint and JJ, too, revealed themselves to be real pieces of work as they dubbed themselves this season's villains while reveling in their blossoming friendship. (Despite ABC promos hinting otherwise, their relationship is just that, by the way – a friendship – but more on that below.)
Credit: ABC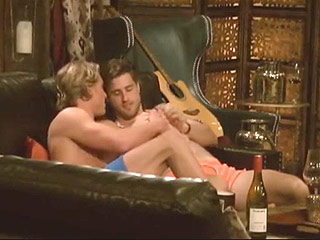 Originally posted 06/01/2015 09:40PM
As Kaitlyn Bristowe got to know the remaining 13 contestants on The Bachelorette, there was another relationship blooming among the ranks.

With all of their downtime in the Bachelorette mansion, Clint Arlis and JJ Lane bonded over music, hot tubs and being self-described "brainiacs" and "villains." ("Villains gotta vill," said Arlis on Monday's episode.)

Clint was dubbed the "Brokeback Bachelor" by ABC in promos that aired last week, insinuating that a romance was brewing between JJ and Clint. To be fair, Clint did say in the promo that "falling in love with a man never crossed my mind."
Originally posted 05/29/2015 08:35PM
For the first time in Bachelorette history, a same-sex relationship may be brewing between two of the contestants vying for the heart of the Bachelorette.

That's what ABC has teased, at least, in a promo for Monday's episode that suggests Clint Arlis might have some feelings for fellow suitor JJ Lane – and that he only wants to stay on the show to pursue those feelings and not Kaitlyn Bristowe.

In the 30-second spot, Arlis is dubbed the "Brokeback Bachelor," referencing the 2005 love story between two sheep-herders played by Heath Ledger and Jake Gyllenhaal's characters.
Originally posted 05/27/2015 07:50PM
A show of hands: What Bachelorette fans called this one?

In a preview for next week's episode, contestant Clint seems to declare that he's in love not with Kaitlyn Bristowe but with fellow contestant JJ. (Yes, the very guy Amy Schumer mocked throughout this week's episode.)

"Falling in love with a man never crossed my mind," Clint says in the promo, which dubs him "Brokeback Bachelor."
Credit: Matt Petit/ABC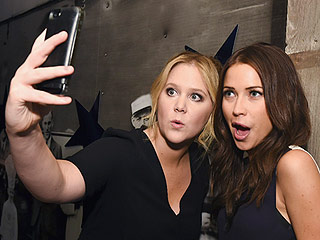 Update
Posted 05/27/2015 02:50PM
Originally posted 05/26/2015 07:35AM
Between the boxing and the stand-up comedy, a lot happened on The Bachelorette Monday.

But the key takeaway – other than that having a bunch of dudes hit each other is an awkward way to impress a lady – is that a lot of people really liked Amy Schumer's appearance. – and now ABC executive Robert Mills is saying he wants the comedian to be the next lady looking for love on national TV.
Credit: Courtesy Becca Tilley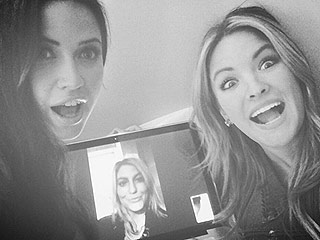 Originally posted 05/27/2015 12:40PM
As it turns out, sometimes people do go on reality shows to make friends.

Newly minted Bachelorette Kaitlyn Bristowe and Becca Tilley, a.k.a. the runners-up for Chris Soules' affection on The Bachelor, are still friendly with his fiancée, Whitney Bischoff.
Credit: Courtesy Britt Nilsson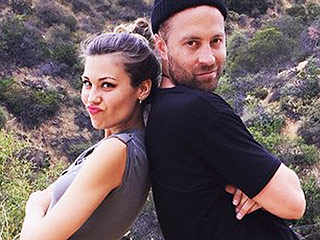 Originally posted 05/26/2015 05:50PM
Britt Nilsson and Brady Toops are proof that The Bachelor and its various franchises truly do work, albeit in mysterious ways.

After Nilsson, 27, was voted out of the running as this season's Bachelorette, she still managed to find love. Or, at least, a hiking partner.

Nashville-based musician Toops, 33, cut out of the competition early when Nilsson didn't win the popular vote and went straight to her hotel room, as seen on Monday's episode of The Bachelorette.
Originally posted 05/26/2015 04:15PM
For reality-TV fans –
Bachelor
fans, especially – Lifetime's upcoming drama
UnREAL
will feel more than a little familiar.
PEOPLE has an exclusive sneak-peek clip of the series, starring
Shiri Appleby
and
Constance Zimmer
, which offers a behind-the-scenes look at a fictitious reality romance show in which a group of women vie for the heart of one suitor (see where we're going with this?).
"It's totally realistic," former
Bachelor
and
Bachelorette
star
DeAnna Stagliano
(née Pappas) tells PEOPLE of the clip.
"It reminded me of the show in the way the carriage rolled up and the woman got out playing the violin," she continues. "It's totally something a contestant would do to get someone's attention!"
Credit: Matt Petit/ABC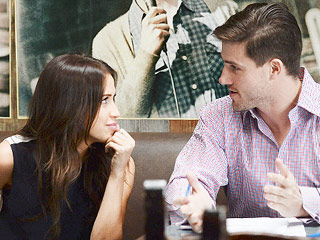 Originally posted 05/26/2015 07:10AM
Kaitlyn Bristowe is the Bachelorette! She charmed her way into the hearts of the Bachelor Nation – and nearly the Bachelor himself, Chris Soules, on season 19 of The Bachelor. Now Kaitlyn has begun her own journey to love.

Waking up that next morning as the Bachelorette was a surreal feeling. There was so much happening that first night, I think it was still taking its time to sink in. I mean, it's not every day you wake up in a beautiful house with Chris Harrison knocking at your door. But I will admit, I was so relieved to see him. There was a lot to process, and having him there to help talk me through it was much needed.

I couldn't believe that in just one night connections had already begun to develop. And there I sat, lucky enough to be the Bachelorette and eagerly awaiting my first week of dates. In the back of my mind, I had to wonder, Which of these guys voted for Britt and who voted for me? And how was Britt doing? But I couldn't allow those thoughts to take over. I had a great group of guys ready to kick these dates off with, and that's where my focus needed to be.
Advertisement
The most buzzed about stars this minute!
Treat Yourself! 4 Preview Issues
Got a News Tip?
Send it to our People.com editors!