03:42 PM EDT 02/27/2015
Credit:

Courtesy Rebekah Gregory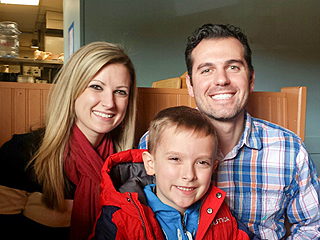 Originally posted 02/17/2014 01:00PM
Please welcome Rebekah Gregory to People.com! Rebekah and her fiancé, Pete DiMartino, will wed in Asheville, N.C., on April 4 in The Knot.com's Dream Wedding. The two had been dating just over a year when they were both injured in the April 2013 Boston Marathon Bombing. In the midst of their recovery, Pete, 29, proposed, and the rest is becoming history. In the weeks leading up to her wedding, Rebekah, 26, will be blogging for People.com about her recovery, her relationship and the wedding planning process.

Do you believe in love? You know the kind I'm talking about – the love that movies make you wish would fall onto your doorstep one day. That magical night in the pouring rain complete with the breathtaking stare and the cheesy run into one another's arms …

Two years ago, I sure didn't. In fact I was quite cynical when it came to the subject. So it's ironic that I, Rebekah Gregory, have a ring on my finger, and a promise from an amazing man that he is going to marry me (with all of America as our witness) this April.

Am I head-over-heels, movie-type in love with him? Absolutely. But sometimes in life, our "night" isn't quite what we envisioned. Our "run" is a lot longer than planned. Our "stare" is enough to nearly take our last breath away. And the "rain" well … sometimes it is more than we were ever prepared to handle. But sometimes in the midst of the storm, life gives us that fairy tale we were hoping for – and I'm so honored to share mine.
Credit: FBI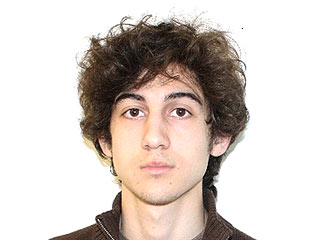 Originally posted 01/30/2014 03:00PM
Federal prosecutors on Thursday announced they will seek the death penalty against 20-year-old Dzhokhar Tsarnaev in the Boston Marathon bombing, instantly raising the stakes in what could be one of the most wrenching trials the city has ever seen.
Credit: Saul Loeb/AFP/Getty; Elise Amendola/AP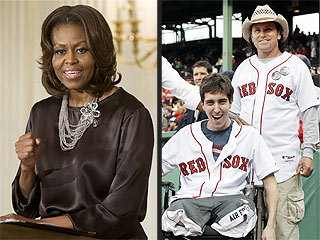 Originally posted 01/27/2014 03:45PM
Two Boston Marathon bombing survivors will be joining First Lady Michelle Obama in her viewing box during the President's State of the Union Speech on Tuesday.
Credit: Courtesy Kilgore Productions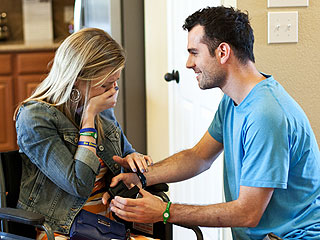 Originally posted 01/16/2014 09:00AM
Rebekah Gregory and Pete DiMartino are going to get their fairy-tale wedding – but their love story hasn't always been so magical.
Credit: Courtesy Boston Globe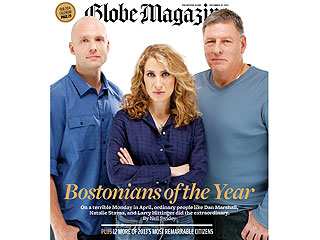 Originally posted 12/21/2013 05:45PM
When so many were fearfully running away from the site of the Boston Marathon bombings, these people ran towards it to help the injured.

That's why Natalie Stavas, Dan Marshall and Larry Hittinger have been named The Boston Globe Magazine's 2013 Bostonians of the Year.

"They demonstrated bravery beyond measure, putting their lives in danger to help save the lives of strangers," says Suzanne Althoff, the magazine's editor.
Credit: Courtesy Krista D'Agostino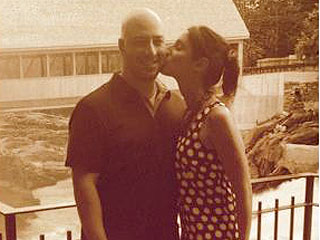 Originally posted 12/17/2013 05:15PM
There's a light at the end of the tunnel for Boston Marathon bombing victim James Costello.

Eight months after the horrific tragedy, Costello, who suffered severe burns on his right arm and leg, is engaged to a nurse he met while in treatment at Spaulding Rehabilitation Hospital.

"April 15 was one of the worst days of my life. I soon wondered why and for what reason this has happened," Costello wrote in a Facebook post.
Originally posted 10/22/2013 07:45AM


Adrianne Haslet-Davis continues to make progress, almost six months after being fitted for a prosthetic leg.

The Arthur Murray Studio dance instructor, 33, who was featured in a segment on last season's Dancing with the Stars, lost a limb during the April 15 Boston Marathon bombings and has documented her recovery on camera on Anderson Cooper 360.

Six weeks after the tragedy, she cried as she held on to her replacement leg.
Credit: Elise Amendola/AP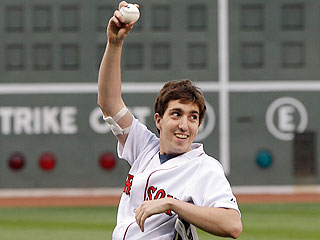 Originally posted 09/05/2013 12:35PM
April 15, 2014, will bring the one-year anniversary of the Boston Marathon bombing, as well as the book Stronger by one of those who greatly suffered in the explosion, Jeff Bauman.

Bauman, a 27-year-old who was waiting at the finish line to watch his girlfriend in the race, announced Wednesday that he will publish a memoir about his life during and after the fateful day that cost him both his legs, reports CNN.com.

"The past months have often been difficult, but the support I've received from around the world, and especially from the people of Boston, has inspired me to set and achieve high goals," he said in a statement released by Grand Central Publishing, which will release the book, to be co-authored by Bret Witter, who describes himself on his website as a Georgia-based editor and writer "working primarily as a collaborator on histories and memoirs."
Credit: FBI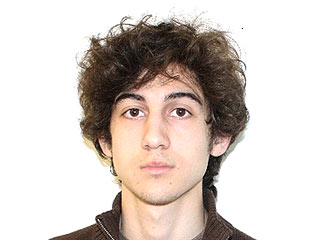 Originally posted 07/10/2013 04:00PM
Boston Marathon bombing suspect Dzhokhar Tsarnaev has pleaded not guilty to 30 counts including use of a weapon of mass destruction to kill.

In his first public appearance since being arrested April 19, he entered the plea Wednesday at his arraignment in federal court in Boston.

For first one, he leaned toward a microphone and said, "Not guilty," in a Russian accent. He then said not guilty repeatedly about a half-dozen more times.
Credit: Boston Regional Intelligence Center/AP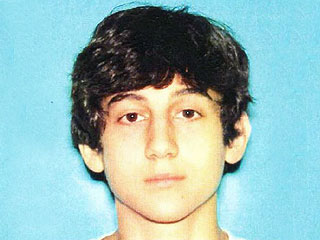 Originally posted 06/27/2013 02:10PM
The U.S. Attorney General says the surviving suspect in the Boston Marathon bombings, 19-year-old Dzhokhar Tsarnaev, has been indicted by federal grand jury with conspiring to use weapons of mass destruction and "killing four individuals among other charges".

In a Tweet posted earlier in the day, the U.S. Attorney's Office for the District of Massachusetts also said that a press conference would be held Thursday afternoon.

In all, a 30-count indictment was handed down against Tsarnaev. In addition to the three deaths caused by the bombs at the marathon, he was charged with the murder of MIT Police Officer Sean Collier, according to Boston Globe reporter David Abel.
Advertisement
The most buzzed about stars this minute!
Treat Yourself! 4 Preview Issues
Got a News Tip?
Send it to our People.com editors!