02:26 AM EDT 07/10/2016
2008 Presidential Elections
Credit:

Jack Kurtz/ZUMA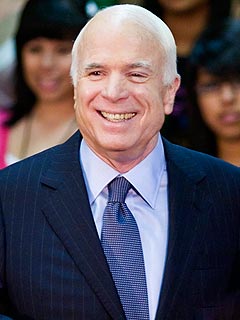 Originally posted 11/11/2008 09:10PM
While he may have lost his bid for the White House, John McCain did not lose his sense of humor.

"I've been sleeping like a baby," the GOP candidate said on The Tonight Show Tuesday. "I sleep two hours, wake up and cry. Sleep two hours, wake up and cry."

The Arizona senator's 14th visit to the show brought a loud and spontaneous ovation from Jay Leno's special Veteran's Day audience of U.S. service men and women.

Noting that Americans "don't like a sore loser," McCain defended his choice of Sarah Palin as his running mate and of Joe the Plumber as his campaign everyman.
Originally posted 11/11/2008 07:50AM




Alaska Gov. Sarah Palin has a very different post-campaign message about her onetime opponent.

Barack Obama, the former GOP vice-presidential candidate told Matt Lauer on Tuesday's Today show, "did a great job to articulate his ability to usher in change."

Despite this, Palin initially thought last week's Presidential election results "would be closer," were it not for the fact there was an "anti-incumbency sentiment across the country" and "we had the R [for Republican] next to our names."

Even so, as late as election night she thought she and John McCain would be the victors. "I didn't know," she said. "I had great faith."
Credit: Jim Young/Reuters/Landov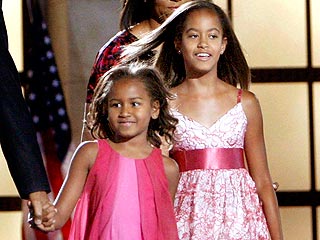 Originally posted 11/08/2008 10:40AM
The perks of being the President's daughters? For Sasha, 7, and Malia, 10, life at the White House is sure to be a wonderland!
Credit: Jeff Kravitz/FilmMagic; HENRY McGEE/GLOBE PHOTOS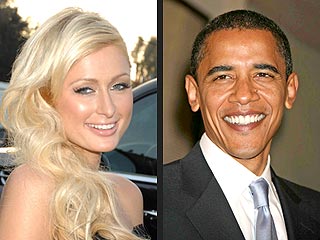 Originally posted 11/07/2008 10:20AM
Paris Hilton may have lost her "bid" to become president, but she couldn't be happier for the President-elect Barack Obama.

"The best man won," she told PEOPLE at the premiere of her new movie, Repo! The Genetic Opera in Las Vegas. "I'm so thrilled. I love Barack and I think he's amazing."

Hilton was suddenly thrust into the political arena when then-presidential-hopeful John McCain put out an ad comparing her to Obama. She later recorded a series of spoof videos – even launching her own bid to become "fake president." (Her first order of business would have been to paint the White House pink, she said in one clip.)

"The world is definitely a better place now," she said of the election results. "There's a lot of change and a lot of hope coming. That's a very good thing."
– Mark Gray
Credit: Evan Agostini/Getty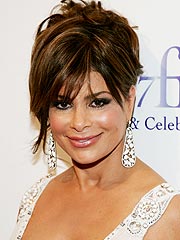 Originally posted 11/06/2008 04:30PM
With the election of Barack Obama, Paula Idol of American Idol will stay just that – an American.

"I was crying!" she tells PEOPLE. "You feel such a sense of pride that you can't even articulate how good you feel. It's unbelievable! I have chills. I was just so excited. I was texting everyone: 'Peace has begun.' And then I was texting everyone, 'I don't have to move to Vancouver now!'"

Abdul, 46, is in New York City hosting Paula Abdul's RAH Cheerleading Bowl, a high-energy cheerleading squad competition that will air New Year's Day on MTV.

Seeing an African-American become President is something she never imagined would happen. "I prayed for it. But four years ago? Not even a thought. The only point of reference was Rev. Jesse Jackson's (campaign), which was just embarrassing. But there's a presence with this man."
Credit: John Gress/Reuters/Landov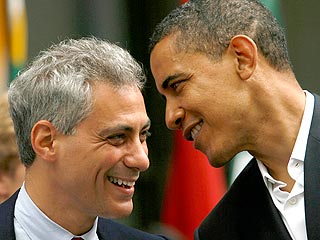 Originally posted 11/06/2008 02:25PM
Rahm Emanuel will be the president's right-hand man in the new administration. The 48-year-old accepted the position as Barack Obama's White House Chief of Staff on Thursday, according to the New York Times.

A Democratic congressman representing his native Chicago since 2003, he earned his chops raising funds for Bill Clinton's White House runs and serving as an advisor. Known for his hard-charging personal style, he's also dad to three children, son Zacharias and daughters Ilana and Leah, with his wife Amy. But did you know he could have been pirouetting with the Joffrey Ballet? Read on for a briefing.
Credit: Barry King/WireImage; Johnny Nunez/WireImage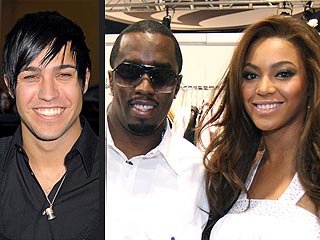 Originally posted 11/06/2008 11:40AM
Mr. Bad Boy himself, Sean 'Diddy' Combs, could not keep it together when Barack Obama was announced President-elect Tuesday night.

"I was straight up crying," he confesses. "I was with my kids. It was a beautiful thing. I just thank God my prayers were answered."

A greater gift? It happened on his 39th birthday.

"I don't know why God blessed me by having my birthday [on Nov. 4], but we're here to celebrate 80 percent of Obama being elected and 20 percent my birthday," Diddy told reporters Wednesday night at a celebration sponsored by Ciroc Vodka at Mansion nightclub in New York.

Some of his celebrity guests: Mary J. Blige, Ben Stiller, Cassie, Cedric the Entertainer, and Pete Wentz.
Credit: Tana Lee Alves/WireImage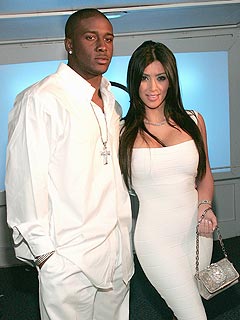 Originally posted 11/06/2008 09:35AM
George W. wasn't the only Bush having a difficult time on election night.

Kim Kardashian's boyfriend Reggie Bush found himself in a heated political exchange – with a fellow Barack Obama supporter!

"Reggie and I had this two-hour long conversation at the end of the night," Kardashian told PEOPLE after Wednesday's Dancing with the Stars taping. "We got so carried away that we had to call his mom. We had to call my mom, it ended up in this huge conference call."
Originally posted 11/05/2008 01:00PM
Sitting on a sofa beside his 71-year-old mother-in-law, Marian Robinson, at the Hyatt Regency Chicago just after 10 p.m., with his family having broken away from the bigger returns-watching party downstairs, Barack Obama already started to hear from campaign aides that news organizations were close to calling the election for Obama, PEOPLE reports in its latest cover story, on sale Friday.

But his uncle, Steve Robinson, beat them to it. "He said, 'I told you,' " Marian Robinson tells PEOPLE. "We all had our little laugh, our little enjoyment when he said it. It was like, OK, that means it's true."

By the time CNN made it official, Robinson adds, "Everybody was quiet. I can't tell you how subdued it was. We weren't like the people in the stands – you know, yelling and screaming."
Credit: Obama For America/REUTERS/Landov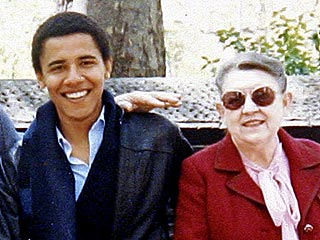 Originally posted 11/05/2008 12:00PM
While many have remarked on the tragic irony of the death of Barack Obama's grandmother two days before she could have seen him elected to the most powerful job in the world, the late Madelyn Dunham has imparted a final gift to her beloved grandson: her vote.

Election officials in Hawaii, where Dunham, 86, had lived, confirmed that her absentee ballot will be counted, the Associated Press reports.

Explaining his state's law, Kevin Cronin, chief elections officer for Hawaii, said Tuesday that absentee ballots cast by someone who dies before an election are discarded only if a state death notice arrives before Election Day.

Dunham's ballot was received Oct. 27, said Cronin, adding that her death notice had yet to appear.
Advertisement
The most buzzed about stars this minute!
Treat Yourself! 4 Preview Issues
Got a News Tip?
Send it to our People.com editors!