03:42 AM EDT 07/10/2016
Baby Animals
Originally posted 06/03/2016 03:15PM
Shamasha Kassam and his son Shekeel – the Yellowstone National Park tourists who were photographed on May 9 with a baby bison in the back of their SUV – say they were just trying to help the young calf, which was eventually rejected by its herd and euthanized.
Originally posted 05/16/2016 08:30PM
After a newborn baby bison calf was scooped off the road in Yellowstone National Park by two tourists last week and placed in their car to "keep it warm," authorities are again warning the public to keep their distance from wild animals in the popular park.
Originally posted 08/07/2015 11:40AM
The definition of
sloth
: "an aversion to work or exertion; laziness."
Therefore, it is a mother sloth's duty to lead by example.
In this
adorable video
, a mommy sloth named Hershey luxuriously hangs from a tree limb, and chews some super-juicy food that dribbles out of her mouth. The tiny baby in her lap is taking notes
and
taking her leftovers, as she licks the juicy goodness from mom's chops.
Originally posted 08/05/2015 11:55AM
When you're surfing, you're expect to catch waves. But catching a fawn floating on the water? That's next level water sport.

When surfer Tyler Balak was surfing with friends off Hatteras Island, North Carolina, in July, he noticed something strange floating in the water a few hundred feet off shore, the Virginia Pilot reports.

He paddled closer and thought it was a dog – a few feet more would reveal something much more unusual.
Originally posted 07/28/2015 03:40PM
Cielo's got the mermaid thing down, now if she could just sing.
In
this YouTube video
, a baby jaguar – just one of the beautiful charges living with Eduardo Serio at the
Black Jaguar White Tiger Foundation
– dives into a swimming pool with as much grace as we have when we're sliding on a Slip 'N Slide (yeah, we still Slip 'N Slide, so?).
Originally posted 07/28/2015 03:40PM
Why did the ducklings cross the road? Because they had an adorable police escort.
In a YouTube video only slightly less exciting than a high-speed car chase – but more than slightly cuter – two St. Andrews police officers protected a rogue family of ducks that somehow found their way into the middle of the road. By slowing down traffic and directing them away from the bizarrely-oriented cars (driving on the left side will never look right to us), the two officers fulfilled their sworn duty to protect and serve adorable ducks.
Originally posted 06/30/2015 02:10PM
Makaia doesn't know it, but he's a walking, er, hopping history maker.
The kangaroo is the first of his kind to be raised by a surrogate wallaby, according to Australia's
Adelaide Zoo
.
At just five weeks old, the Goodfellow's tree kangaroo's mother died suddenly when she was crushed by a falling branch at the zoo.
"Acting on pure adrenaline," according to the zoo's website, zookeepers decided to try something that had never been done with a tree kangaroo before: cross-fostering. The staff placed the joey (who was too young to hand raise) with a surrogate wallaby mother.
"We've had great success over the years' cross-fostering between wallaby species, but the specialized breeding technique has never been used on a tree kangaroo," said Adelaide Zoo veterinarian, Dr. David McLelland. "We had no idea if the yellow-foot would accept the tree kangaroo joey, but if we wanted to save the joey we had to try our luck."
Originally posted 06/22/2015 11:50PM
[YOUTUBE "a-vbFA-s1vs"] He's not even a month old yet, but he's already getting his first swimming lesson.
Credit: Julie Larsen Maher/Wildlife Conservation Society/AP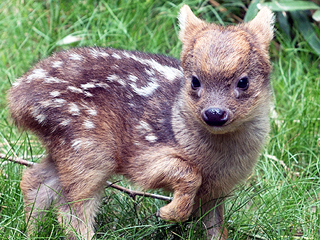 Originally posted 06/10/2015 12:30AM
Good things come in small packages, and this deer fawn proves that cuteness absolutely thrives in miniature form.
Originally posted 06/01/2015 04:10PM
There's no "I" in team or in elephant. Coincidence? I think not.
In this video, a herd of elephants shows its deep connection to community by stopping to help a calf who has collapsed in the middle of the road within Kruger National Park in South Africa.
Advertisement
The most buzzed about stars this minute!
Treat Yourself! 4 Preview Issues
Got a News Tip?
Send it to our People.com editors!