09:28 AM EDT 05/15/2013
Baby Animals
Credit:

Richard Austin/REX USA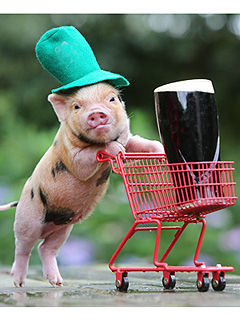 Update
Posted 03/16/2013 04:00PM
Originally posted 03/15/2013 12:10PM
Coming through, please!

On Thursday, one overly excited micro pig decided to get an early start on its St. Patrick's Day celebrations in England.

Donning a green top hat and picking up all of the essential party favors for the big day – a pint of Guinness, what else? – this little piggy was ready to go all the way home with his necessities in tow.
Credit: Atlanta Zoo/Splash News Online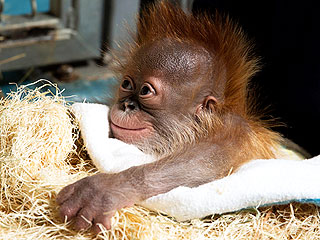 Originally posted 03/01/2013 04:00PM
This orangutan has plenty to smile about – and he knows it!

The 6-week-old male, a baby Sumatran orangutan, was born Jan. 14 at Georgia's Zoo Atlanta after his mother, Blaze, went into labor unexpectedly. Following an emergency C-section, the adorable ape struggled to survive – but eventually pulled through and has since made a full recovery.

Though he has yet to be named, he is getting to know his fellow orangutans at the zoo's habitat, including Mom. The baby and Blaze were reintroduced after she recovered from the procedure.
Credit: Zoo Augsburg/DPA/Zuma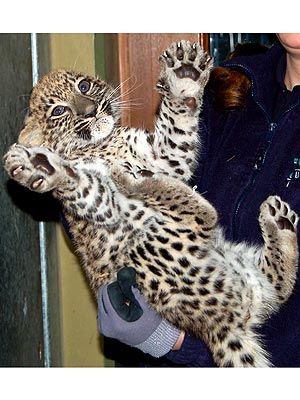 Originally posted 12/26/2012 09:00AM
She may be only eight weeks old, but this purr-fectly adorable Persian leopard already has lots of love to give.

Born Oct. 25 at the Augsburg Zoo, the cub is simply telling us she is ready to embrace her public. On Sunday, she and her mother, Thea, were moved to the zoo's Tigerhaus, which is now open to visitors.

Mom is just going to have to tell her kitten (who could grow to be a whopping 200 lbs.) that humans may not be quick to reciprocate!
Credit: Stephen Daniels/Landov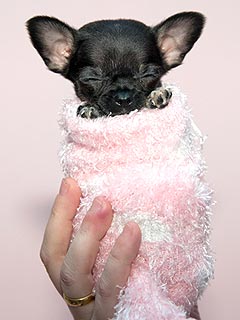 Originally posted 12/17/2012 05:20PM
Nine weeks ago, a very tiny star was born.

Her name is Lacey, and she's a miniscule chihuahua from Old Leake, England, who fits into a coat fashioned out of a baby's sock. Yup, you read that right.

Lacey's owner Sharon Johnstone is hoping the little dog, who weighs less than a pound, measures just 6 inches long and has made headlines in the U.K., can nab a very big title – that of Britain's smallest dog.
Credit: Anna Henly/Barcroft Media /Landov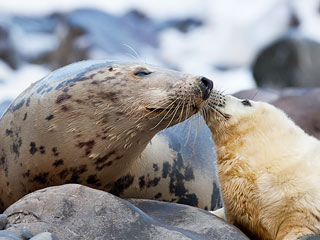 Originally posted 11/30/2012 05:00PM
There's nothing like a mother's love – and this seal pup knows that firsthand!

While defending against the cold weather, a newborn seal pup sought some warmth by its mother's side on Wednesday. After cuddling up to her, it leaned in for a precious peck, rubbing noses.

Part of a larger colony living in Scotland, the pair managed to steal a private moment, and the pup seemed all the better for it. Guess mother really nose best!
Credit: Courtesy Dave Salmoni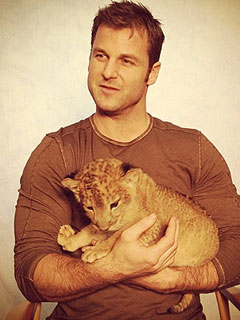 Originally posted 11/29/2012 04:00PM
For his last Animal Planet show, Dave Salmoni set out in search of dangerous predators. This time around, he's kept his costars decidedly cuter.

"This is Tyson, he's a male lion," the host of Frontier Earth tells PEOPLE. "Tyson's about 5 weeks old."

Showing off the growing cub, whose coat is still dotted with spots, Salmoni explains that the lion will eventually grow to be 550 lbs.
Credit: Isifa Image Service sro/REX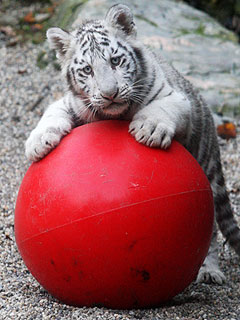 Originally posted 11/28/2012 05:45PM
Big ball, little cub – no problem!

Three adorable white Bengal tiger triplets, new residents at the Liberec Zoo in the Czech Republic, were undeterred by the size of a luscious red ball that was thrown in their enclosure last week.
Credit: Kristi Harper/Solent News/REX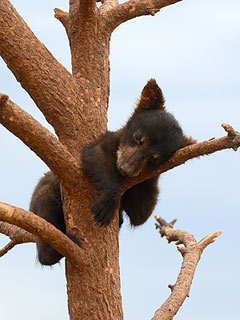 Originally posted 11/12/2012 09:00AM
Tree climbing is hard work!

And this baby bear took a well-deserved snooze after getting high up on a tree in Rapid City, S.D.

It's not official, but this cub may be the winner of the bear most comfortable with heights, as its napping position seemed to defy gravity.
Credit: REX USA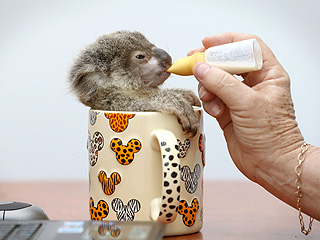 Originally posted 11/06/2012 03:25PM
Not bad for a day at the office!

Raymond the koala might look like he's enjoying his cushy digs inside a mug, getting hand-fed his milk from a bottle, but you'd want to give this baby the world if you knew where he'd been.

Found abandoned on the side of the road in Brisbane, Australia, Raymond (named after the man who found and rescued him) seemed like he might not survive. He had to be coaxed into eating and was underweight.

"Suddenly, one day he decided life wasn't so bad," says Julie Zyzniewski, Raymond's caretaker, "and he has been absolutely powering along ever since."
Credit: Landov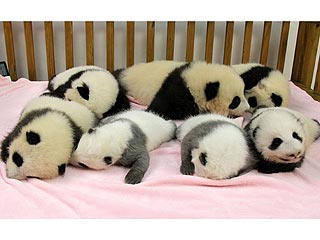 Originally posted 11/05/2012 09:00AM
Zonk! ... Zonk! Zonk! Zonk! Zonk! Zonk! Zonk!

When the Chengdu Research Base for Giant Panda Breeding decided it was time to debut seven of eight giant pandas born at the center this year, they picked a fine time to do it: when all seven cubs decided to take a nap.

Members of the public who stopped by to greet the pandas born in captivity this year at the research base in Chengdu, China, caught sight of this massively adorable scene, complete with pink blanket.
Advertisement
The most buzzed about stars this minute!
Treat Yourself! 4 Preview Issues
Got a News Tip?
Send it to our People.com editors!