02:41 PM EDT 06/26/2015
Baby Animals
Originally posted 05/07/2014 10:00AM
Hey, at least he'll never suffer from empty nest syndrome.

Matthew Sargent, of Virginia Beach, Virginia, took this video of his neighbor, who became a reluctant father to a brood of ducklings after their mother met an untimely demise. The ducklings imprinted on Sargent's neighbor; Sargent's daughter, Carlisle, uploaded the video to Reddit, and the rest is Internet history.
Credit: Michael Durham/Oregon Zoo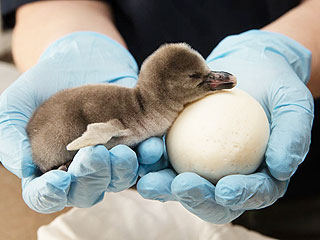 Update
Posted 04/14/2014 04:00PM
Originally posted 04/14/2014 03:30PM
With summer on the way, the penguins are ready to play!

A group of hatchlings born at the Oregon Zoo is on its way to joining the zoo's Humboldt penguin colony of 18 adults this summer.

The facility has welcomed five little ones over the past few months and even managed to capture one of the baby's hatchings on camera.
Credit: WMTW-TV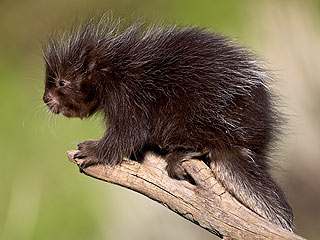 Update
Posted 03/31/2014 10:40AM
Originally posted 03/31/2014 09:00AM
A Maine man in search of a valuable mineral cut open a dead porcupine on the side of the road and unexpectedly pulled out its baby.

Jared Buzzell, of Lisbon, says he was searching for wild mushrooms Thursday when he saw a porcupine get hit by a car in Minot. Buzzell says he'd heard that a valuable mineral deposit used in Chinese medicine formed in the stomachs of porcupines.

He then cut open the dead porcupine to search for the mineral and instead found the baby.
Originally posted 03/05/2014 05:15PM

Parents, we all know Yuan Yuan's pain, don't we?

The giant panda thought she'd managed to get her cub, Yuan Zai, to bed – only to have her little one scramble away. And for a few precious minutes, Yuan Zai had her run of the enclosure at Taiwan's Taipei Zoo. (Start the above video at the 2:45 mark if you want to get straight to the action.)

But when Yuan Yuan realized where the 7-month-old cub had gotten to, she quickly came out and scooped her up by the fur. Try as Yuan Zai might, there was no convincing her mother to let her stay up late. In fact, Yuan Yuan kept a firm grasp on her baby girl until she fell back to sleep.
Originally posted 02/26/2014 02:30PM
If only making friends was always this easy.
When this newborn lamb entered the world earlier this week, there was little to her name. But now, she has two best buddies in her corner: Pancake the cat and Sugar Tree the Dobermann.
Originally posted 01/10/2014 12:40PM
You had us at polar bear cub, Toronto Zoo, but watching this adorable baby animal take its first steps is almost too much cuteness to handle.
And the milestone almost didn't happen: one of three cubs born to the Toronto Zoo's female polar bear, Aurora, on Nov. 9, this
itty-bitty beauty
is the only survivor among its siblings. When the cub was observed no longer moving as strongly as it had before, he was moved to the Wildlife Health Centre, where he remains under constant monitoring.
Credit: Osservatore Romano/AP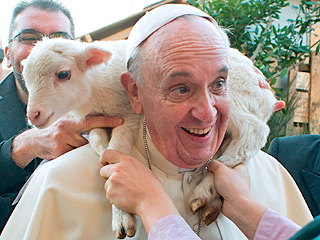 Update
Posted 01/08/2014 05:00PM
Originally posted 01/08/2014 03:30PM
Is it time to start calling him His Happiness?

During his visit to St. Alfonso Maria de' Liguori parish church just outside Rome on Monday, Pope Francis found himself up close and personal with an "actor" from the church's living nativity scene – a lamb! The young animal was carefully placed around the Pope's shoulders, eliciting a massive grin from the religious leader. The lamb is an important part of Biblical imagery, with Jesus sometimes referred to as the "Lamb of God."

Pope Francis was in attendance to celebrate Epiphany, but he also managed to kick off 2014 in a rather big way. Considering the past year he had, during which he was named Time's Person of the Year, we're sure it will be difficult for him to beat his 2013 achievements – but a cute photo with a lamb is a nice way to start.
Credit: Courtesy Hellabrun Zoo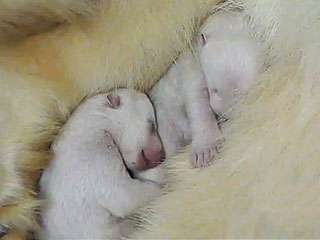 Update
Posted 01/04/2014 12:00PM
Originally posted 01/03/2014 03:10PM
Hey, sleepy heads!

Looks like nothing can wake these adorable twin polar bear cubs from their slumber – even when one tries to nestle closer to the other. And, really, who can blame them? Their mama's fur looks pretty darn cozy!
Credit: Zuma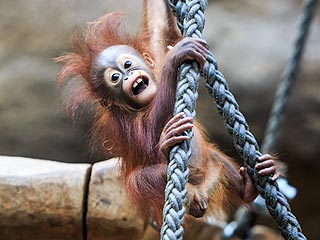 Originally posted 12/30/2013 02:00PM
With New Year's Eve just a day away, you've probably got your evening ensemble and countdown cupcake ready to go.

Unless you're this orangutan.

And judging by the look on his face, you can tell being unprepared is starting to weigh on him. In addition to what to wear and what to serve, there's also decorating to be done. Plus, and we don't want to rub salt into the wound, but someone's going to need to find time to head to the salon.
Update
Posted 12/11/2013 11:20AM
Originally posted 12/10/2013 03:00PM
He's a pachyderm with a purpose: to cheer people up!

This happy and healthy male elephant was born when the staff of the Melbourne Zoo really needed a pick-me-up, arriving just days after an 11-month-old elephant died at the zoo in a freak accident.
Advertisement
The most buzzed about stars this minute!
Treat Yourself! 4 Preview Issues
Got a News Tip?
Send it to our People.com editors!