11:57 AM EDT 02/04/2015
Baby Animals
Update
Posted 11/09/2013 09:30AM
Originally posted 11/08/2013 01:15PM
At 3 months old, most human babies are just building the muscle strength to hold up their necks. For baby tigers, it's a different story.
On Wednesday, two tiger cubs born at the
Smithsonian National Zoo
on Aug. 5 were brought out for their swim reliability test, a rite of passage they must complete before being put on display. With photographers and keepers Dell Guglielmo and Marie Magnuson looking on, each cub was individually tossed into a pool of water 2½-ft. deep. Bandar, the male cub, successfully swam back up to the surface within minutes, though he later leapt from the moat and scurried away. No photos, please!
Shortly after, it was female cub Sukacita's turn, but she was less inclined to swim than her brother. After having to be pushed back into the water – which elicited a growl! – she too successfully passed the swimming test.
Update
Posted 11/08/2013 01:20PM
Originally posted 11/07/2013 01:00PM
Well that's awkward. Who's going to break the bad news to Kali?
The newest Sumatran tiger cub to be born at the
Point Defiance Zoo & Aquarium
thought she'd made a new friend when 2-year-old Marshall stopped by to visit earlier this year. But, little did she know, things are not always what they seem.
Originally posted 10/23/2013 05:35PM
They're Cub A and Cub B no more!

Meet Mei Lun and Mei Huan, twin male giant pandas born at Zoo Atlanta in July, who, as part of Chinese tradition, finally received their official names on Wednesday, their 100th day of life. The names – pronounced May Loon and May Hwaan – were chosen after an online vote, and couldn't be more fitting. They translate to: "indescribably beautiful and magnificent."
Update
Posted 10/19/2013 02:45PM
Originally posted 10/18/2013 03:05PM
Play nice, girls!

Five weeks after their arrival, the Oregon Zoo's lion cubs are starting to form sisterly bonds, enjoying some requisite roughhousing and palling around. But there's another milestone the trio is also about to hit: being named.
Credit: Adam K. Thompson/Atlanta Zoo/Reuters/Landov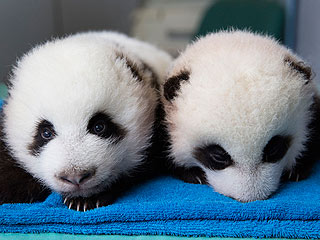 Update
Posted 10/11/2013 01:00PM
Originally posted 10/10/2013 05:00PM
If you're still going through panda cam withdrawal in the wake of the government shutdown, here's something to take the edge off: The twin giant panda cubs at Zoo Atlanta need names – and you can help!

The male cubs, born to mom Lun Lun, are now 87-days-old and the zoo intends to name them on their 100th day in accordance with a Chinese tradition that is said to bring about good luck. The two are currently referred to as "Cub A" and "Cub B."

In keeping with the pandas's Chinese heritage, possible names were derived from ancient Chinese idioms and provided to the zoo by the Chengdu Research Base of Giant Panda Breeding. Voting ends Oct. 21 at noon via GoodMorningAmerica.com.
Update
Posted 10/10/2013 04:30PM
Originally posted 10/10/2013 03:15PM
Have no fear – we won't let the Big Bad Wolf get to these cuties!
Three micro pigs from Petpiggies
breeding center
in Bedfordshire, England, couldn't be any more adorable at bath time. (Warning: It's possible to pig out on this video all day long!)
Update
Posted 10/08/2013 05:30PM
Originally posted 10/08/2013 03:00PM


With the National Zoo's panda cam still on hiatus due to the government shutdown, much of the world is still wandering the internet aimlessly, searching for their panda fix. We're here to help.

Fourteen panda cubs from the Chengdu Research Base of Giant Panda Breeding in China stepped outside for the first time on Monday – and by "stepped outside," we mean slept in the arms of their handlers before being placed on a blanket – and there's more than 50 seconds of raw footage of the adorable spectacle.
Originally posted 09/25/2013 07:00PM


Hello, Autumn!

This leggy lady is the newest addition to Adirondack Animal Land in Gloversville, N.Y., and was fittingly named for the season in which she was born.

The 6-foot-tall giraffe hasn't wasted any time since her arrival on Sunday, the first day of fall: she was standing within an hour of her birth, according to local station News10.

In this clip from CNN, you can see she's a bit wobbly on her feet but as her wiggly ears show, she seems comfortable with the people and cameras surrounding her. She'll be sashaying around her pen in no time!
Credit: Courtney Janney/Smithsonian's National Zoo/AP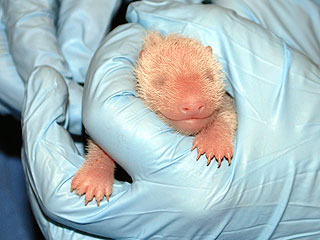 Originally posted 09/05/2013 02:45PM
It's a girl!

The Smithsonian's National Zoo announced Thursday that its 2-week-old (but already smiling!) giant panda cub is female, and her father is National Zoo panda Tian Tian (tee-YEN tee-YEN).

Panda mother Mei Xiang (may-SHONG) was artificially inseminated with sperm from Tian Tian, as well as from a panda named Gao Gao, at the San Diego Zoo. A sample was recently collected to determine the paternity of her cub, born Aug. 23.
Credit: Metropolitan Transit Authority/AP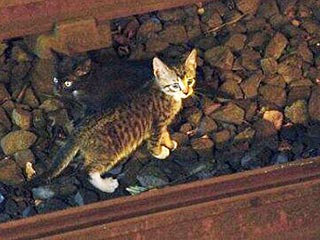 Update
Posted 08/30/2013 01:00PM
Originally posted 08/30/2013 11:50AM
It only took two kittens to stop New York's subway in its tracks.

Power was cut to the B and Q lines in Brooklyn for more than an hour after a woman reported Thursday morning that her kittens were loose in the nation's largest subway system, transit officials said.

The furry felines, one black and the other white with gray stripes, were finally found on the tracks and rescued nearly seven hours later.

How they made their way to the tracks was a mystery. But they were seen running dangerously close to the subway's high-voltage third rail.
Advertisement
The most buzzed about stars this minute!
Treat Yourself! 4 Preview Issues
Got a News Tip?
Send it to our People.com editors!