10:19 AM EDT 04/26/2015
Cats
Update
Posted 04/24/2015 09:00PM
Originally posted 04/24/2015 12:00PM
A Texas woman was so proud of her "first bow kill" that she posted a photo of herself on Facebook with her prey – an orange and white cat dangling by his head from an arrow the smiling woman holds in her hands.

Even more shocking, the smiling woman in the photo is a veterinarian, and the cat she killed might have been her neighbors' pet – not a feral cat as she suggested. Dr. Kristen Lindsey's post has set off a storm of controversy, with many demanding that Lindsey be stripped of her vet's license and criminally charged for the cat's death.
Update
Posted 04/23/2015 06:25PM
Originally posted 04/23/2015 05:05PM
Lea Michele knows there's nothing more beautiful than true love.
Credit: Courtesy Taylor Swift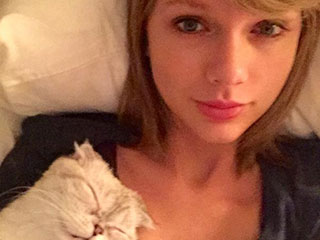 Originally posted 04/22/2015 06:30PM
Let's stop pretending the Internet was invented for any other purpose besides providing a safe, happy space for cat videos. You know it. We know it. And, further confirming its universal and irrefutable truth, Taylor Swift knows it.
Originally posted 04/22/2015 12:00PM
We've teamed up with one of our favorite sites, BarkPost, to bring you and your four-legged friends even more adorable pet videos, photos and must-see stories. Check back every week for new furry fun from BarkPost!
Credit: Bydgoszcz Animal Shelter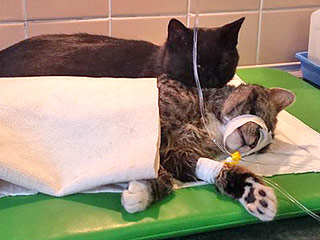 Originally posted 04/17/2015 04:15PM
He may have the best bedside manner in the game. Meet Rademenes the healer cat of Poland's Bydgoszcz Animal Shelter.

The doting black feline first arrived at the shelter as a patient, according to the New York Post. Rademenes was dropped off with a serious respiratory infection. His chances of recovery looked bleak for a while, but the feline pulled through.

After helping to save Rademenes's life, veterinarian Lucyna Kuziel-Zawalich decided to keep the kitty and let him hang around the shelter. That's when Rademenes started doing something rather remarkable.
Originally posted 04/12/2015 10:15PM
Just like snowflakes, every cat in the world is unique. But when it comes to what we call our felines? Not so much.

Among the millions of pet cats in the world, there are plenty who share the same name. How do we know? Rover.com put its top researchers to work to discover which names are the most popular with kitty parents.

The results, organized into male and female names, draw influences from all over. Some of the winners are popular baby names, while The Lion King's Simba also remains a top choice.
Credit: Getty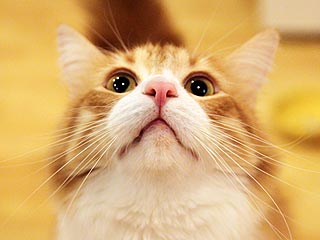 Originally posted 04/10/2015 09:10PM
Stop asking yourself "blue and black or white and gold?" The Web's biggest question right now is, "Up or down?"

An image of a cat posted to photo and video sharing websites 9gag and Imgur has caused a debate across the Internet, reports USA Today.

The optical illusion shows a feline climbing a set of stairs, but what's hard to decipher is whether the cat is walking up or down the staircase. While it is possible to see both options in the picture, online viewers are developing strong opinions about what the "right" answer.
Credit: Courtesy Alley Cat Allies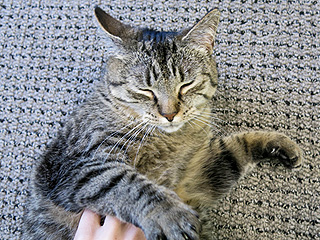 Originally posted 04/10/2015 01:00PM
Home. Some pets never have one to call their own. We'd like to help change that by introducing you to an extraordinary adoptable pet every week. Today, meet K.D., a 1-year-old cat currently being fostered through Alley Cat Allies of Bethesda, Maryland.

This sweet and curious girl appeared one day in a feral colony in Atlantic City, New Jersey. She was filthy, emaciated and suffering from a severe upper respiratory infection. After noticing that she was well socialized, the people feeding the cats determined she was not actually feral at all and contacted Alley Cat Allies for help.

After a few days of good food, solid sleep, vet trips and lots of TLC, K.D. was feeling much better.

"She is a very active kitty who loves attention and is very chatty," reads her Petfinder bio. "She has spent her foster time taking care of two foster kittens, and likes the company of people and other cats."
Originally posted 04/07/2015 06:20PM
Lucy Liu the Chihuahua – not the Charlie's Angel – is making headlines for her mothering skills.

The little dog recently adopted two kittens into her care, reports WRIC. Both of the baby cats had been found abandoned on the side of a road near New York City.

The 10-week-old felines were rushed to Hi Tor Animal Care Center for treatment, where they were later taken in by veterinary technician Jamie Apfel.
Credit: Juan Silva/Getty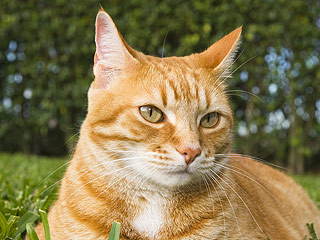 Update
Posted 04/06/2015 08:25AM
Originally posted 04/03/2015 03:05PM
If you have to spend 16 days trapped in an overseas shipping container, this is how you should do it.

An 8-month-old kitten named Sinbad survived for that long in a container full of luxury linens that hailed from Egypt and made its final stop in Hereford, England.

The cat, named for Sinbad the sailor, hopped on the container on March 8 and was discovered by workers 16 days later when he was unloaded in Moreton-on-Lugg.

"I think he gave the [truck] driver and the staff at Mediterranean Linens quite a shock when they found him back in Hereford! They called the RSPCA and we obviously came out to rescue him," Pippa Boyd, an inspector for the RSPCA, said in a statement on their website.
Advertisement
The most buzzed about stars this minute!
Treat Yourself! 4 Preview Issues
Got a News Tip?
Send it to our People.com editors!