12:11 AM EDT 07/29/2015
Cats
Originally posted 07/01/2015 02:35PM
Let me tell you about my bestie, he is a golden-furred friend who will love me until the end.
That's Koda's jam. The adorable ginger kitten in this video has found a way to become even cuter by befriending a loyal golden retriever named Keelo.
Originally posted 06/30/2015 02:35PM
There's nothing more embarrassing than when you are in line at the grocery store, and your mom starts licking behind your ears.
Originally posted 06/30/2015 02:40AM
[YOUTUBE "ncNwe13rguE"] Who knew that putting a flower on a cat's head makes the animal just turn off?
Originally posted 06/29/2015 11:35AM
Defying its natural predatory instinct and forgoing a delicious snack of baby birds, this heroic, bizarrely-wired cat
switched into mom mode
to help feed three abandoned chicks.
Hungry for a meal but with no mother to feed them, these three baby birds chirp at the sky with their mouths wide open, yearning for a mother-figure (bird, cat, whatever) to regurgitate lunch into their mouths.
Credit: Toru Yamanaka/AFP/Getty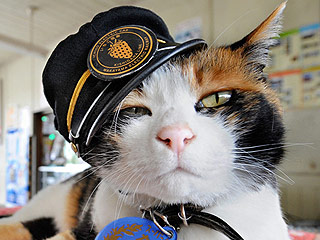 Originally posted 06/26/2015 02:40PM
Tama the cat, who helped to save a failing Japanese train station, has died of acute heart failure at the age of 16, reports NPR.

The calico kitty was an honorary stationmaster at the Kishi train station near Wakayama City. Tama was given the role in 2007 after she started hanging around the stop. Workers dressed the feline in a tailor-made collar and stationmaster hat and even gave the cat her own office – a converted ticket booth.
Credit: Courtesy NYPD 114th Precinct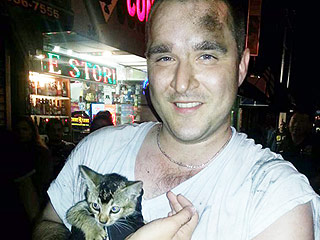 Originally posted 06/26/2015 11:15AM
They may work with canines, but don't be fooled: the New York Police Department is full of cat lovers.

Less than a week after Officer John Passarella saved a kitten in Brooklyn, Officer Sean Ryan went out of his way to rescue a baby cat in Queens, reports ABC News.
Originally posted 06/25/2015 11:50AM
The Brenham, Texas, veterinarian who posted a Facebook photo in April of herself holding her "first bow kill" – a dead cat with an arrow through its head – will not be charged in conjunction with the death of the animal.

On Wednesday, the Austin County District Attorney's office ruled there was not enough evidence to charge Dr. Kristen Lindsey, reports the Houston Chronicle. Lindsey's boastful Facebook post was the only connection between the vet and the crime, and the Austin County Sheriff Office said it was unable to verify when the picture was taken – especially after Lindsey, 31, deleted the post.
Originally posted 06/24/2015 02:55PM
Yoo-hoo, Luhu, why the long face? You're a celebrity.
This gray tabby is quickly
gaining Instagram followers
for her drooping brows that give her a look so achingly sad and sweet it is capable of melting the hearts of even the most hardened feline defectors.
I mean, come on. Look at that face!
Originally posted 06/24/2015 02:15PM
Move over, guard dogs; guard cats are moving in on your turf.
On Tuesday, we were in awe of a cat who
shooed away a mountain lion
while sipping her morning coffee. Today, Nani the cat shows felines the world over how to send a black bear back where he came from (while safely protected by a glass door).
In a
YouTube video
posted by Eagle River, Alaska, resident Darlis Elliott, the 2-year-old Savannah cat watches silently inside as the sizable bear sniffs around outside on the porch.
Originally posted 06/23/2015 01:15PM
Take that, you big bully!
This brave feline sweetly meows as it stares into the eyes of a ferocious mountain lion – with just a glass door separating them – and prompts the large animal to go on his merry way.
The standoff begins with a very shocked owner finding his fluffy cat deeply engrossed in a staring contest with the big guy, who looks to be almost the size of a zoo lion. (Imagine bumping into this guy with your morning coffee, ah!)
Advertisement
The most buzzed about stars this minute!
Treat Yourself! 4 Preview Issues
Got a News Tip?
Send it to our People.com editors!