08:08 PM EDT 05/22/2013
Crime & Courts
Credit:

Courtesy Fowler Family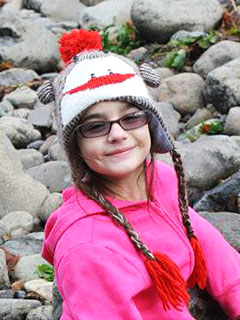 Update
Posted 05/12/2013 08:00AM
Originally posted 05/12/2013 07:45AM
A 12-year-old Northern California boy – who called police to report that a stranger had fatally stabbed his 8-year-old sister, Leila Fowler – has been arrested on suspicion of murder, according to the Calaveras County Sheriff's Department.

The slaying shocked and frightened many of the 7,500 residents of Valley Springs, Calif., who locked their doors for the first time in years, kept their kids home from school and loaded their guns after Fowler died of multiple stab wounds.

Police searched through the rugged terrain, looked in and around homes and checked in on local registered sex offenders and parolees, looking for the tall, muscular man with long, scraggly hair described by the victim's brother.
Credit: AP (2)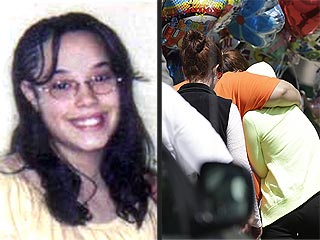 Originally posted 05/11/2013 10:05AM
Is there anything more comforting than Mom's meatloaf?

After a decade-long nightmare as a prisoner inside the home of alleged kidnapper Ariel Castro, Gina DeJesus, 23, is now focusing on the simple things and the healing comforts of home.

"Gina wants to go back to school, get her driver's license and get a haircut," says Matt Zone, a Cleveland city councilman, who has spent time with the DeJesus family in the days since Gina came home. "She wants to learn to put on makeup, all those girly things. It's the simple things – those are the things that are the most precious to her."

Gina's parents, Nancy Ruiz and Felix DeJesus, are doing everything they can to help her heal from the kidnapping ordeal she went through alongside Amanda Berry and Michelle Knight – including preparing Gina's favorite home cooked meal. "Gina told me all she wanted me to do was make my meatloaf for her," Ruiz told Councilman Zone. "Nancy said, 'I'm making my baby some meatloaf.' "
Originally posted 05/10/2013 11:35AM
The daughter of Cleveland kidnapping suspect Ariel Castro won't be visiting him in jail – or having anything else to do with him at all, dubbing him a "demonic criminal."

As for when she heard the news about what allegedly went on in Ariel Castro's house, she "just wanted to die."

Angie Gregg calls her father, who is accused of holding three women captive in his home for nearly a decade, "evil." She says their relationship is over as Castro faces charges of rape and kidnapping in the gruesome case that continues to send shockwaves throughout the country. He is currently being held on $8 million bail.

"He is dead to me," Gregg, overcome with emotion, said in a CNN interview late Thursday. "There will be no visits … no phone calls. He can never be Daddy again. I have no sympathy for the man."
Credit: AP (2)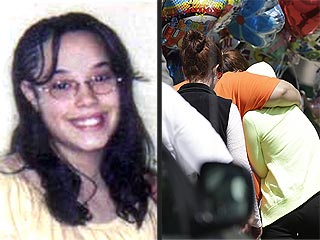 Originally posted 05/09/2013 02:35PM
She looks different, and no wonder.

Gina DeJesus, found alive this week, was barely a teenager when she was abducted nine years ago. Today, she is thinner, paler and with shorter hair than when she was last seen. But her family knows she's still the Gina they knew.

"She was 14. She looked like a 14-year-old. Now she's a woman. She's a 23-year-old woman," Lydia Esparra, a family friend who visited DeJesus in her home Wednesday, told PEOPLE.

Gina is "very tiny, very petite, and her hair is shorter," Esparra said. "When she was kidnapped she had longer hair, but now she has shorter hair … Despite being skinny, she looked very healthy. She obviously doesn't have a lot of skin color, because she's been living in a house with no sun for nine years. But she looks amazing. Amazing."
Credit: Tony Dejak/AP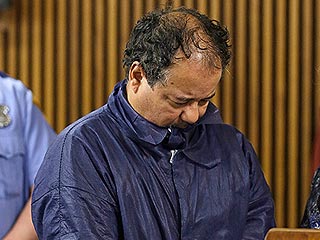 Update
Posted 05/09/2013 12:00PM
Originally posted 05/09/2013 08:40AM
A Cleveland man was arraigned Thursday on charges of rape and kidnapping after three women missing for about a decade were found alive at his home on Monday.

Ariel Castro appeared in court Thursday morning. He looked down at the ground for nearly the entire proceeding, biting his collar and signing documents with his handcuffed hands. He didn't speak. Bond was set at $2 million on each case.

The women found alive after a decade in captivity endured lonely, dark lives inside a dingy home where they were raped and allowed outside only a handful of times in disguises while walking to a garage steps away, investigators say.

The 52-year-old former school bus driver has emerged as the lone suspect.
Credit: FBI/AP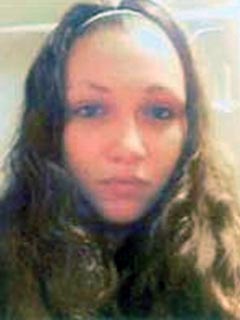 Update
Posted 05/09/2013 09:00AM
Originally posted 05/09/2013 08:10AM
Is there a fourth victim?

The police are still searching for a fourth girl who went missing six years ago from the same area in Ohio where three missing women were discovered on Monday.

Ashley Summers was 14 when she vanished near her Cleveland home in 2007. She was last spotted about three miles away from the run-down residence owned by former school bus driver Ariel Castro, who is charged with kidnapping and raping Amanda Berry, 27, Michelle Knight, 32, and Gina DeJesus, about 23, who had apparently been held captive in the house since their teens or early 20s, police said.
Credit: Tony Dejak/AP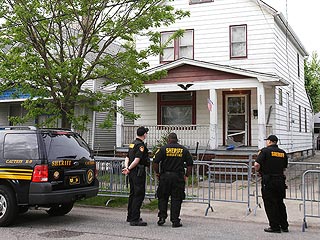 Originally posted 05/08/2013 01:15PM
As the kidnapping of three Cleveland women who were missing for 10 years is investigated by authorities, grim details about the conditions in suspect Ariel Castro's Seymour Avenue home are being released.

While police would not say how the women were taken captive or whether they were sexually assaulted, Police Chief Michael McGrath told NBC's Today show on Wednesday that investigators found ropes and chains in the house.

He added the women were restrained and "released out in the backyard once in a while."

McGrath said he was "absolutely" sure police did everything they could to find the women over the years. He disputed claims by neighbors that officers had been called to the house before for suspicious circumstances. "We have no record of those calls coming in over the past 10 years," he said.
Credit: amily Handout Courtesy WOIO-TV/AP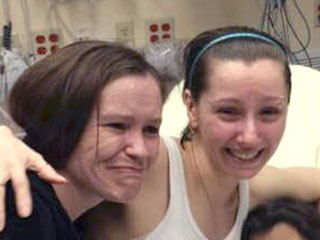 Originally posted 05/08/2013 12:05PM
Amanda Berry's brave escape led police to discover a house of horrors where Gina DeJesus and Michelle Knight were also being held captive for 10 years.

On Wednesday, the 27-year-old mother returned home.

As a motorcade approached Berry's home around 11:35 a.m. ET, Berry and her 6-year-old daughter entered the house through a back door accompanied by family members as neighbors clapped and cheered in a swell of emotion.

Berry's sister, Beth Serrano, addressed the crowd shortly after:
Credit: Scott Shaw/Plain Dealer/Landov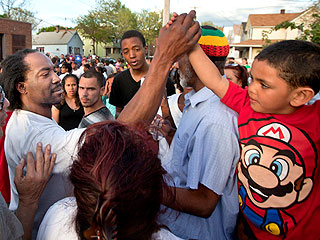 Originally posted 05/08/2013 09:45AM
Charles Ramsey lived right next door to the Cleveland house where Ariel Castro allegedly kept three women captive for up to a decade, but all he saw day after day were two little girls he assumed were Castro's grandchildren playing in the backyard.

But as the world now knows, that changed this week when he rescued the kidnapped Amanda Berry.

As Ramsey told CNN's Anderson Cooper on AC360 Tuesday night that he "heard that girl scream and saw [a neighbor] run across the street, and I went outside and wondered what he was doing, and ... Amanda said, 'I'm stuck in here, help get me out.' "

Ramsey continued: "So here I come with my, you know, half-eaten Big Mac, and I looked and I said, 'Well, what's up?' And she's like, I've been trapped in here, he won't let me out, me and my baby. I said, 'Well, we ain't going to talk no more, come on."
Credit: Reuters/Landov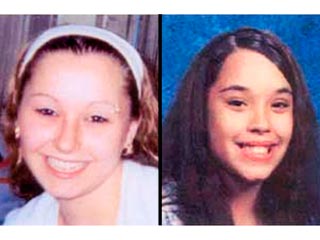 Update
Posted 05/07/2013 10:50AM
Originally posted 05/07/2013 09:15AM
The woman's voice was frantic and breathless, and she was choking back tears. "Help me. I'm Amanda Berry," she told a 911 dispatcher. "I've been kidnapped and I've been missing for 10 years and I'm, I'm here, I'm free now."

Those words led police to a house near downtown Cleveland where Berry and two other women who vanished a decade ago were found Monday, elating family members and friends who had longed to see them again.

Authorities later arrested three brothers. They released no names and gave no information about them or what charges they might face. A relative said one of them is the homeowner, his nephew Ariel Castro.
Advertisement
The most buzzed about stars this minute!
Treat Yourself! 4 Preview Issues
Got a News Tip?
Send it to our People.com editors!