06:23 PM EDT 05/04/2016
Democratic National Convention
Credit:

Steve Dykes/AP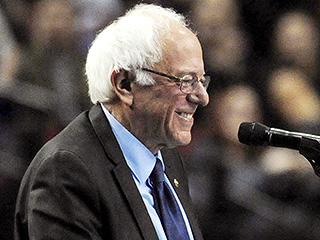 Originally posted 04/28/2016 10:40AM
Bernie Sanders says he's not giving up in the race for the White House, despite significantly downsizing his campaign staff.
Credit: Jason Arthurs/Getty (2)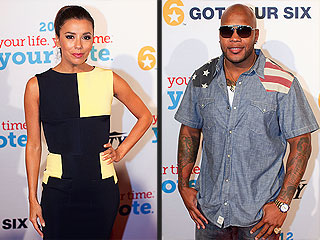 Originally posted 09/07/2012 06:00AM
Talk about a political party!

Eva Longoria mixed and mingled with Democratic National Convention attendees at a Got Your 6 event in Charlotte, N.C., on Wednesday night.

The Desperate Housewives star posed for photos on the red carpet, sharing her political views with the press. She also spoke about the importance of supporting Got Your 6, which aims to bridge the gap between military personnel and citizens by aiding in the reintegration of returning veterans into society.

During the event, Flo Rida performed all of his hits, including "Whistle", for the crowd of celebrities, delegates and democratic supporters.

Longoria teased the rapper-singer about his patriotic attire and joked about borrowing his American flag scarf for her speech on Thursday.
– Melody Chiu
Credit: Edward Linsmier/Getty; Harry E. Walker/MCT/Getty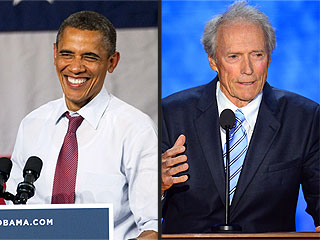 Originally posted 09/02/2012 03:25PM
While it's not being said that Clint Eastwood made President Obama's day, the chief executive does own up to being "a huge fan" of the actor-filmmaker – who last week delivered a long and much-discussed prime-time presentation on stage at the Republican National Convention that was critical of the current administration.

"He is a great actor, and an even better director," the President told USA Today in an interview aboard Air Force One. "I think the last few movies that he's made have been terrific."

The newspaper then asked point blank if Obama took offense at what Eastwood did – speaking to an empty chair that was meant to represent Obama's sitting there and responding to the screen legend's pointed questions.
Credit: Steve Granitz/WireImage, Henry McGee/Globe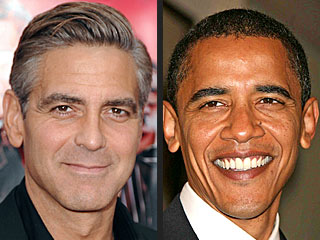 Originally posted 09/02/2008 01:55PM
Fresh from the Venice Film Festival, George Clooney will appear Tuesday evening at a Barack Obama fundraiser in Geneva.

According to reports from Swiss news agency ATS, the Burn After Reading star and longtime Obama supporter hopes to increase Democratic coffers by nearly $1 million at the event, held for U.S. citizens living overseas.

According to planners, Clooney will address a cocktail reception – speaking and answering questions – of 170 U.S. citizens, who are each paying $1,000.
Credit: Dara Kushner/INF; HENRY McGEE/GLOBE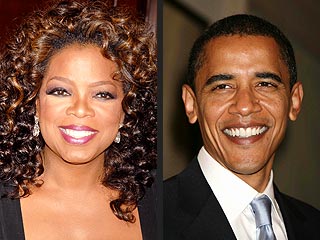 Originally posted 08/29/2008 09:20AM
He's only just become the official Democratic nominee, but it seems Barack Obama already has the celebrity vote sewn up.

His moving acceptance speech at Denver's 2008 Democratic National Convention was watched by a bevy of cheering stars Thursday night.

One of the most moved? Oprah Winfrey, a longtime supporter, who told the Associated Press, "I cried my eyelashes off."

"I think it's the most powerful thing I have ever experienced," added the daytime queen, comparing his words to Martin Luther King Jr.'s iconic "I Have a Dream Speech." (Fitting, then, that Obama's prime-time speech fell on the 45th anniversary of the civil rights leader's famous address.)

But she was not alone in her praise. Black Eyed Peas singer Fergie called the speech "amazing," while Jessica Alba found it "incredible."
Credit: Dennis Brack/Landov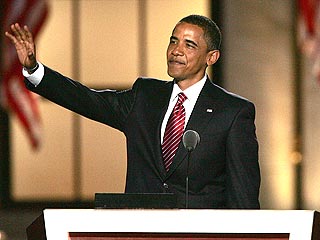 Democratic National Convention
Originally posted 08/29/2008 01:00AM
It looked, felt and even smelled like a rock concert with the $6.50 nachos, the crowd filling Denver's 76,000-seat Mile High Stadium and the opening acts by superstars Sheryl Crow and Stevie Wonder. But instead of upheld lighters, American flags filled the stands as Barack Obama officially accepted the Democrats' nomination to be the party's candidate in the 2008 race for the White House.

Michelle Obama, in a red and black dress, watched from the front row of what the Democratic Party called an open-air convention and doted on their young daughters as if they were at home in Chicago. But the closing night of the Democratic Convention in Denver was in fact – with the fireworks, streamers and ecstatic crowds stomping their feet as if to collapse the stadium – a piece of political theater on a scale this country has never seen.

After taking the stage, thanking the crowd countless times and accepting his party's nomination, Sen. Obama, 47, turned the attention to those closest to him.

"To the love of my life, our next first lady, Michelle Obama, and to Malia and Sasha," he said at the podium, "I love you so much and I'm so proud of you."

Michelle, 44, beaming, blew her husband a kiss.
Credit: Chris Wattie/REUTERS/Landov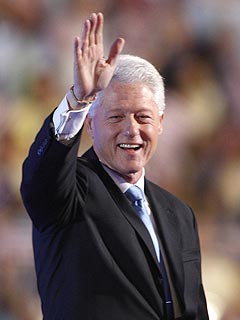 Democratic National Convention
Originally posted 08/27/2008 11:55PM
Bill Clinton knew the bar was high. The day after his wife and former presidential candidate Hillary Rodham Clinton "rocked" the Democratic convention, in the words of Barack Obama, the former president took a turn at the podium to rally the Democratic faithful.

"I'm not so grateful for the chance to speak in the wake of [Hillary's] magnificent address last night," he joked of his wife's rousing reception. "But I'll do my best."

Clinton, who was greeted with thunderous applause, praised his wife saying, he is "proud of the campaign she ran." But he urged Hillary's supporters to back her former rival, saying, ''I want all of you who supported her to vote for Barack Obama in November.''
Credit: INF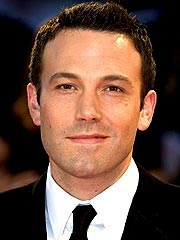 Originally posted 08/27/2008 07:00PM
It's been a week since the birth of his new daughter Gia and what is Matt Damon doing when he's not on diaper duty?

He's working his thumbs to the bone to keep his old buddy Ben Affleck up to date on all of the details.

"I've kind of been texting him back and forth, and he's doing great and [wife] Lucy is doing great," Affleck, 36, told PEOPLE on Wednesday at the Democratic National Convention.
Credit: Dennis Brack/Landov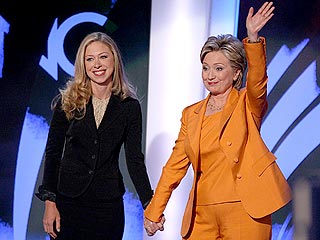 Democratic National Convention
Originally posted 08/26/2008 11:45PM
Chelsea Clinton, who barnstormed in stiletto heels across more than 100 college campuses for her mother, took what a Clinton source called her last bow for Campaign 2008 on Monday night when she introduced "my hero and my mother" at the Democratic National Convention.
Credit: Landov; Abbaca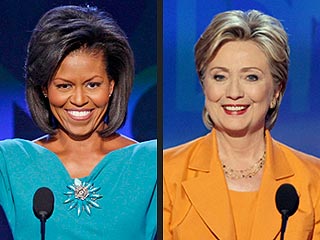 Democratic National Convention
Originally posted 08/26/2008 10:15PM
Even during her speech Monday at the Democratic National Convention, Michelle Obama says her mind was on her kids.

"School is about to start, and I was thinking about how I was going to get Malia's books and locker combination," Obama told a room of supporters at the Emily's List gala in Denver, where she shared the platform Tuesday with a laudatory Sen. Hillary Clinton.

The two women spoke separately before the 2,500 supporters, many of whom had paid $5,000 for the privilege of hearing Clinton preview what she is expected to say in Tuesday night's speech: "Work as hard for Barack Obama as you did for me."
Advertisement
The most buzzed about stars this minute!
Treat Yourself! 4 Preview Issues
Got a News Tip?
Send it to our People.com editors!