08:21 PM EDT 07/23/2016
Democratic National Convention
Credit:

Dennis Brack/Landov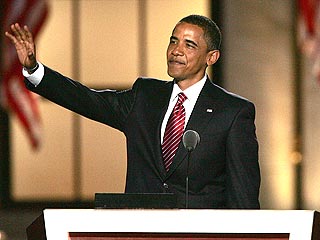 Democratic National Convention
Originally posted 08/29/2008 01:00AM
It looked, felt and even smelled like a rock concert with the $6.50 nachos, the crowd filling Denver's 76,000-seat Mile High Stadium and the opening acts by superstars Sheryl Crow and Stevie Wonder. But instead of upheld lighters, American flags filled the stands as Barack Obama officially accepted the Democrats' nomination to be the party's candidate in the 2008 race for the White House.

Michelle Obama, in a red and black dress, watched from the front row of what the Democratic Party called an open-air convention and doted on their young daughters as if they were at home in Chicago. But the closing night of the Democratic Convention in Denver was in fact – with the fireworks, streamers and ecstatic crowds stomping their feet as if to collapse the stadium – a piece of political theater on a scale this country has never seen.

After taking the stage, thanking the crowd countless times and accepting his party's nomination, Sen. Obama, 47, turned the attention to those closest to him.

"To the love of my life, our next first lady, Michelle Obama, and to Malia and Sasha," he said at the podium, "I love you so much and I'm so proud of you."

Michelle, 44, beaming, blew her husband a kiss.
Credit: Chris Wattie/REUTERS/Landov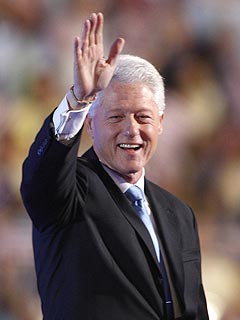 Democratic National Convention
Originally posted 08/27/2008 11:55PM
Bill Clinton knew the bar was high. The day after his wife and former presidential candidate Hillary Rodham Clinton "rocked" the Democratic convention, in the words of Barack Obama, the former president took a turn at the podium to rally the Democratic faithful.

"I'm not so grateful for the chance to speak in the wake of [Hillary's] magnificent address last night," he joked of his wife's rousing reception. "But I'll do my best."

Clinton, who was greeted with thunderous applause, praised his wife saying, he is "proud of the campaign she ran." But he urged Hillary's supporters to back her former rival, saying, ''I want all of you who supported her to vote for Barack Obama in November.''
Credit: INF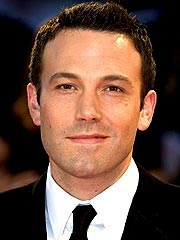 Originally posted 08/27/2008 07:00PM
It's been a week since the birth of his new daughter Gia and what is Matt Damon doing when he's not on diaper duty?

He's working his thumbs to the bone to keep his old buddy Ben Affleck up to date on all of the details.

"I've kind of been texting him back and forth, and he's doing great and [wife] Lucy is doing great," Affleck, 36, told PEOPLE on Wednesday at the Democratic National Convention.
Credit: Dennis Brack/Landov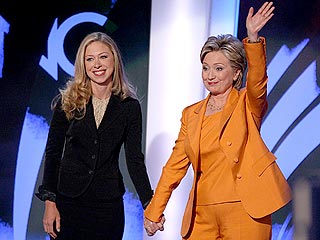 Democratic National Convention
Originally posted 08/26/2008 11:45PM
Chelsea Clinton, who barnstormed in stiletto heels across more than 100 college campuses for her mother, took what a Clinton source called her last bow for Campaign 2008 on Monday night when she introduced "my hero and my mother" at the Democratic National Convention.
Credit: Landov; Abbaca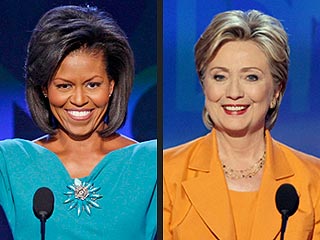 Democratic National Convention
Originally posted 08/26/2008 10:15PM
Even during her speech Monday at the Democratic National Convention, Michelle Obama says her mind was on her kids.

"School is about to start, and I was thinking about how I was going to get Malia's books and locker combination," Obama told a room of supporters at the Emily's List gala in Denver, where she shared the platform Tuesday with a laudatory Sen. Hillary Clinton.

The two women spoke separately before the 2,500 supporters, many of whom had paid $5,000 for the privilege of hearing Clinton preview what she is expected to say in Tuesday night's speech: "Work as hard for Barack Obama as you did for me."
Credit: Barry King/WireImage; Todd Williamson/WireImage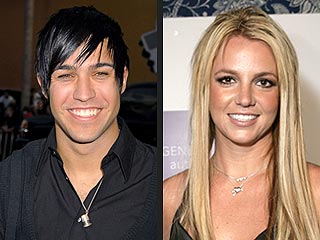 Originally posted 08/26/2008 09:00AM
In Denver at the Democratic National Convention, Fall Out Boy band members are doing double duty: announcing the Nov. 4 release of their third Island album, Folie á Deux, and playing a concert Monday for Rock the Vote – aimed at getting youth involved in the political process.

Talking backstage to PEOPLE before their concert, bassist Pete Wentz and singer-guitarist Patrick Stump say they don't want to preach from the stage, although Stump admits this is a "political record, but it's never going to say outright 'Vote for Obama.' "

In terms of their own leanings, Wentz, 29, says they are all "liberal democrats from the suburbs of Chicago," adding that his parents met when they were both working on a Joe Biden campaign.
Credit: Bruce Cotler/Globe Photos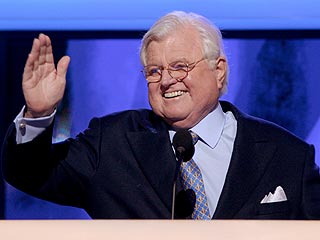 Democratic National Convention
Originally posted 08/26/2008 08:15AM
The cheers were explosive as Sen. Ted Kennedy, still recovering from brain surgery in June, took the stage Monday night at the Democratic National Convention.

The iconic "Lion of the Senate," 76, was expected to sit out this convention, perhaps his last. Though battling a malignant tumor in his left parietal lobe, he made a last-minute decision to fly from Massachusetts to Denver with his wife, Victoria.

With his signature white mane slightly thinning in spots but his bulky frame as stalwart as ever – and with his wife at his side – Kennedy strode onstage unassisted as the 4,400 delegates in the hall rose from their seats to deliver their unrestrained cheers and screams.
Credit: Mike Segar/Reuters/Landov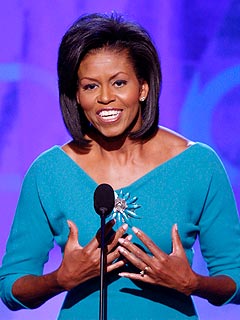 Originally posted 08/25/2008 11:55PM
Michelle Obama gave the kind of intimate, emotional endorsement only a wife could give in her headlining speech kicking off the Democratic National Convention on Monday night.

She recalled her husband, Barack Obama, as a nervous new dad, before the hype and hoopla of his life on the national stage, and said he has not been changed by politics. "He's the same man who drove me and our new baby daughter home from the hospital 10 years ago this summer," said Michelle, "inching along at a snail's pace, peering anxiously at us in the rearview mirror, feeling the whole weight of her future in his hands ... [He was] determined to give her what he never had, the affirming embrace of a father's love."

Her voice caught with emotion and she sniffed several times.
Credit: Landov(2)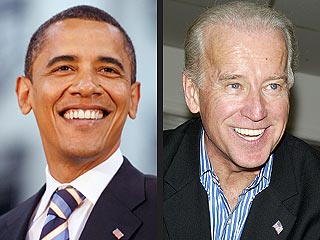 Democratic National Convention
Originally posted 08/25/2008 08:00PM
Picture this: A photographer asks Democratic running mates Barack Obama and Joe Biden to squeeze together for a portrait. "We're kind of insecure," jokes Obama, while Biden counters, "I carry my wife's pocketbook – I'm fine." "Okay," declares Obama, posing for the camera, "get tight!"
Credit: Alexander Tamargo/Getty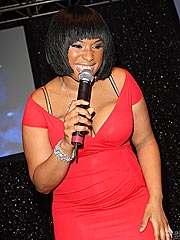 Democratic National Convention
Originally posted 08/25/2008 06:05PM
Barack Obama has asked Jennifer Hudson to sing the national anthem on Thursday – the day of the presumptive Presidential candidate's much-anticipated address to the Democratic convention in Denver, her rep tells PEOPLE.

"His reps called and said we'd love for you to sing the anthem on Thursday," Hudson's rep tells PEOPLE. "She's thrilled and excited. It's a tremendous honor."

The DNC will not comment about Hudson's performance until the official schedule is announced.
Advertisement
The most buzzed about stars this minute!
Treat Yourself! 4 Preview Issues
Got a News Tip?
Send it to our People.com editors!