09:22 AM EDT 05/15/2013
Exotic Animals & Pets
Credit:

Winfried Wisniewski/Getty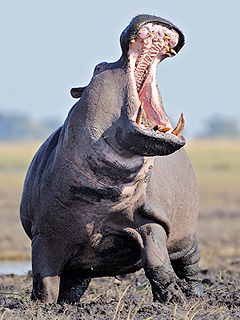 Originally posted 05/09/2013 07:00AM
It was supposed to be just another excursion down the Zambezi River for travel guide Paul Templer. He'd been in the business for years, taking in the same scenery trip after trip – until he got a view he'd never forget.

Seventeen years ago, at 27, Templer was leading a group of clients and three apprentice guides down the river near Zimbabwe's Victoria Falls in kayaks when a male hippo he had encountered before attacked them.

"The solid whack I felt behind me took me by surprise," Templer wrote recently in The Guardian newspaper as part of an essay that has since captivated the Internet. "I turned just in time to see [apprentice] Evans, who had been flung out of his boat, flying through the air. His boat, with his two clients still in it, had been lifted half out of the water on the back of the huge bull hippo."
Credit: EPA/Landov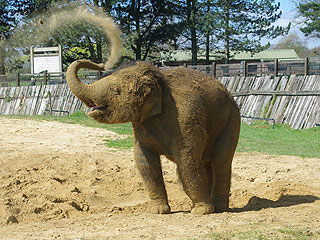 Update
Posted 05/03/2013 06:30PM
Originally posted 05/03/2013 05:30PM
We've all been there.

Your mom's nagging you to hop into the tub and clean up, but what do you really want to do? Make a mess – and that's exactly what this 18-month-old elephant did.

A resident of the ZSL Whipsnade Zoo in England, Asian elephant Scott promptly returned to his enclosure's sand pit after being hosed down. The mischievous pachyderm rolled around in the pit, covering his entire body in sand, before taking it one step further and splattering sand all over himself with his trunk.

Though we're sure his keepers were none too pleased, we have to admit: how could something that makes someone look so happy be wrong?
Credit: Courtesy Angela Chen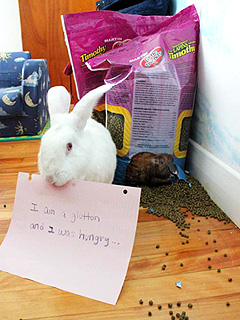 Originally posted 04/30/2013 05:00PM
Dogs, you're off the hook.

Months after we first started calling out canines around the world for their most indecent (and repeated) indiscretions in the online phenomenon that is dogshaming, it looks like it's someone else's turn to take a little Internet heat.

Introducing bunny shaming, an increasingly popular way for rabbit owners to air out their dirty laundry (often literally) on Facebook and Tumblr.
Credit: Michael Buckner/Getty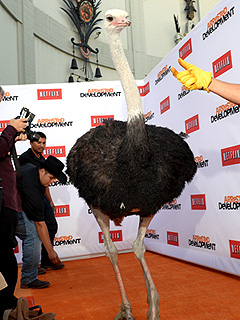 Originally posted 04/30/2013 02:00PM
Feathers were ruffled at Monday's Arrested Development premiere. Literally.

As the show's most famous faces, from Jason Bateman to Portia de Rossi, stepped out to celebrate the much-awaited new season, it was a flawlessly coiffed, well-mannered ostrich who emerged as the night's biggest star.

The bird walked the red carpet with all the grace and composure of a veteran actor, so much so, we couldn't tell if the feathered star was just winging it. And no stylist, no problem: This buddy went all-natural for the event, which celebrated the show's comeback season launching May 26 on Netflix.
Credit: Roland Weihrauch/Landov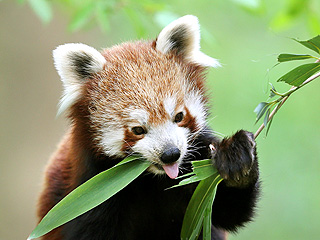 Update
Posted 04/29/2013 05:30PM
Originally posted 04/29/2013 02:00PM
This red panda is totally grounded as soon as his mom sees this.

While indulging in a meal of bamboo leaves, a red panda in Krefeld, Germany, got a little overzealous with his favorite tasty treat on Monday and completely forgot the cardinal rule at the dinner table. Despite a fully-formed, uneaten leaf still protruding from his mouth, the cute critter couldn't help but go in for another lick, chewing with his mouth open (gasp!).

Though we're normally partial to proper etiquette, we're inclined to let this red panda's behavior go on account of his un-bear-able cuteness.
Credit: Reuters/Landov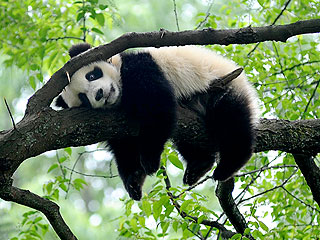 Originally posted 04/26/2013 12:30PM
We've all been there, fella.

While climbing a tree at a Ya'an panda refuge in the Sichuan province of China, a giant panda decided he needed a bit of a breather. And what better place to take a nap than ... right here?

Like an Olympic gymnast on a balance beam, the adorable creature managed to hang out – and hang on – after plopping down for a quick break.
Credit: Tobu Zoo Park/EPA/Landov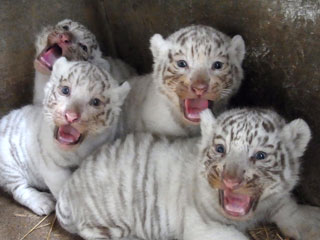 Originally posted 04/25/2013 12:45PM
One, two, three, four – hit it!

A quartet of white tiger cubs born on March 16 at Japan's Tobu Zoo Park is gearing up to make their public debut in May. And from the looks of it, they're already in perfect harmony.

In a photo taken last Wednesday, the foursome is seen breaking into a simultaneous roar – to the delight of their audience, most likely. While it remains to be seen if the group can equally impress American Idol judges Randy Jackson, Mariah Carey, Nicki Minaj and Keith Urban, they've certainly got our vote.
Update
Posted 04/23/2013 01:15PM
Originally posted 04/23/2013 12:30PM
It's a plot twist straight out of The Hangover!

While taking a bathroom break during a performance of the Isis Shrine Circus in Salina, Kan., on Saturday, a woman discovered a tiger in the bathroom.

The big cat had escaped briefly after its turn in the ring. (Watch below.) Staff members blocked off the concourses at the Bicentennial Center, but the tiger wandered into the bathroom, where one of the doors was blockaded.
Credit: Michaela Rehle/Landov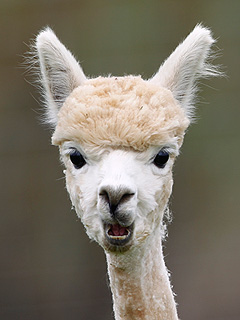 Originally posted 04/22/2013 12:30PM
Ladies and gents, this alpaca has officially learned a valuable life lesson: Always knock before you enter.

The motto comes in handy in office settings and, as this alpaca has come to realize, bedrooms.

We're just hypothesizing, of course, based on a facial expression that can only be described as a toss-up between shocked and horrified. At least that's the face we make when we walk in on anybody mid-wardrobe change.
Credit: Newspix/REX USA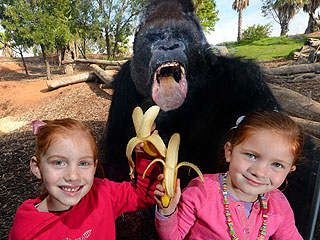 Update
Posted 04/13/2013 12:00PM
Originally posted 04/11/2013 12:25PM
Say cheese – or bananas?

A pair of sisters visiting a Melbourne, Australia, zoo left with the ultimate souvenir: a one-of-a-kind snapshot with a very photogenic gorilla.

Standing behind the enclosure's glass, Motaba, a 29-year-old resident of the Werribee Open Range Zoo, photobombs 6-year-old Ella O'Brien and 4-year-old Bridget in a picture that could put a camera-ready stingray to shame.
Advertisement
The most buzzed about stars this minute!
Treat Yourself! 4 Preview Issues
Got a News Tip?
Send it to our People.com editors!