12:46 PM EDT 06/03/2015
Grooming
Originally posted 12/08/2009 07:45AM
They say you should never buy the 1.0 of anything, including super-gadgets like the iPhone and Kindle. Turns out that statement also rings true for pet products.

Building on the success of the original FURminator deShedding tool ($39.99 for the small size), which debuted back in 2002, the company has launched a new and improved "deLuxe" version this month ($44.99 for small), which is definitely easier to use than the older model thanks to some design tweaks.
Originally posted 10/27/2009 07:45AM
Traveling with pets is no easy task. Their hair, slobber and messes can end up anywhere and everywhere – but we still love them! For families that travel frequently with their pets – particularly show dogs – Airstream has introduced the 34-foot PanAmerica trailer, which boasts an 11-foot "garage" in back. The aluminum space features a rubber floor, and is both oil- and stain-proof.

"We really developed it with the idea that different customers would come up with a variety of different uses for the garage," Airstream CEO Bob Wheeler tells PEOPLEPets.com. "It was interesting to see that some of the first purchasers were dog owners who show, and needed a place to set up mobile grooming stations for their pets."
Originally posted 10/23/2009 11:00AM
My miniature pinscher pup Rocco hates nothing more than getting in our bathtub (not even passing city buses or barking Shih Tzus!). He even shirks when passing by the bathroom in our home on a daily basis. So I rely on wet wipes to clean the sidewalk grime and the bacteria from the dog park off Rocco – which means I've become somewhat of an expert in no-fuss dog bathing.

It also means that Rocco has experienced the downside to a lot of these wipes – most on the market dry his skin with harsh ingredients like soaps and alcohol. That's why I was ecstatic to try TrueBlue's all-natural grooming wipes. They're pH-balanced, tear-free and made from botanical ingredients, and come in Safe and Sure Eye Wipes, Super Easy Ear Wipes and – what's become my absolute favorite – Fast and Fresh Dental Swipes.
Credit: Splash News Online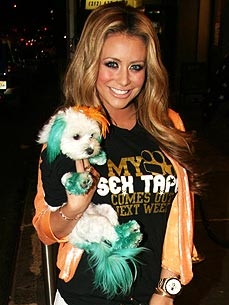 Originally posted 09/23/2009 07:45AM
It's not unusual for Ginger the teacup Maltese to go to sleep and wake up a different color. Most recently, green is her mom's hue of choice. "The season is starting back up and we're big Celtics fans," Aubrey O'Day tells PEOPLE Pets. "So we have Ginger green right now, she likes basketball."

The performer, and former member of girl group Danity Kane, has been turning a lot of heads – and getting a bit of heat – lately for dyeing her dog's fur a variety of rainbow colors. "I have seen the polls and the negative comments about me doing it in blogs and stuff," she says. "But I don't know, she doesn't mind it. I do it when she's sleeping usually. Or when she's really tired and she kind of lays in my lap."
Credit: Fame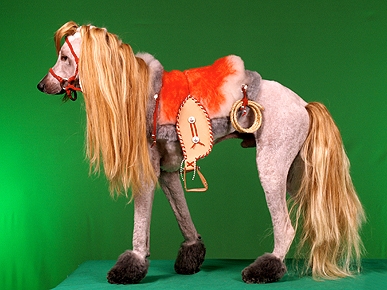 Originally posted 09/04/2009 07:45AM
"Watching the owners turn these balls of hair into something so intricate and detailed really does baffle anyone watching," says photographer Ren Netherland, who has spent more than 10 years traveling the United States, taking pictures of dogs competing in "extreme grooming" competitions. "You have no clue whatsoever what they're planning." At times the only professional shutterbug allowed to snap shots of the pups featured at some of these shows, Netherland, 48, has seen what would seem unbelievable unless documented: poodles turned camels, poodles turned fairies, even poodles turned NFL football players! "One of the reasons I love my job is because I love animals so much," he told London's Daily Mail in an interview. "I much prefer working with them than people."
Originally posted 06/09/2009 07:45AM
Dogs can get extremely dirty trotting along the city streets. So, how does Broadway actress Megan Hilty keep her Jack Russell terriers looking camera-ready while pounding the pavement in the Big Apple? The 9 to 5: The Musical star tells PEOPLE Pets all it takes is a couple of great products and some TLC.

For pups Gracie and Harley's little paw pads, Hilty uses Woof Cosmetics' Paw and Fur Balm with shea butter ($9.95). "It helps prevent drying and cracking," says Hilty. As for keeping them fresh, the actress uses Kiehl's Spray-N-Play Cleansing Spritz ($12), which requires no water and is easily wiped off her pets' coats. "They don't get too stinky that way!" says Hilty.

Tell us: What are your tips and tricks for keeping your city dogs clean?
Credit: Gamma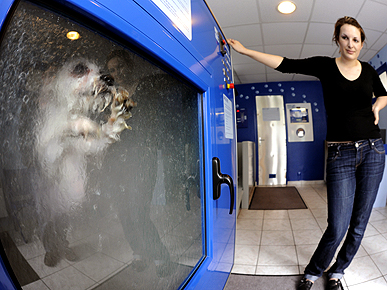 Originally posted 06/04/2009 03:15PM
If we asked you to name four things that go into a washing machine, we imagine you'd say: T-shirts (check!), socks (check!), jeans (check!), dogs (wait – dogs?). That's right, dogs – at least according to French inventor Romain Jarry, who recently created the Dog-O-Matic: a fully-automated washing machine for pets! Featuring what we hope is a delicate spin cycle, the Jetsons-like invention makes Fluffy extra fluffy, cleansing your cat or dog with tearless shampoo and then blowing him or her dry, all in the same ominous blue box. (You can watch videos of the process here.) While the contraption is only available in the small French town of Saint-Max at the moment, Jarry tells the Daily Mail he's hoping to expand to England in the months ahead, depending on user reactions.

Sound a little crazy? With a price tag of $20 to $48 depending on the size of your pet, it's definitely a little more luxe than your average backyard dog bath. "The dogs don't seem to get bored," says Jarry. "They just sit there and they come out clean."
Originally posted 04/29/2009 07:45AM
You know how it is: When you get to be 10 years old and your facial hair turns gray, all the young puppies at the dog run won't give you a second look. That, at least, seems to be the philosophy behind the Pet Esthe Color Restoration System. "Aging dogs regain youthfulness," a recent ad in an American grooming magazine proclaimed, showing a downcast graying dog transformed to a proud, yellow-coated stud.
Originally posted 04/17/2009 07:45AM
When my dogs are truly dirty, nothing helps but a bath. But occasionally they just smell a little like dog food or, you know, dog. Pepper & Tanky sweetens things up with a line of cruelty-free, French eau de parfum for dogs. The packaging makes me laugh (in a good way); the dainty blue atomizer looks like something from my grandma's makeup table, making it that much more fun to spritz my 175-lb. drooling mastiff. He and his younger sis took it in stride – no sneezing, no skin allergies.
Originally posted 04/13/2009 12:00PM
The newest Obama – a Portuguese Water Dog named Bo! – made his White House debut over the weekend, and we couldn't be more excited. While the Obamas are probably settling in quite well with their new pup, we couldn't help but think of a few items that might make the transition easier. We also consulted some top animal experts – Animal Fair editor Wendy Diamond, author and TV personality Victoria Stillwell and dog trainer Andrea Arden – to hear their thoughts on the perfect products for the first puppy. Take a look at our gallery of their suggestions, and feel free to share your ideas in the comments!
Advertisement
The most buzzed about stars this minute!
Treat Yourself! 4 Preview Issues
Got a News Tip?
Send it to our People.com editors!