02:35 AM EDT 07/10/2016
Oklahoma Tornadoes
Credit:

Saul Loeb/AFP/Getty; Elise Amendola/AP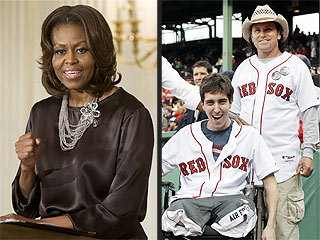 Originally posted 01/27/2014 03:45PM
Two Boston Marathon bombing survivors will be joining First Lady Michelle Obama in her viewing box during the President's State of the Union Speech on Tuesday.
Credit: Discovery Channel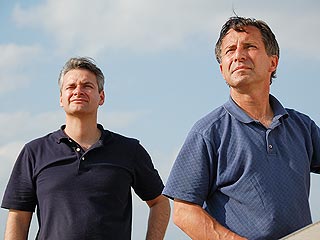 Originally posted 06/03/2013 09:15AM
The deadly tornado that swept through Oklahoma Friday night – the second such disaster to strike the state in two weeks – claimed among its 13 victims three veteran storm chasers: Storm Chasers star Tim Samaras, 54, his son Paul Samaras, 24, and their colleague, Carl Young, 45.

The elder Samaras was found inside his car, and he was still wearing his seatbelt. His son and colleague had been pulled from a car by the winds – which carried one of them for a half a mile.

Samaras's recent research was often funded by the National Geographic Society, which on Sunday released a statement, saying: "We are shocked and deeply saddened ... [Samaras] was a courageous and brilliant scientist who fearlessly pursued tornadoes and lightning ... in an effort to better understand these phenomena."

Only last month, the elder Samaras spoke to the society's namesake publication about his work, telling National Geographic that his interest in twisters began as a child, while watching the classic movie The Wizard of Oz, with its dramatic storm sequence.
Credit: Courtesy Summer Hulme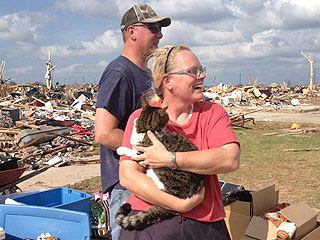 Originally posted 05/31/2013 01:30PM
Thanks to the efforts of a 13-year-old Boy Scout, what once was lost is now found in Moore, Okla.

Justin Hulme Rangel, who accompanied his Boy Scout troop from Texas to the site ravaged by a tornado on May 20, proved to be a savior for a couple whose cat Egor was presumed dead.

Rangel was searching through the remains of Geoff and Jo Humann's home on May 26 when he came upon a litter box, and correctly guessed Egor may have hidden in it.
Credit: Trae Patton/NBC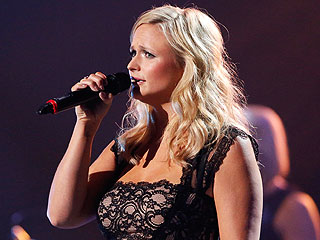 Originally posted 05/30/2013 10:55AM
The raw emotion in the wake of the deadly Oklahoma tornadoes was palpable Wednesday at a benefit concert in Oklahoma City, as Miranda Lambert broke down in tears and struggled to finish her song, "The House That Built Me." (Watch her performance below.)

The singer, 29, halted several times and wiped away tears as she performed the poignant Grammy-winning track, dedicated the night of the event to the animals affected by the tornadoes.

Lambert was introduced by her husband, Blake Shelton, who called her "an amazing woman, a compassionate human being, a great talent – and oh, by the way, an amazing wife."
Credit: Joshua Lott/AFP/Getty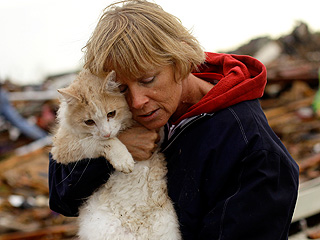 Originally posted 05/26/2013 10:25AM
Amid the heartbreak, there was hope – thanks to some furry friends, and a few big-hearted humans.

Despite the devastation in Oklahoma Monday after a deadly tornado tore through the state, readers found joy in the heartfelt images of shell-shocked residents reuniting with their beloved pets, and shared the heartwarming pictures in droves. (See them all here.)
Originally posted 05/24/2013 03:15PM
Oklahoma's star contingent is showing its love for the victims of the recent deadly tornado that killed 24 people and injured 240.

Among the many generous showbiz names is Carrie Underwood, who on Thursday announced a $1 million donation to the Red Cross from her "Blown Away" tour's concert receipts.

"I have watched the devastation in my home state of Oklahoma over the past several days with great sadness," Underwood said in a statement. "With the help of my fans who attended my concerts over the past year, we can offer the Red Cross a little extra help in comforting those affected by the recent tornados."
Credit: Joshua Lott/AFP/Getty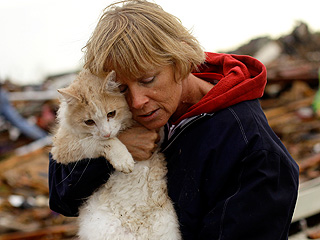 Originally posted 05/22/2013 05:45PM
Amid the death and destruction facing families left displaced by the tornado that struck several suburbs of Oklahoma on Monday, a handful of residents have been fortunate to return to the sites of their homes and come face-to-face with their furry friends.

Earlier in the week, Barbara Garcia was reunited with her missing dog during an on-camera interview, in which a member of the CBS News crew spotted her pup struggling to escape the debris.

Garcia's story is just one of many touching reunions, such as that of June Simson (above). Upon returning to the remains of her home, she discovered her cat, Sammi, covered in dirt but alive, standing atop the rubble.
Credit: Trae Patton/NBC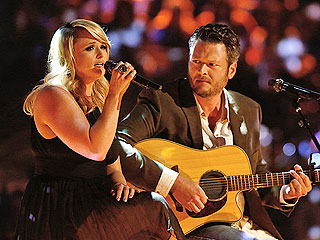 Originally posted 05/22/2013 08:20AM
Oklahoma native Blake Shelton drew on the comfort of his wife Miranda Lambert on The Voice Tuesday night as the couple opened the results show with a touching duet tribute to those affected by Monday's devastating tornadoes.

Shelton, 36, and Lambert, 29, delivered a touching and somber "Over You" as the show called its fans to donate to the Red Cross and its relief efforts for victim families and survivors of the deadly storm, which smashed into Moore, Okla., about 100 miles from the couple's home.

"I think "Over You" was the perfect song for this situation," Shelton said after the show. "The moment was right. I wish things could have been different. I wouldn't have thought about performing a song like that, but it seemed like the right thing to do."
Originally posted 05/21/2013 11:00AM
Amid all the rubble and wreckage caused by the Oklahoma tornado, Barbara Garcia stumbled upon a ray of hope.

"I was sitting on the stool, holding my dog – this was the game plan through the years, to go in that little bathroom," she told CBS News reporter Anna Werner while surveying the damage done to her home. "The electric went off in the bathroom, and about the same time, I felt the stool come up out of the floor … I never lost consciousness and I hollered for my little dog and he didn't answer or didn't come, so I know he's in here somewhere."

As she continued to survey the situation with Werner – "This is life in the big city," Garcia said – a member of the interview crew caught sight of the dog struggling to force its way out from beneath the rubble.
Originally posted 05/21/2013 10:55AM
To be a teacher is already to be a hero, but during Monday's monstrous tornado in the suburbs of Oklahoma City, Rhonda Crosswhite put her life directly on the line after first seeing that several of her students had taken refuge only moments before the twister devastated their school.

"I was in a [bathroom] stall with some kids and it just started coming down, so I laid on top of them," the sixth-grade teacher at Plaza Towers Elementary in Moore, Okla., told Savannah Guthrie on Tuesday's Today show. "One of my little boys just kept saying, 'I love you, I love you, please don't die with me.' But we're okay. We made it out."

All of the children who were with her are now safe, there was one minor injury – a cut to the head, said Crosswhite – and she herself emerged with only some scrapes on her feet, which she called "irrelevant, considering what could have happened."
Advertisement
The most buzzed about stars this minute!
Treat Yourself! 4 Preview Issues
Got a News Tip?
Send it to our People.com editors!