11:10 AM EDT 08/10/2016
Olympics Summer 2008
Credit:

Julian Finney/Getty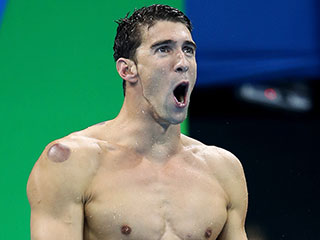 Originally posted 08/09/2016 06:00PM
Michael Phelps is already racking up gold medals in Rio with the men's 4x100m relay. He still has three events left to dominate – including the 200m fly tonight. Back in 2008, PEOPLE profiled the then 23-year-old athlete about winning eight gold medals in Beijing (and his mother's new discovery – text messaging.) Read on for the original story.
Credit: Nike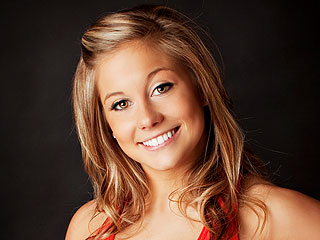 Originally posted 06/14/2012 06:25PM
When Olympic gold medalist Shawn Johnson took a break from gymnastics – and her six-day-a-week workout routine – after competing in the 2008 Olympics, she experienced a weight gain of 25 lbs.

"I was just going through so many different life changes," Johnson, 20, tells PEOPLE just 11 days after announcing her retirement from competitive gymnastics because of a 2010 knee injury.

"I was traveling so much, I didn't get the opportunity to work out. I thought I could do and eat whatever I wanted because I was fit."

This time, she says she's going to be more careful.
Credit: ST/Splash News Online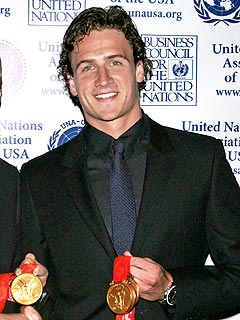 Originally posted 10/02/2008 08:50AM
Sorry, ladies! Olympic hunk Ryan Lochte isn't looking for love.

"Having a girlfriend right now would be out of the question," he told PEOPLE at the U.N. Global Leadership Awards Gala in New York Wednesday. "I would like to settle down and have a family. But I'm only 24. Definitely not any time soon!"

What's keeping the sexy swimmer out of the dating pool?

Since winning his two gold medals (and two bronzes) in Beijing, "I haven't had a lot of time," he explained. "I've been traveling all over. I've only been at my house for two days."
Credit: Andy Wong/AP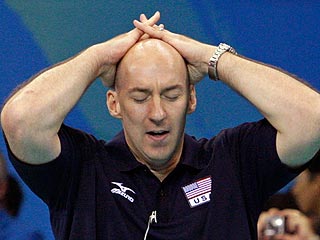 Originally posted 08/25/2008 10:20AM
Hugh McCutcheon coached the underdog U.S. men's indoor volleyball team to a gold medal Sunday – then put his head in his hands. It was an understandable reaction to an extraordinary Olympic Games that saw McCutcheon handle personal tragedy and team elation with an equal amount of grace.

Just a day after the opening ceremonies, McCutcheon's father-in-law, Todd Bachman, was attacked and killed in Beijing. Bachman's wife, Barbara, was severely injured, and their daughter, Elisabeth "Wiz" McCutcheon – Hugh's wife and a former member of the US women's indoor volleyball team – flew back home with her mom to care for her.

Before the gold medal match-up against powerhouse Brazil, "[My wife] sent [the team] an email just to wish them luck," said McCutcheon. "She just wanted to let the guys know that she was pulling for them and that her whole family was proud of what we were achieving here."
Credit: Getty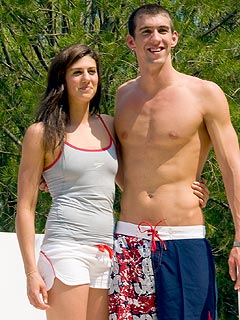 Originally posted 08/22/2008 11:55AM
He may be winging his way to London for the Sunday hand-off of the Olympic torch, but Michael Phelps is still causing tongues to wag in Beijing – and not just because of his swimming finesse. Earlier this week, reports the New York Post, the 23-year-old guy with the gold, gold, gold, gold, gold, gold, gold and gold was seen at a victory celebration smooching with Australian swimmer Stephanie Rice, 20. She reportedly has only recently broken up with Phelps's rival from Down Under, the Aussie team's Eamon Sullivan.

When Phelps (who doesn't have a girlfriend) and Rice (who has three gold medals of her own) posed in their Speedos, she gushed about the "Baltimore Bullet": "I definitely admire him for his athletic ability and everything he's achieved. I'm just really glad to be in the mix with that."
– Stephen M. Silverman and Cynthia Wang
Credit: Luca Bruno/AP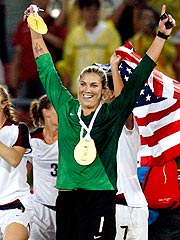 Originally posted 08/22/2008 08:40AM
Thursday's gold victory for the seemingly underdog U.S. women's soccer team was particularly sweet for goalkeeper Hope Solo – who last year had been benched during the World Cup semifinals against Brazil in favor of the veteran Brianna Scurry.

Coupled with the passing of Solo's beloved dad, Jeffrey, just eight days before that crucial semifinal, Solo, 27, said to ESPN last year, "I'm no longer playing for myself or my teammates – I'm playing for my father."

In Beijing, she had that chance. During overtime after a nil-nil regulation, American striker Carli Lloyd took a pass from Amy Rodriguez and in the 96th minute locked up the win against Brazil, 1-0.
Credit: Oliver Multhaup/AP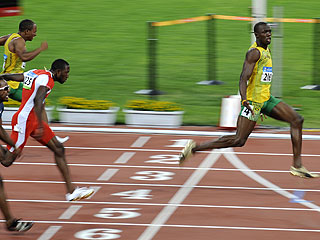 Originally posted 08/21/2008 11:40AM
So what is the secret to Jamaican sensation Usain Bolt's incredibly fast times on the track? Waking up at noon and eating chicken nuggets. Or so Bolt told reporters at a press conference following his world-record 10.30 time in the 200-meter dash.

"I got up at the same time pretty much [as I did for the 100 meters], no lie, at noon," Bolt said. "My masseuse brought me the nuggets. I went straight to the track and then my masseuse brought me more nuggets. I just ate two though because my coach said I should not eat so many nuggets."

Bolt also admitted that when he saw his race on the big screen at the Bird's Nest stadium, he thought to himself, "'I look cool,' and I was thinking, 'that guy is fast!'"
Credit: Georgios Kefalas/EPA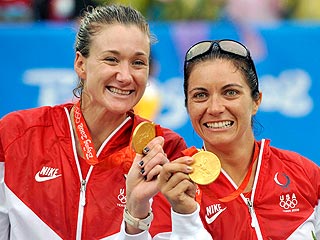 Originally posted 08/21/2008 09:20AM
Beach volleyball may not look the same with damp sand and rainy skies, but the women standing atop the medal podium are very familiar indeed. Defending gold medalists Kerri Walsh and Misty May-Treanor triumphed just like they did in Athens, this time defeating the Chinese team of Wang Jie and Tian Jia.

After the match, Walsh looked over at her partner while addressing reporters and gushed, "Misty May! I don't know what to say. You're so great!" She then added, "We are just so happy. We felt like warriors out there. It's an honor to win this gold medal."

A smiling May-Treanor enthused, "We have just gone back-to-back at the Olympics. No one has ever done that [in beach volleyball]. I'm so elated. Woo! That's all I can say."

She also sang the praises of her teammate: "Kerri and I love each other. Gold was our goal – and we did it."
Credit: Matthew Stockman/Getty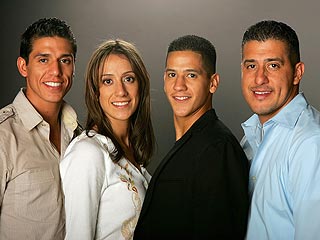 Originally posted 08/20/2008 01:15PM
It took his brothers and sister getting into the act for taekwondo double gold medalist Steven Lopez to have his parents witness him in action.

"Finally, right?" jokes 29-year-old Lopez, one of PEOPLE's hottest bachelors in 2004, on the eve of competition in Beijing.

Having been in the Sydney and Athens games, Steven is now being joined by his younger siblings Mark and Diana, both also qualifying in the Korean martial art of taekwondo – and all of them coached by big brother Jean.

All he more reason for mother Ondina and father Julio Lopez to be on hand.
Credit: Kellogg Co./AP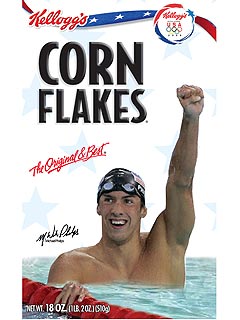 Originally posted 08/20/2008 12:25PM
It would take a truckload of cereal to make up Michael Phelps's 3,000-calorie breakfast, but the top Olympian of all time is on a new cereal box!

Check out the newly released prototype of the Kellogg's Corn Flakes box featuring the eight time gold medal-winning swimmer. Phelps will appear on special edition cereal boxes this fall for both Kellogg's Corn Flakes and Kellogg's Frosted Flakes. They are expected to hit shelves across the U.S. in mid-September.

"Michael embodies the values behind our Frosted Flakes Earn Your Stripes program. He knows that winning is not just about the glory that comes with gold medals, but about good sportsmanship, working hard and being your best," said Marta Cyhan, vice president of Kellogg's global promotions.

So what about that other breakfast of champions? "[There will be] no Wheaties box this time around; it's going to be Kellogg's," Phelps's longtime agent Peter Carlisle told Access Hollywood.
– Kristin Boehm
The most buzzed about stars this minute!
Treat Yourself! 4 Preview Issues
Got a News Tip?
Send it to our People.com editors!