12:45 AM EDT 12/22/2014
Hero Pets
Update
Posted 08/22/2013 06:30PM
Originally posted 08/22/2013 01:30PM
There's no furry rivalry here. When New Zealand resident Kim Edwards realized her cat Rory had ingested rat poison last week, she turned to a risky paws-ibility to save her pet's life: dog blood.

After bringing Rory to her local veterinary clinic, Edwards was informed the cat needed an immediate blood transfusion to save its life. With not enough time to send a blood sample to the lab to determine Rory's blood type, Edwards called upon her friend Michelle Whitmore for help.

The vet retrieved blood from Whitmore's black Labrador retriever, Macy. The risk at hand: Giving Rory the wrong blood type would lead to instant death.
Credit: Khaosod Online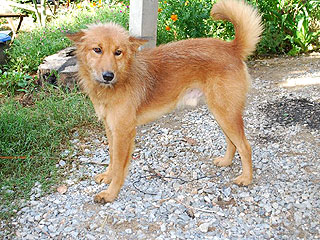 Originally posted 06/05/2013 07:10PM
Pui knew something wasn't right.

When the dog spotted a white plastic bag lying in a trash dump in Thailand's Tha Rua district, he took it in his mouth, brought it to the patio of his home and barked as loud as he could.

His owner's 12-year-old niece came to see what the fuss was about, and discovered a newborn baby girl – still alive – inside of the bag, reports The Bangkok Post.
Credit: Courtesy of PPWDF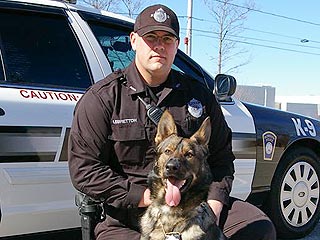 Originally posted 06/02/2013 12:00PM
Plymouth, Mass. officers lined the sidewalks Friday to bid farewell – and pay their respects – to their beloved police dog Kaiser as handler Jamie LeBretton walked his four-legged sidekick past the saluting crowd and into Court Street Animal Hospital.

The solemn sendoff came following Wednesday's announcement that Kaiser would be retiring from the force – and ultimately laid to rest to end his suffering after his recent diagnosis of severe liver and kidney disease.

"I could not have asked for a better partner or friend. May you rest easy and wait for me at that sacred bridge. I will be there my friend," LeBretton wrote on Facebook Friday, sharing a photo of his devoted dog.
Credit: Mark Makela/For the HSUS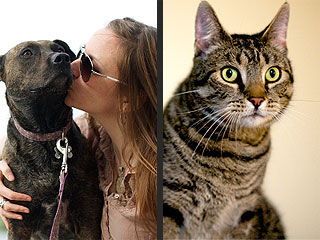 Originally posted 05/29/2013 06:00AM
Rescue pets ... to the rescue! Meet five brave furry friends who have paid it forward
Credit: Joshua Lott/AFP/Getty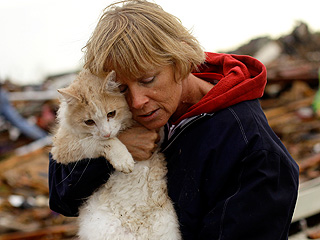 Originally posted 05/26/2013 10:25AM
Amid the heartbreak, there was hope – thanks to some furry friends, and a few big-hearted humans.

Despite the devastation in Oklahoma Monday after a deadly tornado tore through the state, readers found joy in the heartfelt images of shell-shocked residents reuniting with their beloved pets, and shared the heartwarming pictures in droves. (See them all here.)
Update
Posted 03/06/2013 09:30AM
Originally posted 03/05/2013 02:00PM
Forget diamonds – a dog in Poland proved to be a girl's best friend.

Rescue workers were able to find a 3-year-old girl, named Julia, who went missing overnight in Pierzwin, Poland, thanks to the barks of her "best friend," a stray black dog who often accompanies her.

The toddler wandered into the forest near her home after playing in her backyard with the pooch Friday evening. While members of the community searched for her, the dog stayed by her side and kept her warm throughout the freezing cold night. She was discovered Saturday morning in the marshes.
Credit: Perry Hill Farm Fire Fund/Facebook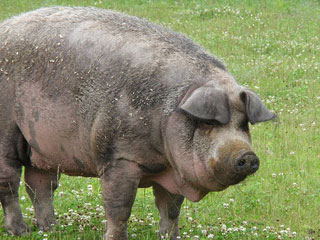 Originally posted 10/26/2012 04:30PM
Three days after a fire blazed through a New Hampshire farm on Sept. 6, the only thing more devastating than the physical damage was the presumed death toll: 14 horses and three cats.

But if there was someone who hadn't lost hope, it was Colby, the farm's 1,000-lb. pig.

After breakfast, the Bedford, N.H., Perry Hill Farm mascot, characteristically slow and sluggish, started wandering into the woods nearby.
Originally posted 10/24/2012 02:00PM
A fire blazed through a Portsmouth, N.H., couple's home Tuesday, damaging their historical home dating back to 1742. But there was a glimmer of hope for Dave Adams and his wife, whose 17-year-old cat survived the devastation – with some serious help from firefighters.

To the cheers of onlookers, firefighters carried Tiki Bear out of the house, which Adams, a carpenter, had spent the last 25 years renovating, reports local news outlet WMUR. The firefighters then administered oxygen and the cat began breathing again.

Tiki Bear was later checked into a veterinary clinic to seek treatment for smoke inhalation.
Credit: Kyle Camp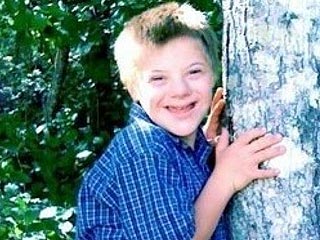 Originally posted 10/18/2012 06:50PM
When 10-year-old Kyle Camp disappeared from his home in Hackleburg, Ala., he took four very special companions with him: his dogs.

And it was those furry friends who ultimately helped lead volunteers to his location.

More than 18 hours passed between the time Camp, who has Down syndrome, went missing in the woods Tuesday and was back home safe and sound Wednesday morning.

"I heard the dogs barking again and followed him down there and started hollering for the puppies," Jamie Swinney, one of the two searchers who found Kyle at about 9:30 a.m., told the local Fox affiliate. "I hollered for him and he hollered back."
Originally posted 10/16/2012 09:00AM
Nearly six years ago, a Connecticut family rescued a dog named Duke from a shelter, arguably saving his life.

Last week, he returned the favor.

Jenna Brousseau and her husband were asleep on Oct. 7 when Duke burst into their room, jumped on the bed and began shaking uncontrollably. They decided to check on their 9-week-old daughter in her bassinet and discovered the unthinkable: she wasn't breathing.
Advertisement
The most buzzed about stars this minute!
Treat Yourself! 4 Preview Issues
Got a News Tip?
Send it to our People.com editors!