05:39 AM EDT 03/19/2015
Pet Toys
Originally posted 07/21/2014 04:45PM
Credit: Courtesy Sleepypod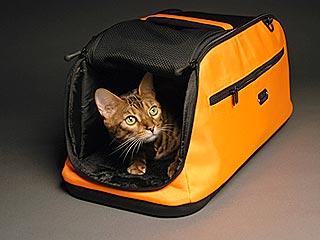 Originally posted 06/01/2011 06:00AM
Your cat is a lot like Oprah Winfrey. A smart, sophisticated, larger-than-life personality who loves the finer things. June is Adopt-A-Cat month, and we've pulled together our favorite things for your fierce feline – from hysteria-inducing toys to sleek cat trees, these are items that your cat needs to live her best life.
Originally posted 05/25/2011 07:45AM
our kids may have had big laughs last summer dressing the dog in a bikini or putting a lei around your cat's neck – and we can bet your furry pal wasn't impressed.

This summer, there's a way to play dress up with nary a bark or hiss from the cat or dog: Build-A-Bear's Cool Cats & Hot Dogs collection, a new line of stuffed animals that are all adorably accessorized for the dog days of summer.
Originally posted 05/06/2011 08:00AM
My dog is not a fetcher. He's more of a ... sitter. Or a farter maybe, on certain days. So for the sake of this experiment, I borrowed my neighbor's German short-haired pointer, Ruby, who may be the best ball retriever in the world, or at least on my street. I took Ruby to the local elementary school field to test Planet Dog's new Wood Chuck ball chucker.
Originally posted 04/28/2011 07:45AM
Cats are mysterious creatures, but there are three things we know for sure about them: they love to sleep, they love to eat, and they love catnip. Now there's another thing we can add to the short list: KONG.

The company's new cat toys – the Kitty KONG and KONG Cat Wobbler – were a bonafide hit with our feline testers. From the moment the toys were taken out of the package they were cornered by curious feline noses.

The Wobbler ($13.99), an egg-shaped toy that you fill with treats, is like a kitty IQ test – who will figure out how to get the treats out first? The victor was not who we expected.
Originally posted 04/14/2011 09:00AM
If your children had their way, there would be six puppies, six kittens, and a pony hanging out harmoniously in your living room, playing fetch from the coffee table to the fireplace, then falling asleep in a cute pile on the couch. There's actually an upholstery-friendly way to make this scenario a reality for your kids: Fantastic Pets, a new video game for Xbox 360 Kinect ($49.99).

Using augmented reality technology, your child can throw a ball to furry friends that she's created on screen. The new furbuddies will fetch with gusto – and leave your valuables intact. These digital friends, who actually appear in your room on the video game screen, won't bump into the plants next to your sofa, but thanks to detection technology, they'll walk around your home much like real animals would.
Originally posted 02/07/2011 07:30AM
Ami Ami Dogs: Seriously Cute Crochet had us at Kon'nichiwa.

The book ($14.99, Harper Design), which is available starting today, is a 72-page how-to guide to Amigurumi, the Japanese art of crocheting stuffed animals. Amping up the adorable factor is the fact that every project showcased in the book is dog-inspired.

The first in a series of canine crochet tomes, Mitsuki Hoshi's crafty compendium is filled with hundreds of whimsical, full-color photographs as well as patterns for a whole litter of adorable Amigurumi (which translates to "knitted stuffed toy"). It includes detailed, step-by-step instructions on how to create 12 kinds of dogs, everything from chihuahuas to Cavalier King Charles spaniels, Maltese to miniature schnauzers, Shiba Inus to Siberian huskies.
Originally posted 02/01/2011 05:00PM
We're all aware that crayons come in 64 vivid colors. But who knew that they're also available in so many different shapes and sizes?

Lil Doodlers, an Etsy shop that specializes in custom crayons, features 44 different animal-shaped implements. The critter-inspired creations are the brainchild of Barry Pippin.

An Indiana-based father of two young children, Pippin was constantly finding broken crayons around his house. "I felt bad just throwing them away and cluttering up the landfills," he tells PEOPLEPets.com. "I thought I would try to melt them into something useful."
Originally posted 12/07/2010 07:30AM
Christmas is coming; have you figured out what to get your cat? There's still time to find the purr-fect gift for your favorite feline – in fact, we chased down a few fun, tasty treats on Etsy.

CurlyGirlCrochet's Christmas-color inspired toy rings ($6 for a set of 10) are a good bet for the playful kitties on your list. They are hand-crocheted in an "earthy Christmas" combination of red, olive green, sage green, coffee-bean brown and milk-chocolate brown (two of each color). The yarn surrounds flexible rings that have been recycled, making these toys a gift that's "green" in every sense of the word – and one you can feel good about giving.
Originally posted 12/03/2010 07:45AM
I consider myself lucky to have Ethel, my consummate city dog. She's small, portable and doesn't need to run laps around the park everyday. Still, she's 10 years old, I want to keep her as healthy and stimulated as possible. I didn't think I was doing that as well as I should. I used to wonder a lot about whether she was just, well, bored.

No more. Reader, I have found a stopgap to my Maltese's boredom. Its name is Dog Brick.
Advertisement
The most buzzed about stars this minute!
Treat Yourself! 4 Preview Issues
Got a News Tip?
Send it to our People.com editors!